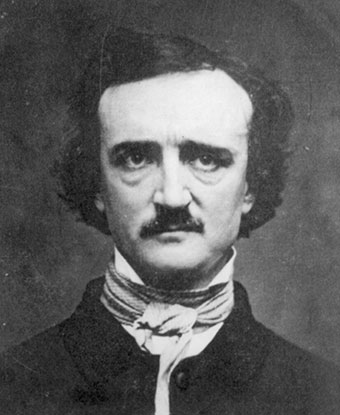 Significance:
Author, Poet, Literary Critic
Place of Birth:
Boston, Massachusetts
Date of Birth:
January 19, 1809
Place of Death:
Baltimore, Maryland
Date of Death:
October 7, 1849
Place of Burial:
Baltimore, Maryland
Cemetery Name:
Westminster Burial Ground
Pioneering author, editor, poet, literary critic, husband, son...Edgar Allan Poe lived just to the age of 40 but his works continue to captivate readers around the globe today.

Early Life
Edgar Allan Poe was born in Boston in 1809. Both of his parents were actors. His mother, the much admired Elizabeth Arnold Poe was a talented actress. His father, David Poe was considered less talented. The Poes performed at theaters throughout the Eastern seaboard, from Boston to Virginia. In 1811, Elizabeth Poe died of tuberculosis in Richmond, Virginia, leaving orphaned Edgar, his infant sister Rosalie, and his older brother Henry. David Poe, apparently had abandoned his wife and children earlier and was not present when she died.
The three children were separated and raised by different families. Edgar was taken in by the successful Richmond merchant John Allan, and his frail wife Frances. The Allans had no children of their own. They raised Edgar as part of the family and gave him their middle name, but never legally adopted him.
In 1815, Edgar traveled with the Allans to England and Scotland, where John Allan planned to expand his tobacco business. Edgar attended boarding schools throughout the five years the family lived overseas. After John Allan's business venture failed, he moved the family back to Richmond, Virginia in 1820.
From University of Virginia to West Point
Edgar continued his studies in Richmond. He entered the University of Virginia in 1826 at the age of 17. During the year he attended the university, Edgar excelled in his studies of Latin and French. He was unable to complete his studies at the university because Allan refused to pay debts Edgar had incurred during the school year. Allan and Edgar quarreled over the debts, of which a large portion was incurred from gambling.
Shortly after his quarrel with his foster father, Edgar Allan Poe left Richmond for Boston where he hoped to pursue a literary career. His first book of poetry, Tamerlane and Other Poems was published there. Unable to support himself, and receiving little assistance from his foster father, Poe enlisted as a private in the US Army on May 26, 1827 for a five year term. He entered under an assumed name and lied about his age, claiming to be 22 years old when he was only 18. Poe was assigned to Battery H of the First Artillery at Fort Independence in Boston Harbor. On October 31, 1827 Battery H was ordered to Fort Moultrie to protect Charleston Harbor. He sailed on the Brigantine Waltham, arriving for duty in Charleston on November 18. 
At Fort Moultrie, Poe was promoted to artificer, the rank of a noncommissioned officer or enlisted man who had a mechanical specialty. On December 11, 1828, Poe's battery sailed for duty at Fortress Monroe, Virginia where he attained the rank of Sergeant-Major, the highest possible rank for a non-commissioned officer. His quick progress up the ranks can be attributed to his education, high social standing, and competence. Despite his accomplishments, Poe left military service in April 1829 and hired a substitute to complete his obligation. 
A brief reconciliation between Poe and Allan occurred upon the death of Frances Allan in 1829. Allan assisted Poe in obtaining a discharge from the regular Army and an appointment as a cadet at the US Military Academy in West Point. Entering West Point in July 1830, Poe was again plagued by restlessness. One of his roommates described him as having "the appearance of being much older. He had a worn, weary, discontented look, not easily forgotten by those who were intimate with him." The financial hardship along with the realization that literature was his true vocation, led to Poe's decision to resign from the Academy. Allan, as Poe's guardian, refused to give him permission to resign. Unable to obtain permission to resign, Poe chose to neglect his duties and was court-martialed for "gross neglect of duty" and "disobedience of orders."
Editor and Author
After leaving West Point, Poe eventually moved to Baltimore where he lived with his impoverished Aunt Maria Poe Clemm and her young daughter, Virginia. Poe continued to write poetry and prose. In 1833, he won a $50 prize and attention for his short story "Ms. Found in a Bottle." The attention he gained led to a job offer as an editor for the Southern Literary Messenger in Richmond. Poe accepted the position and moved to Richmond in 1835. His aunt and cousin joined him the following year. Poe married his thirteen year old cousin, Virginia, shortly afterwards.
The Poes and Mrs. Clemm moved to New York City in 1837 with the hope of Edgar finding work in the literary field. The city, as well as the rest of the country was in the midst of a depression caused by the financial "Panic of '37." Unable to find work, Poe moved to Philadelphia in 1838. The six years he spent in Philadelphia proved to be his most productive, and perhaps the happiest years of his life. He worked as an editor and critic for one of the nation's largest magazines, Graham's Magazine. Some of his most famous stories were written in Philadelphia, including the "Fall of the House of Usher," "The Murders in the Rue Morgue," "The Mask of the Red Death," and "Ligeia." Poe referred to South Carolina settings in several short stories, including "The Balloon-Hoax" and "The Oblong Box." By far his most popular story inspired by Sullivan's Island was "The Gold Bug," originally published in 1843. In 1842, his beloved wife became ill with tuberculosis. Her illness and the constant strain of financial problems, caused Poe to sink into deep bouts of depression.
Professional and Personal Loss
The Poes and Mrs. Clemm moved to New York City in 1844. Poe continued to work as an editor and critic. He gained his greatest fame as a poet after his poem "The Raven" was published in 1845. In the same year, he achieved his lifelong dream of owning a literary journal. Unfortunately, the journal failed within a few months. The Poes and Mrs. Clemm moved outside of New York City to a small cottage in 1846. Virginia died of tuberculosis the following year.
Death
For the next two years Poe continued to write poetry, short stories, criticism and plan for his own literary journal. After a successful lecture tour in the South and an extended visit in Richmond, Poe seemed to be finally recovering from the loss of Virginia, and making plans for the future. On his way back to New York City, Poe stopped in Baltimore where he died of "acute congestion of the brain." The day was October 7, 1849; Edgar Allan Poe was 40 years old. 
Last updated: January 30, 2023