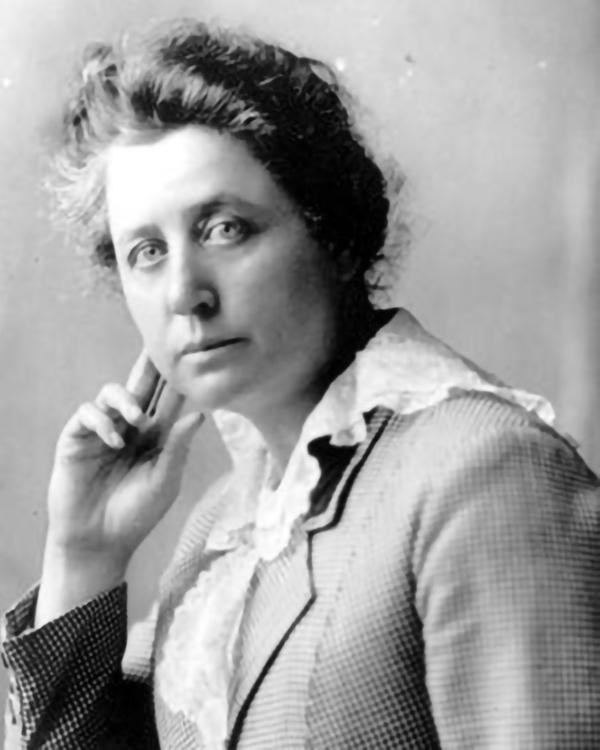 Significance:
Physician, activist
Place of Birth:
New Bedford, Massachusetts
Date of Birth:
April 7, 1872
Place of Death:
Portland, Oregon
Date of Death:
July 13, 1952
Place of Burial:
Portland, Oregon
Cemetery Name:
Wilhelm's Portland Memorial
Marie Equi was born in 1872 in New Bedford, Massachusetts to parents John Aque and Sarah Mullins Aque. She had at least 6 brothers and sisters, some of whom died before reaching adulthood. New Bedford's whaling industry was beginning to wane and mills were on the rise. Equi's father was a mason, who took pride in his participation in the construction of St. Lawrence Martyr Catholic Church on County Street. John Aque sometimes fed hungry strikers, while Marie listened to their stories.
Described by many of her teachers as smart, but sometimes a troublemaker, Marie Equi had sporadic education past her first year at New Bedford High School; she dropped out to work in the textile mills to help support her family.
A friend from New Bedford High School, Betsey Bell Holcomb, who was a few years older, paid Marie's tuition for one year at Northfield Seminary for Young Ladies in north central Massachusetts. Sadly, Holcomb could not support Equi's second year, and Marie was unable to obtain a scholarship. She returned to her family home. At age 20, Marie Equi would leave New Bedford and meet Holcomb in Oregon to live on a homestead parcel provided by the Oregon Donation Land Act from 1850. 
Doctor
Health would have been a concern for Marie Equi. She survived tuberculosis as a child and saw at least three of her siblings die. She was the only female doctor who joined what became known as the Oregon Doctor Train. This relief mission responded to the 1906 San Francisco fire and earthquake. Equi was placed in charge of obstetrics at the United States Army General Hospital in the Presidio. She was subsequently decorated by the U.S. Army for her humanitarian efforts. Dr. Equi was also a Fellow of the American Medical Association.
Called "Doc" by most folks who knew her, Dr. Equi learned about various labor abuses from her working class patients and later joined them in protests. Her practice of more than 20 years focused on women's and children's health, but she also provided abortions for women whether they could afford it or not.
Dr. Equi contributed edits to Margaret H. Sanger's Family Limitations booklet. Published in 1916, it shared medical advice and facts on birth control and family planning specifically geared toward working class families. Smart and savvy from her earliest years, Dr. Equi invested in utilities and foreign stocks and grew her estate to nearly $850,000 in modern currency.
Activist
Throughout her activist life, Dr. Marie Equi honored human life and dignity above all. She supported family planning, labor reform, women's suffrage, and fair wages. Dr. Equi was among the early Oregon women registered to vote and for jury duty. She was arrested on June 30, 1919 for protesting at a War Preparedness parade. Under the Espionage Act, she was charged with sedition and sentenced to three years at San Quentin Prison in California. President Woodrow Wilson reduced her sentence to a year and a day. Marie was released early for good behavior after serving ten months.
Dr. Equi focused the majority of her activity in the Portland area as a member of the Industrial Workers of the World, or Wobblies, as well as being a suffragist and member of the Progressive party. Eventually, she used her social clout in the community to speak at protests when union members would have otherwise been pulled down from their soapboxes. On December 24, 1933, President Franklin D. Roosevelt pardoned her and other Americans convicted of wartime sedition. 
Lesbian
Marie met Betsey "Bess" Holcomb at New Bedford High School and later the two moved to The Dalles, Oregon to homestead on Holcomb's land. They lived together in Oregon and San Francisco for about 10 years while Equi went to medical school and Holcomb taught.
In 1901, Equi graduated and moved back to Oregon, this time to Portland. It was there that she began fighting for women's suffrage and labor reform. She also met heiress Harriet Speckart; for more than 10 years, they lived together. After they separated, they remained on friendly and caring terms, co-parenting their daughter Mary Jr. until Speckart's death in 1927.
After 1918, Equi entered a romantic relationship with Irish nationalist and journalist Katherine "Kitty" O'Brennan. Margaret Lowell Paul, an acquaintance of O'Brennan's, was an undercover federal agent who reported on both of them and was aware of the wiretaps placed in Equi's home and office previous to her incarceration.
While awaiting a verdict, Dr. Equi wrote to President Wilson's office requesting clemency, maintaining that her same-sex relationships were the root of the federal investigation against her. Dr. Equi took great offense to the prosecution's homophobia in using the phrases "unsexed woman" and "her kind" in reference to Equi and ensured her remarks made it into the record in both court and official documents.
Mother
In 1915, Equi adopted a three-week-old girl — Mary, often Mary Jr. — with Harriet Speckart. In a time when adoption was far less formal than today, Equi signed off as Mary's legal parent, but Speckart provided the bulk of the home care and indeed was Mary's immediate caregiver until 1927. Mary Jr. called Marie "Da," short for "Doc," and she called Speckart "Ma." After Speckart's death, Mary lived full-time with Equi or other family members.
Equi ensured that Mary and Harriet Speckart received a stipend even after they lived apart and never wavered, even while incarcerated. Equi brought her daughter to some of the rallies at which she delivered speeches. Mary recalls Equi saying, "If the police come, you run." Mary Jr. later became Oregon's youngest female pilot.
Last updated: December 1, 2021