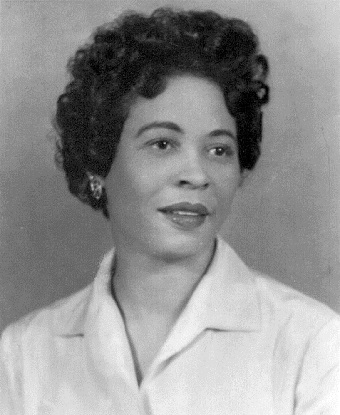 Significance:
American activist, civil rights advocate, and publisher
Place of Birth:
Huttig, Arkansas
Date of Birth:
November 11, 1914
Place of Death:
Little Rock, Arkansas
Date of Death:
November 4, 1999
Daisy Bates is an African American civil rights activist and newspaper publisher. Through her newspaper, Bates documented the battle to end segregation in Arkansas. For her amazing career in social activism, we celebrate her as an American hero.
Bates was born, Daisy Gaston, in Huttig, Arkansas on November 11, 1914. Her childhood was filled with tragedy. Her mother was sexually assaulted and murdered by three white men. Her father abandoned her. Bates was raised by friends of the family. Bates met Lucious  Christopher "L.C." Bates as a teenager. L.C. Bates was an insurance agent and experienced journalist. They married in the early 1940s and moved to Little Rock, Arkansas. There the couple operated the Arkansas State Press. This was a weekly African American newspaper that supported civil rights. Bates joined the civil rights movement and became the president of the Arkansas NAACP chapter in 1952. As the head of this branch, Bates played a crucial role with desegregation in Arkansas.
In 1957, Bates helped the Little Rock Nine become the first to attend the all-white Central High School in Little Rock. The first 9 African Americans arrived on September 4th. They were met with a group of angry whites. Governor Orval Faubus opposed integration. He responded by sending the Arkansas National Guard to prevent the students from entering the school. Despite the animosity, the students continued on. Bates' home served as the headquarters for the battle for integration. She served as a personal advocate and supporter to the students. On September 24, 1957 the nine students left her home to attend their first day of school. As they faced harassment and intimidation, Bates continued to support them.
The newspaper Bates and her husband worked on was closed in 1959 because of low advertising revenue.  In 1960, Bates published her account of the school integration as The Long Shadow of Little Rock. A few years later, she moved to Washington, D.C. There she worked for the Democratic National Committee. She also worked on antipoverty projects for the Lyndon B. Johnson's administration.
In the mid-1960s, Bates returned to Little Rock. She spent most of her doing community programs until her husband died in 1980. Bates restarted her and her husband's newspaper, from 1984-1988.
Daisy Lee Bates is remembered as a formidable force in one of the biggest battles of school integration in the United States. She received numerous awards for her social activism, including an honorary degree from the University of Arkansas. She passed away on November 4, 1999 in Little Rock. Bates is associated with the Daisy Bates House Little Rock. It is located at 1207 West 28th., in Little Rock. It is a private residence and is not open to the public. The house was listed on the National Register of Historic Places on January 3, 2001. It was also listed on the same day as a National Historic Landmark.
Last updated: March 1, 2021