Person
Colonel Charles W. Whittlesey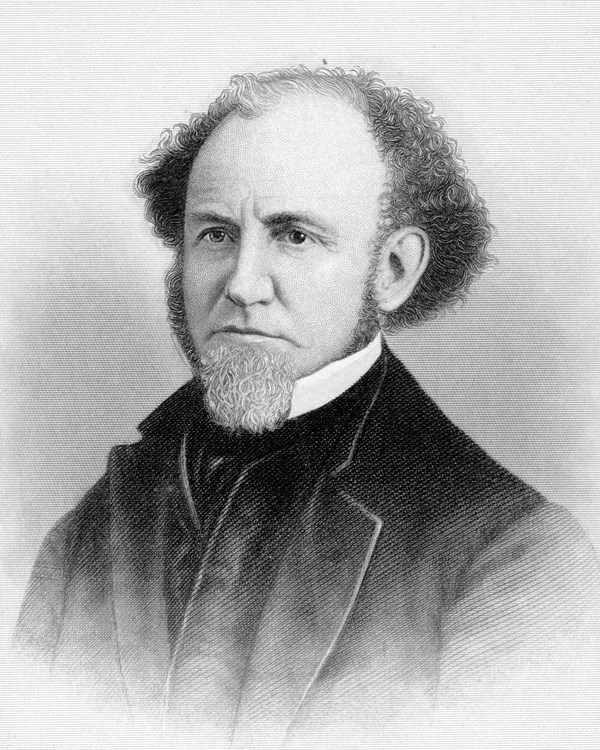 Significance:
Prominent 1800s soldier, newspaper editor, author, geologist, and archeologist who did early survey work in the upper Midwest and in Ohio.
Place of Birth:
Southington, Connecticut
Date of Birth:
October 4, 1808
Place of Death:
Cleveland, Ohio
Date of Death:
October 18, 1886
Place of Burial:
Cleveland, Ohio
Cemetery Name:
Lake View Cemetery
In the late 1830s, Charles W. Whittlesey  helped perform the first survey of Ohio's rocks and minerals. During this field work, Whittlesey also began studying the many prehistoric earthworks he encountered. This was the start of a long career pursuing his scholarly interests. He wrote about 200 books and articles. His most famous titles are Descriptions of Ancient Works in Ohio (1850), Ancient Mining on the Shores of Lake Superior (1863), Early History of Cleveland, Ohio (1867), Ancient Earth Forts of the Cuyahoga Valley (1871), and a chapter called "Outline Sketch of the Geology of Ohio" in Historical Collections of Ohio (1848) by Henry Howe.
Twice a Soldier
Charles Whittlesey was a child of the Western Reserve. In 1813 he moved from Southington, Connecticut to Tallmadge, Ohio with his parents, Asaph and Vesta Hart Whittlesey. He studied natural sciences at the West Point Military Academy in New York. After graduating in 1831, he was assigned to Fort Howard in Green Bay, Wisconsin. While fighting in the Black Hawk War against the Sauk and Fox Indians, Whittlesey saw the copper region of Michigan and Wisconsin for the first time. The following year he resigned his army commission and returned to Cleveland.
When the Civil War broke out in 1861, Whittlesey enlisted in the Union Army. He served as an escort for the President-elect Abraham Lincoln, was the assistant quartermaster general for Ohio troops, engineered the defenses for Cincinnati, and fought at the Battles of Shiloh and Fort Donelson. He retired from the military after a year due to his and his wife Mary's ill health.
From Attorney and Editor to Geologist and Historian
Back in Ohio after the Black Hawk War, Whittlesey first earned his living as an attorney and a newspaperman. He owned and edited the Cleveland Daily Gazette and Cleveland Herald & Gazette for several years.
In 1837, Whittlesey benefited from a West Point friendship. Former classmate William W. Mather hired him as the assistant geologist of Ohio. Whittlesey was a key member of the first survey team, responsible for topography and mathematics. The survey revealed important iron and coal deposits in eastern Ohio that would later fuel the state's manufacturing industries. Whittlesey's career as a field geologist lasted 20 years. Working for different employers, he was involved in many surveys of the Great Lakes and Upper Mississippi regions.
As Whittlesey explored Ohio's landforms, he observed that some were made by prehistoric people. His careful drawings and measurements of these earthworks are still used by modern archeologists such as Dr. Brian Redmond. Whittlesey was the first to scientifically document American Indian sites in Cuyahoga Valley , a project he completed later in life.
Whittlesey was also instrumental in establishing the Western Reserve Historical Society, becoming its first president in 1867. That year he wrote: "The personal history of the first settlers and surveyors, has been partially procured. My principal object has been to secure from oblivion, what relates to them. Since they are no longer with us, to speak of themselves; what they accomplished, and what they suffered, was to be sought for in traditions, private letters, and transient publications." His archives (series 1 and series 2) are part of their collection. Western Reserve Historical Society has operated Hale Farm & Village, a living history museum, in Cuyahoga Valley since 1958.
Legacy
Throughout his career, Whittlesey was sensitive to criticism. He often felt that others did not recognize his talents. These frustrations may have been partly why he switched jobs so often. His legacy has endured, however, through his prolific writing and several posthumous honors. Because of his pioneering geology, the precursor of Lake Erie was named Glacial Lake Whittlesey. Because of his pioneering archeology, the last pre-contact people in northeast Ohio were named the Whittlesey Tradition. Is there something special that you would want named for you?
Last updated: November 8, 2021