Person
Charles Matthias Goethe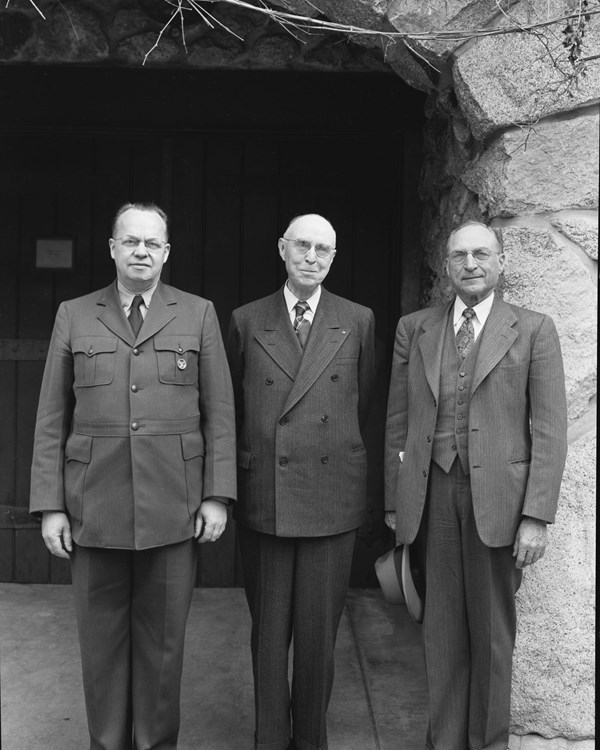 Significance:
a founder of the NPS interpretive program; Eugenicist, conservationist
Place of Birth:
Sacramento, California
Charles Goethe was a prominent California civic philanthropist and conservationist. Along with others, he helped found the National Park Service (NPS) naturalist/interpretive guide program. He was also a leader of the Eugenics Movement, which used corrupt scientific practices to justify championing forced sterilization, bans on immigration and inter-marriage, the collection of genetic and genealogic data, and other social policies targeting non-'Nordic' (white, Christian, Northern European) people.
Charles Matthias Goethe, the grandson of German immigrants, and was raised by his parents in Sacramento, California, where he would spend his entire life. Goethe later went on to amass wealth, mostly through real estate development and the stock market. He studied law and was later admitted to the California Bar, though never practiced law as a profession. He was a founder of the California State University in Sacramento, the Save-the-Redwoods League, and was a prominent contributor to civic and conservation causes in and around Sacramento and California. Goethe was a longstanding member of the local Methodist church and aided in the founding of the Sacramento Council of Churches. Goethe wrote an autobiography Seeking to Serve in 1949. He was an extremely fastidious and organized individual, keeping to a strict daily routine upon which he graded himself, and was an avid traveler and naturalist. 
Conservationist  
Charles Goethe's naturalist knowledge grew year by year as he took interest a particular topic (such as lichen or spiders) and studied them intensely. But his passion was birding. Through a chance encounter with John Muir, he broadened his interests into natural resources management and remained a friend of Muir until his death in 1914. He was a founding member of the American Bison Society as well as a member of the Audubon Society, Isaak Walton League, Wilderness Society, and was Regional Head of the Sierra Club. His interests in birds largely lead to him being heavily involved in the campaign to establish Everglades National Park in Florida and his visit in to the everglades in 1946 as part of a meeting of the Audubon Society was largely to push the federal government to make the everglades ecosystem into a national park. In the 1940s, he provided funding and advocacy for many state and national parks including Redwoods. Goethe was well known and well connected with many preeminent founders of the late 19th/early 20th century conservation movement.
Eugenicist
Charles' eugenics interest was greatly influenced by fellow conservationist Madison Grant's Passing of the Great Race, a founding document of the American Eugenics Movement. Eugenics advocated for genetically controlling the population through immigration laws and forced sterilization based on the superiority of a "Nordic" race of Northern Europeans and for promoting population growth of "Nordic" people. Goethe, and the Eugenics Movement at large, deemed African-Americans and other people of color, Eastern European and Asian immigrants and Jews, as well as those deemed 'unfit' due to disability, mental illness, criminality, poverty, illegitimacy, alcoholism, or other 'moral failures' as genetically-impure and therefore worthy of programmatic genetic eradication. His writings and work in Eugenics went on to inspire many other American eugenicists as well as many in the Nazi movement. He continued his advocacy for Eugenics causes well after World War II had seen the defeat of the Nazis and his name was mentioned as an inspiration during the Nuremburg Nazi trials by Nazi party members.
Nature Guide Service Founder
While traveling in Europe, Goethe was inspired by a series of naturalist talks and brought the practice back to his colleagues in conservation around 1917/1918. Goethe hired Harold Bryant, head of education and research for the California Fish & Game Commission, and Loye Miller, a University of California professor to begin guiding with he and his wife in Lake Tahoe resorts. After attending one of these programs, National Park Service Director Stephen T. Mather asked Mr. Goethe and his wife to apply their ideas and programs to Yosemite National Park.
As recollected by Goethe in Yosemite Nature Notes (Volume XXXVII, No.7, July 1953), "Then one day came a tired man - Stephen Mather.' Goethe continues, "After seeing this popular outpouring induced Stephen Mather to ask transfer of our experiment to Yosemite National Park." 
In a later Yosemite Nature Notes (Volume XXXIX Number 7, July 1960) article by Former Yosemite Superintendent Dr. Carl Russell, A 40th Anniversary, "Forty years ago the "Nature Guide" idea was introduced into the National Park Service. Out of it has become a distinctive interpretive program which last year served some 10 million people.... The man responsible for bringing the Nature Guide idea to America is Charles M. Goethe of Sacramento, CA." Russell goes on to quote Goethe's recollection of how this unfolded, "I therefore urged Mr. Mather to wait until 1920 for the inauguration of an official Nature Guide Service. The definite plan for 1920 saw Harold Bryant first on the job. Dr. Miller arrived soon afterward. Between them they offered the first public interpretive work of the National Park Service. In 1921, Miller and Bryant again combined their efforts with Enid Michael who joined them as a ranger naturalist. Ansel Hall, a year-around ranger in Yosemite, had been busy assembling the connections for a Yosemite Museum which was opened to visitors at this time. By 1922 a Park Naturalist Department was formally created with Hall in charge."
In the same volume of Yosemite Nature Notes, Dr. Loye Miller recollects that "[Mather] threw all his weight, (inspired partially by Goethe) into a counter movement of emphasis upon the natural beauties of the park.... Better still, a new office was created in Washington and Bryant was placed there in charge of Nature Education to be extended as rapidly as possible to all the parks. I salute my former colleagues Mather, Goethe and Bryant now as I see Park naturalists in all the National Parks and Monuments and feel justified in taking pride that I had a small part of the beginning of that great movement." In addition to Yosemite Nature Notes contributions, Goethe wrote pamphlets for schools and other organizations on natural resource appreciation in an effort to instill 'moral values' in readers.
As noted by Dr. Tony Platt in Engaging the Past: Charles M. Goethe, American Eugenics and Sacramento Univeresity, in 1965, "Stewart Udall, Secretary of the Interior, acknowledged Goethe's 'contributions to conservation and particularly to the interpretation of America's natural, historic and scenic wonders in the national parks.' "
Goethe contributed to Yosemite Nature Notes and other aspects of the National Park Service interpretive program well into the mid-20th century. He was so essential to the development of the NPS interpretive guide program that in 1948 the NPS named Goethe the Honorary Chief Park Naturalist of the National Park Service.
Intersections of Conservation and Eugenics
The intertwining of Geothe's eugenicist, conservationist, and conservation educator work was not coincidental. Goethe thought naturalist programs made people more "biologic-minded." In a eugenics movement pamphlet, he expounds that "Perhaps the greatest national gains from a really completed National Park system, interlocks [s/c] with State Parks chains, can be expected in the accelerated building of a eugenically-better nation." Goethe and other eugenicists believed that "progressive" attempts at education around biology, evolution, Darwinism and other natural systems would increase public support for eugenics and eugenics movement causes. All, he thought, would show "accelerated progress in human betterment." 
*Author's Note - this biography is incomplete as there is ongoing research attempts to further contextualize Goethe's connections to the National Park Service. 
 
Further Reading
"Culling the Herd": Eugenics and the Conservation Movement in the United States,
1900-1940
Author(s): GARLAND E. ALLEN
Source: Journal of the History of Biology , Spring 2013, Vol. 46, No. 1 (Spring 2013),
pp. 31-72
Engaging the Past: Charles M. Goethe, American Eugenics, and Sacramento State University
Author(s): Tony Platt
Source: Social Justice , 2005, Vol. 32, No. 2 (100), The Many Faces of Violence (2005), pp.
17-33
Last updated: December 29, 2022