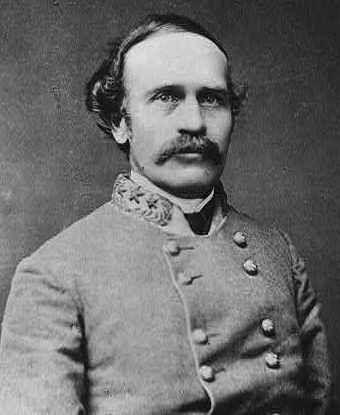 Quick Facts
Significance:

Northern-born Confederate general

Place Of Birth:

Belmont County, OH

Date Of Birth:

October 7, 1817

Place Of Death:

Brighton, IL

Date Of Death:

September 12, 1880

Place Of Burial:

Nashville, TN

Cemetery Name:

Old City Cemetery
Though destined to become a general in the Confederacy, Bushrod Rust Johnson was born in Ohio. At age 18, defying the pacifism of his Quaker family, Johnson enlisted in the U.S. Military Academy at West Point, from which he graduated in 1840 with a commission as a second lieutenant in the 3rd U.S. Infantry. He fought in the both the Seminole War in Florida and the Mexican-American War, but was forced to resign from the army in 1847 after conspiring to sell government goods for personal profit. He then worked as a teacher, professor of philosophy and chemistry at the Western Military Institute in Georgetown, Kentucky, and as professor of engineering at the University of Nashville.

After the start of the Civil War, Johnson re-entered military service on June 28, 1861, as a colonel of engineers in the Tennessee Militia, although a week later this commission was changed to be in the Confederate States Army. He was instrumental in the construction of Fort Donelson on the Cumberland River in Tennessee and was promoted to brigadier general on January 24, 1862. Just days before the Battle of Fort Donelson, he was placed in command of the fort but served in that capacity only briefly, as the higher ranking Brig. Gen. Gideon J. Pillow arrived just hours after Johnson assumed command. The fort and its army surrendered to Gen. Ulysses S. Grant on February 16, 1862, but two days later Johnson was able to walk unimpeded through the porous Union army lines and escaped capture.

At the Battle of Shiloh, Johnson was severly wounded while in command of a division. He recovered from his wounds and served in major battles of the Western Theater, including Perryville, Stones River, Chickamauga, and the Siege of Knoxville.

Promoted to major general on May 21, 1864, Johnson moved to the east where he served the remainder of the war in the Army of Northern Virginia. At the Battle of the Crater, his troops captured three stands of colors and 130 prisoners. His service in the Siege of Petersburg also included the battles at White Oak Road and Five Forks. His division was shattered at the Battle of Sayler's Creek on April 6, 1865, although he was again able to escape capture. He was paroled at Appomattox Court House without a command.

Johnson returned to teaching and became a professor and co-chancellor of the University of Nashville with former Confederate Gen. Edmund Kirby Smith. His health failing, Bushrod Johnson retired in 1875 to a farm Brighton, Illinois, where he died in 1880.
Last updated: June 18, 2015