Person
Bridget "Biddy" Mason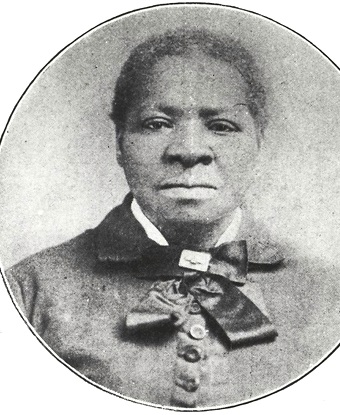 Significance:
became one of the first prominent citizens and landowners in Los Angeles in the 1850s and 1860s
Place of Birth:
Mississippi
Date of Birth:
August 15, 1818
Place of Death:
Los Angeles
Date of Death:
January 15, 1891
Place of Burial:
Los Angeles
Cemetery Name:
Evergreen Cemetery
Bridget Biddy Mason (1818-1891) is an American Hero. Born enslaved, Mason became one of the first prominent citizens and landowners in Los Angeles in the 1850s and 1860s. She also founded the First African Methodist Episcopal Church in Los Angeles in 1872.
Mason was born in Mississippi in 1818. She was given the name Bridget without a surname, and was later nicknamed Biddy. She was owned by slaveholders in Georgia and South Carolina before being returned to Mississippi. Robert Marion Smith, her last owner, was a Mississippi Mormon convert. He decided to follow the call of the church and moved his family and enslaved persons to the West.  There he would help establish a Mormon community in what would become Salt Lake City, Utah. At this time Utah was still a part of Mexico.
In 1848, Mason, then 30, walked 1,700 miles behind a 300-wagon caravan. The caravan eventually arrived in the Holladay-Cottonwood area of the Salt Lake Valley. Along the route, Mason was responsible for setting up and breaking camp; cooking the meals; herding cattle; and serving as a midwife. She also took care of her three young daughters, aged 10, 4, and a newborn.
In 1851, Smith moved his family once again. This time a 150-wagon caravan headed for San Bernardino, California. Ignoring Brigham Young's warning that slavery was illegal in California, Smith brought Mason and other enslaved people to the new Mormon community. Along the way, Mason met Charles H. and Elizabeth Flake Rowan, a free black couple. The Rowan's, and others, urged her to legally contest her slave status once she reached California.
Fearing that he would lose his enslaved persons, Smith decided to move to Texas, a slave state. They were prevented from leaving by the Owens family. One of Robert Owens' sons was romantically involved with Mason's 17 year old daughter. Owens told the L.A. County Sheriff that slaves were being illegally held. The sheriff gathered a posse and apprehended Smith's wagon train in Cajon Pass, California.
After spending five years enslaved in California, Mason challenged Smith for her freedom. On January 21, 1856, L.A. District Judge Benjamin Hayes approved Mason's petition. The ruling freed Mason and thirteen members of her extended family. She took the surname Mason from the middle name of Amason Lyman, who was the mayor of San Bernardino and a Mormon Apostle. Mason moved her family to L.A. where her daughter married had the son of Robert and Minnie Owens. She continued working as a midwife and nurse, saving her money and using it to purchase land in what is now the heart of downtown L.A. There she organized First A.M.E. Church, the oldest African American Church in the city. Mason used her wealth, estimated to be about $3 million, to become a philanthropist to the entire L.A. community. She donated to numerous charities, fed and sheltered the poor, and visited prisoners. Mason was instrumental in founding a traveler's aid center and an elementary school for black children.
Bridget "Biddy" Mason died in L.A. on January 15, 1891. She was buried in an unmarked grave in Evergreen Cemetery. On March 27, 1988, the mayor of L.A. and members of the church she founded held a ceremony, during which her grave was marked with a tombstone.
Bridget "Biddy" Mason is associated with the Historic Resources Associated with African Americans in Los Angeles Multi-Property Submission (MPS). It was approved and listed on the National Register of Historic Places on March 17, 2009.
Last updated: February 7, 2021