Person
Major General Benjamin F. Butler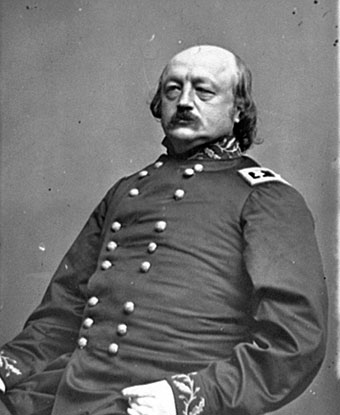 Significance:
Made the 'Contraband Decision' which enabled thousands of enslaved people to seek refuge behind Union Lines
Place of Birth:
Deerfield, New Hampshire
Date of Birth:
November 5, 1818
Place of Death:
Washington, DC
Date of Death:
January 11, 1893
Place of Burial:
Lowell, MA
Cemetery Name:
Hildreth Cemetery
Born in New Hampshire, Benjamin Franklin Butler served as a major general in the Union Army during the Civil War. Prior to his Civil War service he was a laywer and served in the Massachusetts state legislature.
Union Major General Benjamin F. Butler, who had arrived at Fort Monroe only two days before, determined that the U.S. Constitution and the Fugitive Slave Act did not affect another country, which Virginia claimed to be. Given that the freedom-seekers were property of a rebel colonel and were about to be used against the United States, Butler resolved that he would hold the enslaved men, hence property, as he "would for any other property of a private citizen which the exigencies of the service seemed to require to be taken by [him], and especially property that was designed, adapted and about to be used against the United States."
Butler was a shrewd military leader and lawyer. His decision, which came to be known as the "Contraband Decision," enabled thousands of enslaved people from states in rebellion to seek refuge behind Union lines. However, no existing law or policy supported his clever reasoning, which supplied the Union with able-bodied men capable and willing to support the Union. Despite the impact of his decision on slavery, Butler was not an abolitionist; he had voted for Jefferson Davis at the 1860 Democratic National Convention. Tellingly, his decision did not challenge the fundamental premise of slavery (people as property) and neglected a key question: Were these freedom-seekers now free?
Enslaved men who found their way to Fort Monroe quickly became known as "contrabands," a term that marked their provisional state of being neither free nor enslaved. In subsequent months "contraband" was adopted into common use and signaled changing views of slavery in America. In the following years, Butler's decision had resounding military, political, and social implications as well. It served as a forerunner to the First (1861) and Second Confiscation Acts (1862), the Militia Act (1862), the Emancipation Proclamation (1863), and, ultimately, the Thirteenth Amendment to the U.S. Constitution (1865), which outlawed slavery and involuntary servitude throughout the United States.
After the Civil War, Butler served as a Congressman and Chairman for the House Committee on Reconstruction.  As committee chair, he authored the Klu Klux Klan Act of 1871 and co-authored, along with Senator Charles Sumner, the Civil Rights Act of 1875.
It was also after the Civil War he became the president and treasurer of the Board of Managers for the National Home for Disabled Volunteer Soldiers. In 1870, he suggested a new branch be opened in the South to accommodate the U.S. Colored Troops and proposed that the location be near Fort Monroe. The Board of Managers' search committee selected Butler's land for the new branch. The Southern Branch is located at 100 Emancipation Drive in Hampton, Virginia. The Southern Branch has been documented by the National Park Service's Historic American Buildings Survey. 
Last updated: August 23, 2019