Benjamin Harrison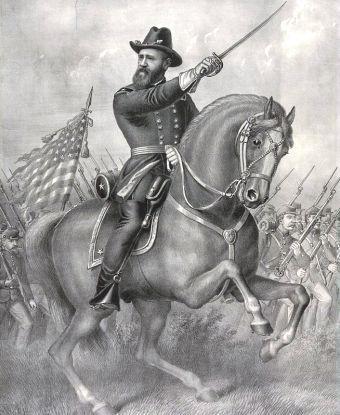 Quick Facts
Significance:

Union colonel and 23rd President of the United States

Place Of Birth:

North Bend, OH

Date Of Birth:

August 20, 1833

Place Of Death:

Indianapolis, IN

Date Of Death:

March 13, 1901

Place Of Burial:

Indianapolis, IN

Cemetery Name:

Crown Hill Cemetery
As the great-grandson of a governor, grandson of a president, and son of a congressman, Benjamin Harrison was born with politics in his blood. It's no wonder he went on to become the nation's 23rd president, but a lesser known fact about him might be that he also served in the Civil War.

Although initially reluctant to get enlist in the Union army because of concern about his family's financial well-being, Harrison found himself lured in by the shortage of recruits answering the call to serve. After offering his help, if needed, to Indiana Governor Oliver Morton, he was tasked with organizing a regiment and commissioned as a second lieutenant. In August 1862, his regiment was sent south to Louisville, Kentucky to join the Union army as the 70th Indiana Infantry, with Harrison promoted to the rank of colonel.

The infantry spent much of the war conducting reconnaissance work and protecting railroads, but in 1864, finally made it to the front lines as part of William T. Sherman's Atlanta Campaign.

In the campaign, Harrison was given command of a brigade in the XX Corps and participated in the Battles of Resaca, Cassville, New Hope Church, Lost Mountain, Kennesaw Mountain, Marietta, Peachtree Creek and Atlanta. His brigade also fought in the Battle of Nashville. With a final rank of brigadier general, Harrison remained in the army until June 1865, after having marched in the Grand Review in Washington, D.C in May.

A lawyer before the war, Harrison resumed his law practice afterwards, while remaining active in state politics. He served as a U.S. Senator from 1881 to 1887 before winning the White House in 1888, one of five Union veterans to become president after the war.
Last updated: June 17, 2015