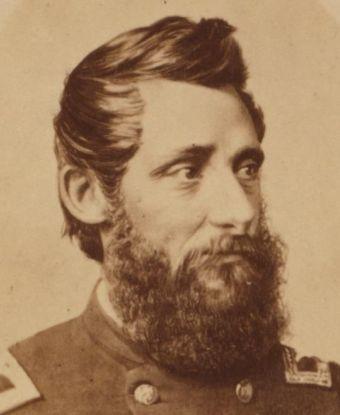 Significance:
Union cavalry commander
Place Of Birth:
Pittsburgh, PA
Date Of Birth:
July 8, 1826
Place Of Death:
Omena, MI
Date Of Death:
August 31, 1911
Place Of Burial:
Jacksonville, IL
Cemetery Name:
Jacksonville East Cemetery
Benjamin Henry Grierson was a music teacher and band leader who would later rise to the rank of brigadier general in the U.S. Army. When the Civil War erupted, Grierson enlisted as a captain and aide-de-camp to Major General Benjamin M. Prentiss. He was promoted to major in the 6th Illinois Cavalry on October 24, 1861 and colonel of the unit on April 13, 1862.
In November 1862, Grierson became a brigade commander in the cavalry division of the Army of the Tennessee. He was promoted to brigadier general of volunteers in June 1863, shortly before leading his brigade on a highly-successful raid deep into enemy territory that drew Confederate resources away from Ulysses S. Grant's Vicksburg assault. In 1864 Grierson was appointed commander of a cavalry division in the Army of the Tennessee, then commander all cavalry units in the District of West Tennessee, and finally commander of the Cavalry Corps of the Army of the Mississippi.
When the war ended, Grierson chose to remain in the Regular Army and was appointed a colonel in the cavalry. In 1866, he organized the 10th U.S. Cavalry, a unit composed entirely of African American troopers, which came to be known as the Buffalo Soldiers. Grierson's faith in these troops, his respect for Native American culture and his lack of West Point credentials all combined to distance him from his fellow officers and superiors. Nevertheless, Grierson went on to a distinguished career in the post-war army and he retired a brigadier general in 1890.
Last updated: June 17, 2015