Person
Benjamin Franklin Loomis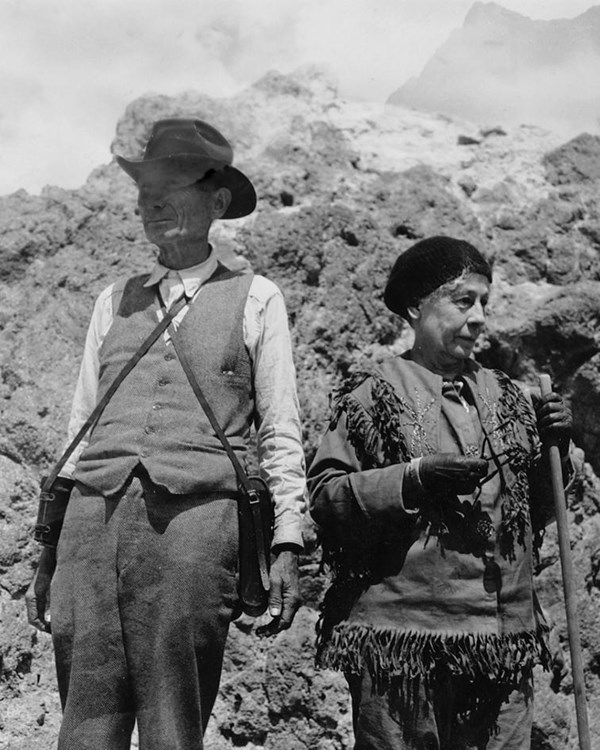 Place of Birth:
Mantaga, Illinois
Date of Birth:
March 21, 1857
Date of Death:
June 11, 1935
Place of Burial:
Shingletown, CA
Cemetery Name:
Ogburn Inwood Cemetery
Benjamin Franklin (B.F.) Loomis' photos of the 1914-1915 eruptions of Lassen Peak brought national attention to the area and supported the campaign to establish Lassen Volcanic National Park.
Building a Life at Lassen
Loomis arrived in northern California with his family by way of the Nobles Emigrant Trail when he was a young child. When he was 18, he moved to the Manzanita Lake area where he built a cabin on the creek above the lake and became a shake cutter. He married his wife Estella at age 40 and they welcomed their daughter Louisa Mae two years later.
Capturing Lassen Peak Eruptions
On May 30, 1914 Loomis received word that Lassen Peak was erupting. In June, he shot a series of six exposures that brought Lassen Peak into the national spotlight and supported the campaign to establish Lassen Volcanic National Park. He continued to make trips to the mountain whenever he could throughout the next year to record the events and to guide visiting geologists and dignitaries to the volcano.
Developing Manzanita Lake Area
Despite a busy life as a merchant who operated a store, hotel, freighting business and lumber mill in nearby Viola; B.F. Loomis always had time and energy to promote interest in the park. In 1926 the Loomises purchased 40 acres of land in the Manzanita Lake area. The following year they completed construction of the Louisa Mae Loomis Memorial Museum in memory of their daughter who passed away in 1921. The museum displayed B.F. Loomis' pictorial record of the 1914-15 eruptions of Lassen Peak, which were also included in Loomis' book Pictorial History of the Lassen Volcano that was published in 1926.
In 1929, the Loomises donated their 40 acres, the museum, and an adjacent seismograph building to the park. That same year they began construction of a combination residence and art store across from the museum on a five-acre lifetime lease. The couple lived and sold photographs, postcards, and film from the residence/art store. Frank and Estella greeted visitors at their art studio or the museum and sometimes gave lectures based on Frank's photograph collection.
B.F. and Estella lived at Manzanita Lake in the summer and wintered at their home in Anderson. Early in 1935, at the age of 78 years, B.F. developed cancer of the stomach and died on June 11 of that year. Estella donated the Loomis Residence & Art Store to the park upon her death in 1953.
Last updated: January 27, 2022