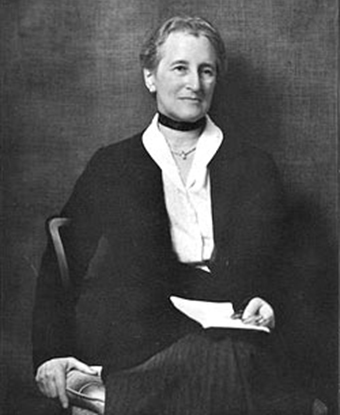 Significance:
Landscape gardener of Acadia's carriage roads, Dumbarton Oaks, and the White House East Garden
Place of Birth:
New York City, NY
Date of Birth:
June 19, 1872
Place of Death:
Bar Harbor, ME
Date of Death:
February 28, 1959
"She was outstanding as a designer; she had a great sense of proportion and strength in her designs. But because she was a woman, she didn't have the opportunities that men had. They were designing public parks; her work was in the private realm." Landscape architect Diane K. Maguire, quoted in the New York Times, 2003.
Beatrix Farrand was an acclaimed landscape gardener (she preferred the term to architect) whose designs can still be enjoyed in many cultivated spaces today. Among the existing examples of her work are the terraced garden rooms of Dumbarton Oaks, and the carriage roads of Acadia National Park. She also worked with both Ellen and Edith Wilson to design a First Lady's Garden for the East Wing of the White House. The area was re-envisioned by Jacqueline Kennedy in 1962 and is now the Rose Garden.
Dumbarton Oaks
Beginning in 1921, Beatrix Farrand transformed the grounds around the Georgian Revival mansion from farmland into terraced gardens that combined American and European elements. She worked with owner Mildred Bliss for decades to cultivate a landscape that evolved over time in harmony with natural changes to the environment. The Dumbarton Oaks gardens represent Farrand's signature style and are her best-known work.
Growing Acadia
"Her most significant project was working with John D. Rockefeller Jr. on preserving and beautifying the carriage roads in the park. Impressed with her abilities in orchestrating work on the gardens at The Eyrie and her passionate interest in native plants, Rockefeller engaged her to consult on the roadside plantings in the park. They spent afternoons driving along the roads and inspecting the plantings. She injected quantities of native plants in naturalistic groupings so that they looked as if they had always been growing there, sometimes moving clumps from one location in the park to another. In all, sixty varieties of trees, shrubs, and perennials were used, and most of them were native to the island. The plantings remain one of Farrand's most significant legacies in Maine."
Judith B. Tankard, Beatrix Farrand: Private Gardens, Public Landscapes (The Monacelli Press/Random House, 2009).
Beatrix Farrand was one of America's most celebrated landscape architects, renowned for the private estate gardens she designed for East Coast society as well as her work as a landscape consultant at some of the country's most prestigious private universities and colleges. Dumbarton Oaks, the Abby Aldrich Rockefeller Garden (Maine), and the old campus at Princeton University are among her most visible masterpieces today. To this list several recent landscape restorations help enhance our understanding of this important early design professional.
Variously hailed as "the Gertrude Jekyll of America" and "the doyenne of the profession," Farrand owed her success to her unerring eye for design, profound knowledge of horticulture, and deep commitment to her profession that inspired others to follow in her footsteps... She was famous for her complex flower borders as well as her advocacy of native landscapes and plants, which she wove into a classical design framework. In her university work, she championed the concept of vertical gardening, pinning shrubs and climbers to walls to save space, and the selection of plants that would provide interest during the school term. Her landscapes always showed restraint, and many lasted as long as they did because of her vigilance about maintenance.
During her fifty-year career, Farrand received more than two hundred commissions, mostly from Old Guard families from New York, Philadelphia, and Boston. In addition to work for private clients, Farrand also established a landscape study center at Reef Point, Maine, where students benefited from demonstration gardens, a herbarium, and an extensive reference library that she had assembled over many years. Farrand was asked to assist in designing a large rose garden for public enjoyment at The New York Botanical Garden. Up until that time, her commissions had included several residential rose gardens, but nothing on the scale envisioned by the botanical garden. Farrand followed the natural lines of the topography—a natural bowl formed by a former pond—to produce an asymmetrical triangular configuration of approximately one and a quarter acres, surrounded by iron lattice fencing. The project, a collaboration with the Horticultural Society of New York, reached the planting stage, but the fencing and ornamental features were not completed until 1985, when the garden was renamed the Peggy Rockefeller Rose Garden. In 2007, the garden underwent a major renovation that brought the collection of roses into the twenty-first century under the direction of a new garden curator, with 600 varieties of plants representing both historic and modern roses.
The recently renovated gardens for the Edward and Mary Harkness summer estate near Waterford, Connecticut, present an excellent example of Farrand's mid-career work. Now known as Harkness Memorial State Park, Farrand began her work here in the early 1920s, around the time she was working on Dumbarton Oaks, several Long Island estates, and campus consultations at Yale and Princeton. Some of the grounds had originally been laid out by Wayne E. Stiles of Brett and Hall. In addition to replanting the existing Italianate garden, Farrand created several new gardens, mainly an East garden with an Asian theme, an alpine rock garden, and a boxwood parterre. The garden restoration, which was initiated by a volunteer group, is now under the direction of the State of Connecticut.
Farrand's gardens at Bellefield, The New York Botanical Garden, and Harkness Memorial State Park are all open to the public and provide insight into her diverse design skills. Her final legacy, however, is the ongoing restoration of a small, personal garden she designed for herself at Garland Farm, her last residence, in Mount Desert, Maine. After the loss of Reef Point in 1955, due to financial issues, Farrand moved to Garland Farm to spend the remaining years of her life. Now the headquarters of the Beatrix Farrand Society, Garland Farm is presently restoring her gardens—a formal flower garden and an Asian-inspired garden—as well as establishing the educational center with a library and archives that Farrand envisioned at Reef Point.
References
"As May Flowers Bloom, A Closer Look at White House Gardens Past and Present," Whitehouse.gov, May 4, 2018.
"Mildred Barnes Bliss," Dumbarton Oaks Research Library and Collections.
"Beatrix Farrand," Dumbarton Oaks Research Library and Collections.
Jennifer Harbster, "Women in Horticulture," Library of Congress, April 9, 2010.
 
Edward G. Lengel, "Pioneering Women of the Woodrow Wilson White House, 1913-1921," White House Historical Association, March 21, 2017.
Anne Raver, "NATURE: Beatrix Farrand Secret Garden," New York Times, Nov 22, 2003.
Judith B. Tankard,  Private Gardens, Public Landscapes (The Monacelli Press/Random House, 2009).
Last updated: March 16, 2022