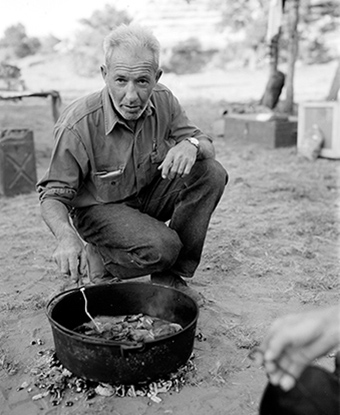 Significance:
Superintendent of Arches National Monument (1949-1972) and Canyonlands National Park (1964-1972). Bates Wilson was dubbed the "Father of Canyonlands" thanks to his tireless efforts to establish it as a national park.
When Bates Wilson accepted the position of custodian of Arches and Natural Bridges national monuments in 1949, very few people had ever heard of either place. Arches had no paved roads, campground, visitor center, nor designated trails. All of that changed during Wilson's tenure. By his retirement in 1972, Arches had doubled in size, become a national park, and was well on its way to being the world-famous tourism destination of today.
Back then, a park superintendent needed to be a "jack of all trades." On any given day, Wilson was just as likely to dig a water line ditch or winch a visitor's truck out of Courthouse Wash as he was to write a budget report or hobnob with upper management. These excerpts from his January 1950 Superintendent's Monthly Report provides a glimpse of a very different Arches:
"Inspite of heavy snowfalls on both approach roads 60 people visited the area in 21 cars representing 8 different states. Only 14 people were contacted. Ranger Worthington gave 7 illustrated talks on his own time...
"A thorough investigation was made concerning the watering and crossing problems of Mr. James S. Westwood's cattle. His grazing permit expired last year and it is a little difficult to teach old cows new tricks without a fence. Our only solution to the problem, at present, has been to issue a crossing permit to water and enlist the cooperation of Mr. Westwood."
A new national park
During his superintendency at Arches, Wilson advocated the creation of a national park in the area surrounding the confluence of the Green and Colorado rivers. He led government officials on jeep tours featuring lengthy talks over campfires and hearty dutch oven dinners. Secretary of the Interior Stewart Udall joined one of these tours in 1961, and began lobbying for the proposed park.
These efforts came to fruition on September 12, 1964, when President Lyndon B. Johnson signed Public Law 88-590 establishing Canyonlands National Park. Bates became the first superintendent which, along with his role as chief advocate for the park's creation, earned him the title of "Father of Canyonlands." In a 1967 interview, he recounts the journey from initial inspiration to the challenges of park management.
Last updated: October 29, 2019