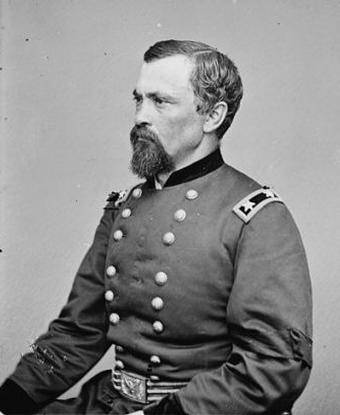 Quick Facts
Significance:

Union cavalry commander

Place Of Birth:

Baden

Date Of Birth:

January 5, 1828

Place Of Death:

Seattle, WA

Date Of Death:

September 4, 1895

Place Of Burial:

Arlington, VA

Cemetery Name:

Arlington National Cemetery
August Valentine Kautz was born in Baden, Germany in 1828; he immigrated to the United States with his parents to Brown County. Ohio. He later joined the United States Army as a private and saw his first action in the Mexican -American War. Following the war, Kautz entered the United States Military Academy at West Point and graduated in 1852. He went on to serve in the Pacific Northwest where he was twice wounded during the Rogue River Wars in 1855. Kautz also served in the Puget Sound War in 1856. He was rewarded for his service with a commission of lieutenant in the regular army.

Returning to the U.S. from Europe at the outbreak of the Civil War, Kautz sided with the Union and was commissioned a captain in the 6th U.S. Cavalry. He served in the Peninsula Campaign and the Seven Days' Battles before he was sent to the Kansas-Missouri border. In late 1863 he was transferred back to the East as the cavalry commander for the Union Army of the James in the campaigns against Richmond and Petersburg, Virginia. On April 3, 1865, Kautz's division of United States Colored Troops was among the first to occupy Richmond, Virginia. He was active during the Union pursuit of Robert E. Lee from April 2 to April 9, 1865, prior to the surrender at Appomattox Court House.

After the war, Kautz served on the military commission that tried the conspirators involved in the assassination of President Abraham Lincoln. He went on to serve as the commander of the Department of Arizona and commanding officer of Fort McDowell. He resigned from the army in 1892 with the rank of brigadier general. During and after his service he authored several manuals on duties and customs that were eventually adopted by the U.S. military.
Last updated: June 17, 2015