Assiginack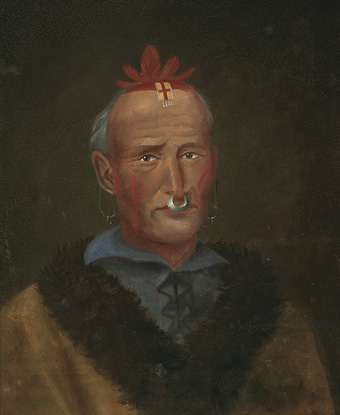 Quick Facts
Significance:

Odawa war chief

Place of Birth:

Waganakasing/L'abre Croche, Michigan

Date of Birth:

1768

Place of Death:

Manitowaning, Ontario

Date of Death:

1866
The Odawa from northern Michigan were led into battle by Assiginack (Red Wing Blackbird), a compelling character whose mix of beliefs and ideas would influence the Odawa for many years after the war. Like many Anishnaabek warriors, Assiginack's ability to fight for his people exended beyond the warpath.
Assiginack's war party included Mookmanish (Little Bad Knife), Kishigopenasi (Day Bird), Makadepenasi (Blackbird), Eshquagonabe (Looking Back) and Clap of Thunder at Night. The war party traveled by canoe to fight American soldiers throughout the Great Lakes, sometimes travelling 1,600 miles round trip. Assiginack and his warriors followed a long lineage of Odawa warriors who fought against the Muschodesh, Fox, Iroquois, Winnebago, Chickasaw, British and American forces to protect their homelands.
Assiginack was a renowned orator for the Odawa, once giving a speech from sunrise to sunset, for the purpose of securing warriors to fight the Americans. In addition to his speaking skills, Assiginack led by example as well. He led warriors from Little Traverse successfully into combat, including the Niagara Theater of the war. Every battle Assiginack and his warriors fought in, they won. After the war ended, Assiginack recognized new enemies that must be confronted, one of which was the disastrous effects alcohol had on the Odawa. On one occasion, Assiginack got word that a boat planned on bringing a large quantity of rum to his village. Assiginack quickly gathered his warriors, boarded the vessel and dumped all the rum into the lake.
At the conclusion of the war, Assiginack became an interpreter for the British on Drummond Island, Michigan. Assiginack relocated back to Waganakising in 1827 to help create a Catholic mission at Little Traverse with his brother Apawkausegun. Apawkaugeum was instrumental in helping to negotiate the 1836 treaty between the Little Traverse Bay Bands of Odawa Indians and the United States. But American policies were not favorable to Assigianck and he later relocates his villages to original Odawa homelands on Manitoulin Island, Ontario. Assiginack and his brother constantly strove to improve their tribe's position and rights, whether it was through battle, treaty negotiations or finding a more suitable village location.    
Last updated: September 14, 2017