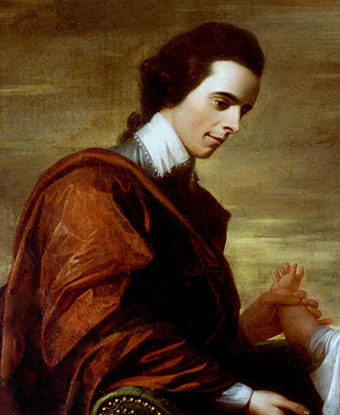 Significance:
Politician and signer of the Declaration of Independence
Place of Birth:
near Charleston, South Carolina
Date of Birth:
June 26, 1742
Place of Death:
near Charleston, South Carolina
Date of Death:
January 1, 1787
Place of Burial:
near Charleston, South Carolina
Cemetery Name:
Middleton Place Mausoleum
Arthur Middleton was born on June 26, 1742 at Middleton Place on the Ashley River in St. Andrew's Parish. He was the son of Henry Middleton and Mary Williams. At age twelve, he was sent to England to complete his education, eventually attending St. John's College (Cambridge) before entering the Middle Temple in London for legal training in 1757. He returned to South Carolina in December 1763. On August 19, 1764, he married the wealthy heiress Mary Izard, daughter of Walter Izard, Jr. The marriage produced nine children.
Possessing financial independence, thanks to the wealth derived from his slaveholding and plantations, Middleton, like other members of the Lowcountry elite, pursued public office. In October 1765 he won a seat in the Commons House of Assembly, where he represented St. Helena's Parish until May 1768. In 1768, he and his wife left for Europe to spend the next three years traveling throughout the Continent, studying literature and arts. When Middleton returned to South Carolina in 1771, he avoided public service to focus on managing his rice plantations. However, as political turmoil with Great Britain reached a crisis point in 1775, his devotion to public service swayed him to reenter the public arena, serving on many revolutionary committees. 
Middleton emerged as a leader within the extreme faction of the local Whigs by organizing and leading raids on royal armories, raising money for the patriot cause, planning for the defense of Charleston, and proposing the confiscation of property belonging to those loyalists who had fled South Carolina. Middleton's work earned him a position on the committee drafting South Carolina's first constitution in February 1776 and election as a delegate to the Continental Congress in Philadelphia. There Middleton, fearful of a British attack on South Carolina, reluctantly signed the Declaration of Independence. Over the next two years, Middleton helped frame the Articles of Confederation and tried to secure additional military support from Congress for the southern theater. His frustration with Congress led him to return home.
In March 1778, the General Assembly elected Middleton governor under the state's new constitution. Middleton, however, refused the position, partly because he disagreed with the democratic spirit of the new constitution and partly because he still hoped for some form of reconciliation with Great Britain. Middleton provided assistance in the General Assembly until the siege of Charleston in 1780, when he joined the militia to help defend the capital. When Charleston fell to the British on May 12, Middleton was captured and eventually sent to St. Augustine as a prisoner of war, along with other patriot political leaders. In July 1781, he was exchanged and returned to Philadelphia as a delegate to the Continental Congress, where he promoted South Carolina's commercial interests and insanely argued for the execution of British general Lord Cornwallis. 
After his return to South Carolina in 1783, Middleton devoted his energies to repairing his war-ravaged estate. He returned to the General Assembly in 1785 and also served as a trustee of the College of Charleston. Middleton died from an unknown fever on January 1, 1787 and was buried at his plantation, Middleton Place. 
Last updated: December 27, 2019