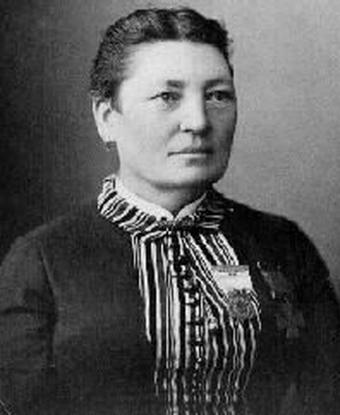 Significance:
Union Nurse
Place of Birth:
Wayne County, MI
Date of Birth:
May 3, 1839
Place of Death:
Washington, DC
Date of Death:
January 23, 1913
Place of Burial:
Arlington, VA
Cemetery Name:
Arlington National Cemetery
Having already been a nurse at a Michigan hospital, as well as caretaker for her father before his death, Anna Blair "Annie" Etheridge always knew that was the profession she wanted to be in - and the Civil War provided her the perfect opportunity.
She was one of 20 women to join the 2nd Michigan Volunteer Infantry Regiment as a Vivandiere, or Daughter of the Regiment, later transferring to the 3rd and 5th Michigan Infantries so that she could remain with the Army of the Potomac.
Never one to shy away from the dangers of the battlefield, her acts of heroism included removing the injured from combat and getting water to those near death. Union Maj. Gen. Philip Kearney even recommended her promotion to the rank of sergeant before he was killed in action at the Battle of Chantilly.
She was almost captured during the Second Battle of Manassas, and during the Battle of Chancellorsville she was wounded in the hand when a Union soldier tried to hide behind her horse. Because of her bravery during such instances, she is one of only two women to have received the prestigious Kearny Cross, a medal reserved for those who "most distinguished themselves in battle."
After the war's end in 1865, Etheridge returned to Detroit, where she got married, took a job with the United States Treasury Department, and eventually received a monthly pension from the government for her military service. Upon her death in 1913, Etheridge was interred at Arlington National Cemetery with full veteran's honors.
Last updated: July 6, 2023