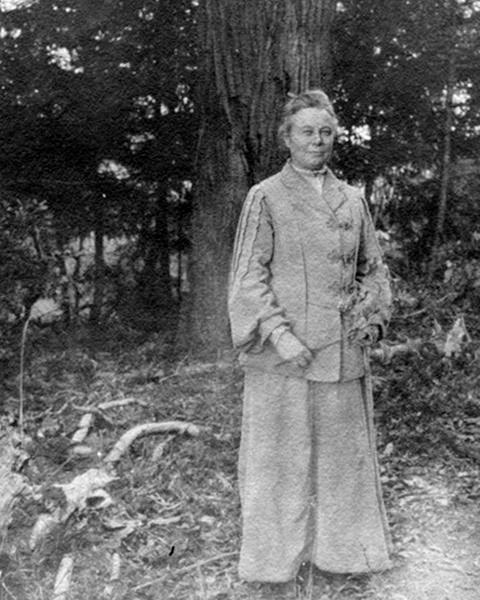 Significance:
Botanist, activist, conservationist, and early member of women's organizations to preserve Muir Woods National Monument.
Place of Birth:
Toronto, Canada
Date of Birth:
January 19th, 1859
Place of Death:
San Francisco, California
Date of Death:
October 30th, 1953
Alice Eastwood was a successful botanist and fierce conservationist. She fought to preserve Muir Woods National Monument and Mt. Tamalpais State Park as well as many other redwood groves in California. She worked at the California Academy of Sciences for over 50 years. She collected over 300,000 specimens in her lifetime. Alice Eastwood also pioneered botanical research in Colorado and the surrounding area.
Alice Eastwood was born January 19, 1859 in Toronto, Canada. She lost her mother when she was six and moved around often as a child. She took on many responsibilities such as raising her siblings and earning money for the family. She spent some time living with her uncle. He was an experimental horticulturist and helped to inspire her love of plants. She later lived on a convent where a priest who loved to garden supported her interests. When she was 14 years old Alice Eastwood moved to Colorado to live with her father. She marveled at the diverse ecology of Colorado and the wondrous plant life. Alice Eastwood excelled in school but she dropped out of high school to work and support her family. She worked many jobs and made enough money to return to high school in her senior year. She was valedictorian.

Alice Eastwood spent the next decade or so teaching high school while exploring the mountains of Colorado in her free time. She studied Gray's Manual and Coulter's Manual of Rocky Mountain Botany extensively, teaching herself the necessary skills to be a botanist. She began to make a name for herself in botany and established the only plant collection in Colorado at the time. Alice Eastwood wrote and published the first book on flora in central Colorado, A Popular Flora of Denver, Colorado, in 1893. One of the plant species she discovered and named was collected in Courthouse Wash, now located in Arches National Park. This plant is commonly known as slender cats eye or yellow cats eye (Oreocarya tenuis.) Alice Eastwood discovered and collected a sample of the plant in 1892 but it took her 11 years to identify and name the plant. She once said of the plant life in the region:
"So distinct, so individual are those blossoms that they seem to have souls. They speak a wonderfully enticing language to draw the wandering insects to their honeyed depths…The bands of color on both divisions of the perianth are bewildering, impossible to describe; but more than aught else, they cause each flower to say proudly, with uplifted head, 'I am myself; there is no other like me." 
 
Alice Eastwood in the feild. Biodiversity Heritage Library, California Academy of Sciences Archives. 

In 1893 Alice Eastwood moved to San Francisco to work at the California Academy of Sciences as a curator. Over the next decade she would establish a diverse collection of plants and publish many books. When she moved to California she became passionate about redwood conservation. On November 20th, 1904 The San Francisco Call Newspaper reported on a women's club meeting to save what was then called the Redwood Creek Canyon. This area now consists of Muir Woods National Monument and Mt. Tamalpais State Park. The article spoke of the enthusiasm of the meeting and hopeful prospect of protecting the ancient redwood groves. Alice Eastwood spoke passionately at this meeting, about protecting the landscape, its incomparable beauty and ecological importance. Her speech inspired the crowd and garnered great support for the cause. She said:
"There is only one reason why I wish I had $1,000,000. The only thing I want that amount of money for is to buy Redwood Park and Mount Tamalpais and present them to the State of California for a public reserve." 
 
On April 18th, 1906 the great San Francisco earthquake shook the city. Alice Eastwood ran into the crumbling California Academy of Sciences building to try to rescue the Academy's collections. She was able to rescue 1,211 plant species of immense value. She also saved many books from her colleges collections. She said of the experience,
"Not a book [from my department] was I able to save, nor a single thing of my own, except my favorite lens, without which I should feel helpless... My own destroyed work I do not lament, for it was a joy to me while I did it, and I can still have the same joy in starting it again."
Over the rest of her career she would rebuild this collect and then some, adding over 340,000 specimen. She also went on to publish over 300 articles, books and scientific papers. Alice Eastwood named 395 plant species and had many species named after her.

Alice Eastwood retired in 1949 at 90 years old after 57 years. The Tamalpais Conservation Club, which she had been a founder and a past president, named a beautiful recreation area after her: Camp Alice Eastwood. A trail to the camp is accessible at Muir Woods today.
At age 94 she wrote, "I count my age by my friends, and I am rich in friends." Alice Eastwood passed away in 1953.

Eastwood worked to understand and protect the diverse botany and ecology of California, Colorado and the world at large. She not only dedicated her own life to this work, but inspired others to do the same.
Last updated: September 27, 2021