Person
Alexander Cochrane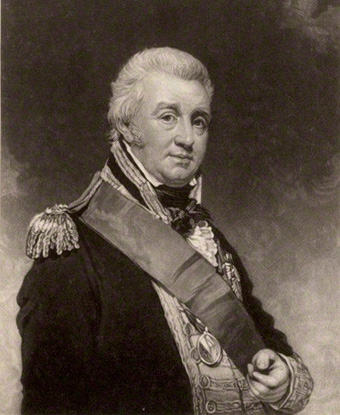 Significance:
Royal Navy leader
Date of Birth:
April 23, 1758
Place of Death:
Paris, France
Date of Death:
January 26, 1832
Sir Alexander Cochrane was born into a Scottish aristocratic family as a younger son, and like many in this position made a career out of military service. Cochrane joined the Royal Navy as a boy and fought in the American Revolution. Following this war he rose quickly in the Napoleonic Wars, earning renown in the Battle of San Domingo and the Conquest of Martinique in 1809.
By the beginning of the War of 1812, Cochrane was a well-seasoned and high-ranking officer. As a vice admiral, he was appointed Commander-in-Chief of the new North American naval station in Bermuda. He devised a clever plan to weaken the American defenses and turn America's slaves against the country by inviting any American – slave or free – to join the British Navy. Many slaves took this offer, escaping to British lines for military service in exchange for their freedom.
By the summer of 1814, Cochrane had returned to the waters of the United States, overseeing the raids of the Chesapeake.  Lieutenant General Sir George Prevost, governor of Upper Canada, suggested launching an invasion somewhere in the United States in retaliation against the sack of York and to weaken the American forces, relieving pressure on Canada. Cochrane landed the ground troops to invade Washington, and presided over the bombardment of Fort McHenry in the Battle of Baltimore.
After only moderate success in the Chesapeake, Cochrane wanted to push toward New Orleans in order to cement the British position in the United States. He orchestrated an amphibious attack on the city via Lake Borgne, an inlet of the Gulf of Mexico that could bring troops close to the city.
Although Cochrane was successful in the Battle of Lake Borgne, allowing the British Army to advance toward New Orleans, the disastrous defeat at the Battle of New Orleans damaged his reputation. The influential Napoleonic War hero the Duke of Wellington in particular blamed Cochrane of the death of his brother-in-law, Sir Edward Michael Pakenham, the British general overseeing land troops at the Battle of New Orleans.
However, despite the criticisms and ultimate failure to get a foothold in the United States, Cochrane was promoted to admiral after the war, and served out the rest of his military career as Commander-in-Chief of the naval base in Plymouth, England. 
Last updated: June 18, 2015