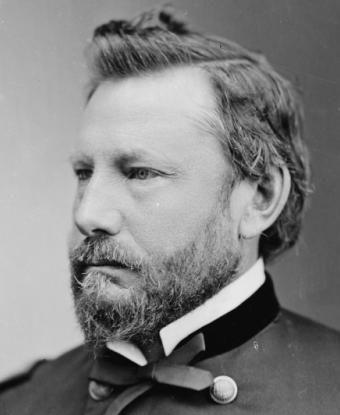 Significance:
Father of the U.S. Army Signal Corps and its first chief signal officer
Place Of Birth:
Newburgh, NY
Date Of Birth:
September 20, 1828
Place Of Death:
Buffalo, NY
Date Of Death:
August 24, 1880
Place Of Burial:
Buffalo, NY
Cemetery Name:
Forest Lawn Cemetery
Albert James Myer was a telegrapher and physician who began his military career in 1854 as an Assistant Surgeon in the U.S. Army. Fascinated by non-verbal methods of communication, Myer devised a scheme for transmitting a kind of binary code through the use of a single flag by day and kerosene lamp by night.
Called the wig-wag system, or aerial telegraphy, Myer's system of long-distance communication was adopted by the U.S. Army in 1860 and Myer was appointed to oversee its development and deployment as commander of the new U.S. Army Signal Corps. In the American Civil War, both sides adopted the wig-wag system. It was, in fact, the Confederate Captain Edward Porter Alexander who first employed it in combat at the First Battle of Manassas on July 21, 1861.
In addition to aerial signaling, Myer deployed mobile field units that were designed to support an electrical device called the Beardslee telegraph, which used a simple dial to transmit messages instead of a key. He continued to experiment with other communication and coding systems throughout the war. By 1864 all military telegraphic operations had been consolidated in the Corps, but in a personal setback, Myer lost his command in 1864 because of the Senate's failure to approve his original appointment, though he returned to lead the Corps in 1866.
In 1870, the Signal Corps was assigned the further responsibility of recording and transmitting meteorological data collected at its many stations across the nation, and so became the U.S. government's first weather service. Myer led the Signal Corps until his death in 1880.
Last updated: June 17, 2015