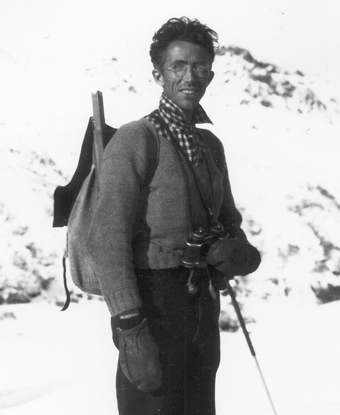 Significance:
Wildlife Biologist, Conservationist
Place of Birth:
Moorhead, Minnesota
Date of Death:
August 16, 1974
Adolph Murie has been called "Denali's Wilderness Conscience." His life's work has profoundly shaped wildlife management policies and wilderness conservation in Denali National Park and Preserve (originally named Mt. McKinley National Park).
Adolph first came to Alaska in 1922 to assist his older half-brother Olaus with a caribou study in the Brooks Range. In 1922 and 1923, the brothers attempted to capture caribou bulls in Mt. McKinley National Park as part of a project to enhance domestic reindeer by breeding them with the larger caribou. Adolph graduated from Concordia College in 1925 with a degree in biology, and the following three summers worked as a seasonal ranger in Glacier National Park. After completing his dissertation on the ecological relationships of deer mouse subspecies, he received a Ph. D. from the University of Michigan in 1929.
In 1932 Adolph married Louise Gillette. Adolph's half-brother Olaus married Louise's half-sister Margaret "Mardy" Thomas. Both couples focused their work on wildlife ecology and wilderness conservation.
Adolph was hired in 1934 as a wildlife biologist for the National Park Service (NPS). He studied a variety of species in several park units, including a study of coyote ecology in Yellowstone National Park in 1937.
Last updated: December 15, 2015