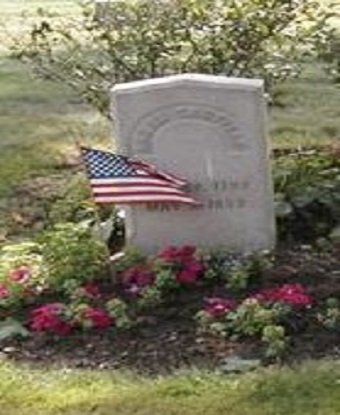 Significance:
Father of the 20th President of the United States
Place of Birth:
Worcester, New York
Date of Birth:
December 28, 1799
Place of Death:
Orange Township (now Moreland Hills), Ohio
Date of Death:
May 8, 1833
Place of Burial:
Solon, Cuyahoga County, Ohio
Cemetery Name:
Roselawn Cemetery
Abram Garfield was born Dec. 28, 1799 in New York. He grew up in Worcester, New York and would become childhood friends with future wife Eliza Ballou.  Abram intended to marry Mehitabel Ballou, Eliza's sister. However, when Abram heard she married someone else, he decided to leave New York for the Ohio territory in 1819.  Abram and Eliza crossed paths again in Muskingum County, Ohio where they formed a relationship. They were married in February of 1820 just 3 months later. The newlyweds moved to Newburgh which is Independence, Ohio today.  Abram took several contracts to build portions of the Ohio and Erie Canal in Newcomerstown and Independence, which his son James Abram would work on many years later.
The Garfields' marriage would bring five children into the world. In 1821, their first child Mehitabel "Hitty" was born, Thomas followed in 1822. Mary and James Ballou would follow in 1824 and 1826 respectively.  Abram, Eliza and their children lived in a log cabin in Ohio's Western Reserve near Newburgh, which is Independence today. Their youngest child James Ballou died in 1829, and was buried at Roselawn Cemetery in Solon, Ohio. 
After their youngest child's death the family turned to the Disciples of Christ which would become an important factor in James Abram Garfield's adult life.  On November 19, 1831 the youngest Garfield child was born, James Abram, named after his deceased brother and his father. When James was just a little younger than two years old the family experienced a fire in the forest near their farm. Abram Garfield fought back flames in earnest; he succeeded in saving his farm, but caught a fever and died of what might have been pneumonia on May 8, 1833. In her diary Eliza remarked, "A few minutes before Abram succumbed, he gazed fondly at his brood and gasped out…, 'Eliza, I have planted four saplings in these woods. I leave them in your care.'"  Eliza would take care of her four children and their farm by herself and was determined to her family together. She sold some of her farm parcel for a log schoolhouse where her children and their cousins, the Boyntons, and children surrounding farms would attend. Abram would die without seeing his children grow up and miss seeing his youngest son become the 20th president of the United States.  Abram Garfield has a gravestone at Roselawn Cemetery alongside his son James Ballou who was buried four years earlier.  
Last updated: May 26, 2020