Abbie Rowe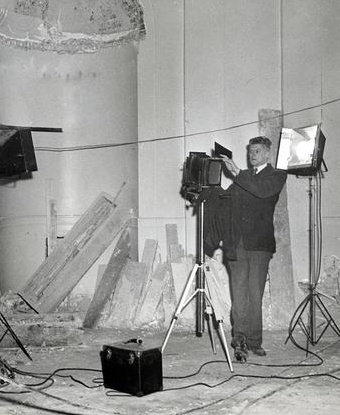 Quick Facts
Significance:

Photographer

Place of Birth:

Strasburg, VA

Date of Birth:

August 23, 1905

Place of Death:

Alexandria, VA

Date of Death:

April 17, 1967
Abbie Rowe was born in 1905 in Strasburg, Virginia. He worked for the National Park Service for many years and is best known for his photography at the White House.
Rowe was employed by the Bureau of Public Roads in 1930. This was his first position with the federal government. In 1932, he joined the Office of Public Buildings and Public Parks, which later became National Capital Parks East within the National Park Service. It was in this position that he first became interested in photography. He started by taking pictures of birds at a sanctuary he frequented. The photographs of birds caught the eye of the National Park Service, which offered Rowe an apprenticeship. Eventually, he was promoted to an official photography position. Rowe documented public roads and buildings that surrounded the nation's capital and parks such as Blue Ridge Parkway. 
In 1941, President Franklin Roosevelt wanted a photographer to document his daily activities. At the time, there was no official White House photographer like there is now. The National Park Service assigned Rowe to photograph the president, especially taking part in activities away from the White House.
One of Rowe's most famous photographs was of Mrs. Roosevelt on a horse ride in the morning. The president liked this photograph, and others that Rowe had taken, and continued to expand Rowe's photography duties. Rowe began documenting life inside the White House in addition to events off the grounds. He was designated as the ex-officio presidential photographer.
Rowe remained as photographer for the duration of Roosevelt's presidency and did not leave after Roosevelt left office. He served as photographer for five presidents. From 1941 to 1967, Rowe photographed presidents Roosevelt, Truman, Eisenhower, Kennedy, and Johnson. A search for photographs during this time period will include the credit line "National Park Service photo by Abbie Rowe."
In 1963, Rowe received the Distinguished Service Award of the Department of the Interior. He is also known as an eminent photographer through the National Park Service, a distinction given to few photographers. Rowe died in 1967 from cancer. His presidential photography and contributions to the National Park Service live on.
Last updated: May 24, 2018