---
MENU
---
---

Breeches, Blouses, and Skirts
---
---
National Park Service Uniforms
Breeches, Blouses, and Skirts 1918-1991
Number 4

---

---


Breeches, Blouses, and Skirts (continued)

---
In the spring of 1940 the Fechheimer Brothers Company forwarded drawings for a distinctive uniform for Park Service women to the uniform committee chairman for the committee's perusal. [5] It is not known whether these were solicited or just a bit of entrepreneurship on the part of Fechheimer. Fechheimer was a very aggressive company and usually attended the conferences in order to answer questions concerning uniforms as well as being there when decisions were made.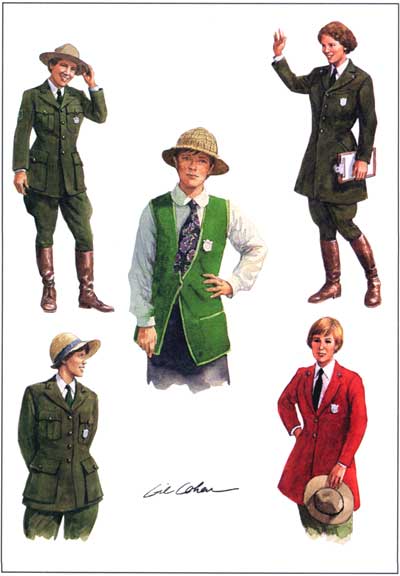 Due to the lack of official guidance, early Park Service women wore whatever the park superintendent or their own whim dictated.
Badges were pinned on all types of clothing to identify their association with the Park Service.
NPSART-Gilbert B. Cohen, artist-HFC/ARM#GR-0002 1 thru 5

---
---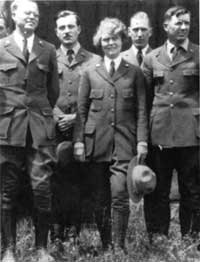 Margaret Fuller Boos, c. 1929, temporary ranger-naturalist, Rocky Mountain National Park.
Boos worked two seasons at the park, 1928-1929. She wore the same uniform as the men in the park, except cut for a woman. Left to right: Edmund B. Rogers, supt; (?), Margaret Fuller Boos, (?), (?)
NPSHPC-HFC/ROMO#58 1-2
---
---
At the Superintendent's Conference in January 1941, women's uniforms were on the agenda. It would seem logical that Fechheimer's sketches would have been presented at that time, but the tone of the official correspondence indicates otherwise. It refers to the distribution of the drawings after the conference. This of course does not preclude the possibility of them being discussed at the meeting and distributed afterward.
Unfortunately, since these drawings have not been located we have no way of knowing exactly what the uniforms looked like. From the correspondence it can be determined that they contained two different uniforms, "A" and "B"; that one of them, apparently "B", had a short coat, while "A" 's coat was of the longer variety, similar to the men's; and both included an "overseas" cap. A shirt with a high collar and a necktie were also defined. [6] This uniform sounds very much like that adopted in 1947.
As word leaked out about the proposed uniforms, women began writing Fechheimer Brothers inquiring as to prices and material samples prompting Uniform Committee Chairman John C. Preston to admonish Fechheimer to "advise the one making the inquiry that to date no definite decision has been reached by the uniform committee concerning the style of uniform for women employees of the National Park Service." [7]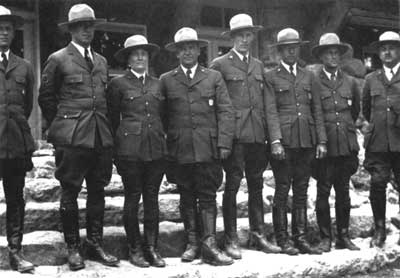 Ranger Naturalists and Naturalist Staff, 6/13/33, Yellowstone National Park.
Herma Albertson Baggley is shown with the rest of the naturalist staff at Yellowstone during her last year with the Service. Left to Right: R. Spaulding, Frank Oberhansley, Herma Albertson Baggley, Charles Hutchins, H. Stagner, H. Lystrup, Dr. McDougall, Dr. C.M. Bauer
NPSHPC-HFC/WASO #70-53-2

---
---