BREAKING THE OUTER RING: Marine Landings in the Marshall Islands
by Captain John C. Chapin, USMCR (Ret)
---
By the beginning of 1944, United States Marine forces had already made a dramatic start on the conquest of areas overrun by the Japanese early in World War II. Successful American assaults in the Southwest Pacific, beginning with Guadalcanal in the Solomon Islands in August 1942, and in the Central Pacific at Tarawa in the Gilbert Islands in November 1943, were crucial campaigns to mark the turn of the Japanese floodtide of conquest. The time had now come to take one more decisive step; assault of the islands held by Japan before 1941.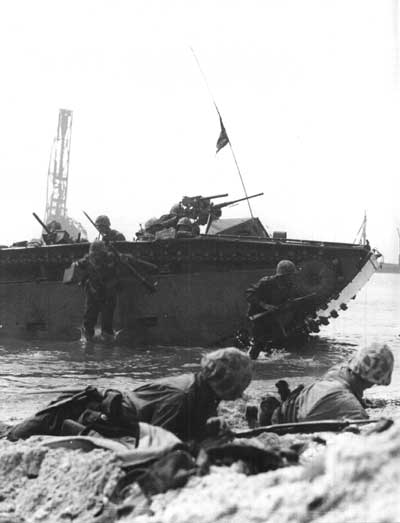 Marine riflemen, under fire, leap from a just-beached amphibian tractor in the January 1944 landing. Department of Defense Photo (USMC) 72411
These strategic islands, mandated to the Japanese by the League of Nations after World War I, were a source of mystery and speculation. Outsiders were barred; illegal fortifications were presumed; yet any Central Pacific drive towards Japan's inner defense ring had to confront these unknowns. The obvious target to begin with was the Marshall Islands. As early as 1921 a Marine planning officer had pinpointed their geographic significance.
---