OPENING MOVES: Marines Gear Up For War
by Henry I. Shaw, Jr.
---
The Stage is Set
In a general sense, the Marine Corps was ready to fight on 7 December 1941, as it has always been regardless of its size. Nearly a third of the Corps' strength was already overseas deployed to stations and outposts, where it shared, often with Navy and Army forces, the challenge of being in the forefront of battle if war came. The few thousand Marines who could realistically picture themselves at risk of immediate attack embodied the spirit of thousands more who knew their turn would come.
Prewar Marine infantry battalions each rated 12 of these Browning .30-caliber, 1917 water-cooled machine guns. The overall weight of the gun with its tripod was 85 pounds. Each weapon had a cyclic rate of fire of 400-520 rounds per minute. Sketch by Col James A. Donovan, USMC (Ret), Marine Corps Art Collection
In the immediate future, once war began, the Corps would grow to unheralded numbers, far beyond what any prewar Marine had imagined. The nucleus of Marines that would give strength to this vast assemblage, almost half a million men and women by 1944, was already in place in 1941. The generals were all veterans of World War I, Caribbean, and China service; the officers who would lead the battalions and regiments, squadrons and air groups in the first months of war were also veterans of extensive foreign and expeditionary duty. Many of the company commanders and flight leaders were products of the 1930s when the Marine Corps wisely recruited the pick of Army ROTC honor graduates. The pilots of all ranks, although as yet only a few hundred in number, were skilled and capable, men who could look forward to leading thousands of men who were in the training pipeline.

These Quonset huts at Marine Corps Recruit Depot, Parris Island, South Carolina, housed the large influx of recruits at the beginning of the war. Recruits were also billeted in barracks and tents at the depots on both coasts until late 1945. Sketch by Vernon H. Bailey. Navy Art Collection
85.
Uncle Sam — Marine
Cargo Net Landing

One of the things that have been said about the Marines is that they are "first ashore and at the scene of action" This means that the men who join Uncle Sam's Marine Corps must be well trained in the duty of getting ashore quiddy. One of their drills that teaches them to make a rapid landing from their transport employs a cargo net slung over the ship's side. With their rifles dangling from their shoulders the "Leathernecks" line up on the deck of the ship. Then at a given signal they climb over the side, using the cargo net as a rather unsteady ladder. The first men down grab opposite sides of the net to help steady it for those who follow. For training purposes the men land on a stationary platform or pier over which the cargo net is hung (see picture).

90.
Uncle Sam — Marine
Marine Sky Troops

Not to be outdone by their Soldier cousins, the "Soldiers of the Sea"— the United States Marines—have also been experimenting with Parachute Troops. This new idea of landing troops from the sky promises to be a valuable addition to Marine training, fitting nicely into their landing party duty. Similar to the training of Army Sky Troops, the Marines who volunteer for this service practice jumping from various heights to become skillful in making a sudden landing from the sky. They attempt to drop from lower and lower heights to cut down the time it takes to reach the earth and thus to lessen the danger of discovery by the enemy. The chute opens automatically. There is also an emergency 'chute which can be opened by the jumper if necessary. The picture shows a detachment of jumpers being dropped from a slow-moving Navy blimp during an initial stage of training.

63.
Uncle Sam —Marine
Field Radio

The problem of field detachments of troops keeping in touch with headquarters and bases of supplies is today largely solved by radio. At the Marine Radio Operators School, selected marines have an opportunity to study elementary radio theory, elementary electricity, radio sending and receiving, typing, Naval radio procedure and field radio sets. It qualifies them for positions of greater trust and responsibility while in Service for Uncle Sam and fits them for good- paying positions on the outside when their period of enlistment is ended. In the picture two marines are operating a portable radio sending and receiving set in the field. In this case they are keeping in touch with headquarters aboard a transport anchored in the harbor a good many miles away.

29.
Uncle Sam —Marine
Shore Duty

On shore marines live in large barracks or Service buildings where they can be quickly mobilized for emergencies. When stationed on shore at the Navy Yards and at Naval Stations their duties are to protect government property from theft, injury, or fire, and to prevent disorders of any kind. They also perform duties as infantrymen, artillerymen, machine gunners, signal men, motor transport, and occasionally as mounted infantry. The picture shows marines on Guard Duty in a Navy Yard during a war emergency. At these times the regulations are tightened and the marines have to be on the alert to prevent suspicious-looking individuals from gaining any information that would be harmful to Uncle Sam's interest.

Save to get all these picture cards showing Uncle Sam's soldiers, sailors, marines, airmen and civilians in training for National Defense.

GUM, INC., Phila., Pa. Printed in U. S. A., 1941

Popular bubblegum cards printed in 1941 illustrate how the American public viewed the Marines of the prewar period. Collector cards donated by LtGen William R. Maloney, USMC (Ret.)
Dominating the whole scene of Corps mobilization and increases in strength was a solid core of noncom missioned officers who had shared the veteran officers' experiences and who were, in the words of many qualified to comment, truly "the backbone of the Corps." In a real way, these sergeants and corporals of whatever stripe were the ones who epitomized the Marine Corps traditions of leadership and loyalty to fellow Marines. They imbued in the men with whom they served a feeling of what it means to be a Marine, of what if takes to be a Marine.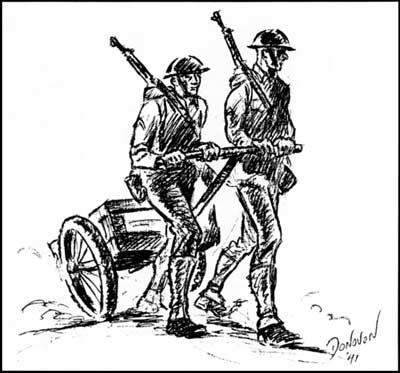 Handy items in the prewar Fleet Marine Force were Cole carts, used to carry such weapons as heavy machine guns and their tripods, 81mm mortars and their base plates, and ammunition for all the weapons in the infantry battalion. Sketch by Col James A. Donovan, USMC (Ret), Marine Corps Art Collection
Marine Corps Strength and Dispositions
30 November 1941

Continental US. (non-FMF)


| | |
| --- | --- |
| Major Bases (5) | 14,707 |
| Posts and Stations (24) | 3,367 |
| Headquarters and Staff | 780 |
| Recruiting (4 Districts) | 847 |
| Total | 26,423 |



Continental US. (FMF)


| | |
| --- | --- |
| 1st Marine Division | 8,918 |
| 2d Marine Division (less detachments) | 7,540 |
| 2d Defense Battalion | 865 |
| 1st Marine Aircraft Wing | 1,301 |
| 2d Marine Aircraft Wing (less detachments) | 682 |
| Miscellaneous | 633 |
| Total | 19,939 |

TOTAL OF CHART: 64,641

Overseas (non-FMF)


Posts and Stations (43)
10,089
Tactical Units
4th Marines (801)
1st Separate Battalion (725)
1st Marine Brigade (Provisional) (3,972)

5,498
Ships' Detachments (68)
3,793
Total
12,658



Overseas (FMF)


| | |
| --- | --- |
| Defense Battalions (5) | 4,399 |
| 2d Marine Division (detachments) | 489 |
| 2d Marine Aircraft Wing (detachments) | 733 |
| Total | 5,621 |

TOTAL MARINE CORPS: 65,881
In the war that was to come, on the eve of the Pearl Harbor attack, these Marines of all ranks had a strong identity with the past. They were the inventors, in General Holcomb's words in his 1941 Marine Corps Birthday message, of "this high name of distinction and soldierly repute" won for all by "those who have preceded us in the Corps." The prewar Marines, both boot and veteran, were to add immeasurably to the Corps' laurels and traditions in the first year of fighting at Wake, Guam, Bataan, Corregidor, Midway, Makin, and Guadalcanal. Throughout the course of World War II, they were the men of "The Old Corps" whose accomplishments set the standard for all Marines.
---