Chapter II: Historical Record
(continued)
---
West Loch Disaster
Pearl Harbor is divided into a series of lochs that fan out from Ford Island that sits in the center of harbor. West Loch was the staging area for the invasion fleets of the Pacific. In particular, vessels called LSTs or LCTs that had the capability to land on the shore, open their bows and deposit troops, stores and vehicles on the beach.
On Sunday morning, May 21, 1944, 29 LSTs readied for the invasion of Saipan, were nestled together at six berths. An LST carried a crew of 119 men and 200 marines, trucks, jeeps, and weapon carriers were carried on the main decks, all of which were loaded with ammunition and gas. Each vessel carried 80 to 100 drums of high-octane fuel on forecastle. Six thousand cubic feet of cargo ammunition was stowed on the deck with field guns and amphibious craft known as DUKWs. Besides the stores carried on by the troops and their vehicles, the ship had its own magazine and fuel capacity of 200,000 gallons. Drums of lubricating oil, fog oil smoke pots and floats were carried on the fantail -- an accident waiting to happen.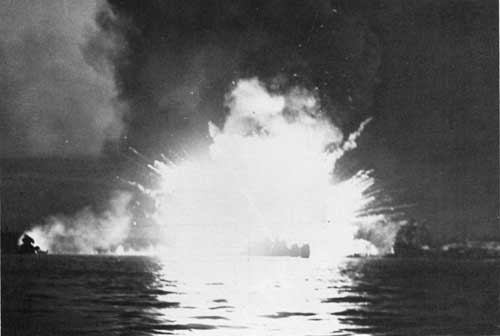 Figure 2.47. LST exploding during West Loch disaster in May 1944.
(NPS: USAR Collection)
On May 21, 1944, at 3:08 p.m., an explosion blossomed out of LST-353. Apparently the blast originated near the bow of LST-963, where Army troops had been unloading mortar ammunition. Red hot fragments showered the clustered LSTs, igniting gasoline drums lined up on the exposed forecastles. In minutes, the explosions began to rip the invasion fleet apart. Fires began to blaze from stem to stern.
The explosions continued, damaging more than 20 buildings shoreside at the West Loch facility. For 24 hours fires raged aboard the stricken ships.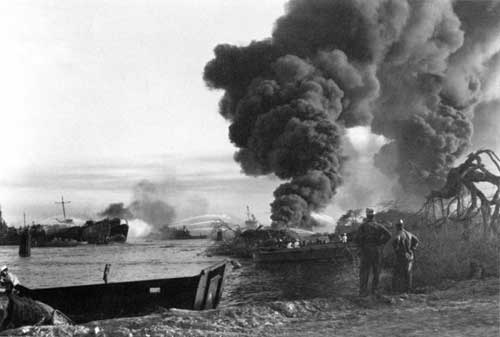 Figure 2.48. Fighting fires at West Loch. Signal Corps photo.
(NPS: USAR Collection)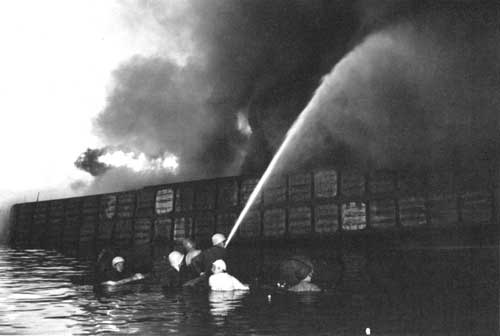 Figure 2.49. Burning LSTs at West Loch.
(NPS: USAR Collection)
In all six LSTs were sunk and several severely damaged. Dead were 163 men and 396 were wounded.
Several investigations sought to find the reason for such a disaster, but no conclusive evidence as how it occurred was decided upon. Two major reasons have emerged as to the possible cause: The initial explosion was caused by gasoline vapor, or that one or more mortar shells exploded while being handled.
It was recommended that LSTs no longer be nested, so that disaster like that at West Loch could be avoided. Fleet Admiral Chester Nimitz disagreed. He felt that facilities were too limited at Pearl and that the nesting was necessary. "It is a calculated risk that must be accepted."'
During the explosions and fires, firefighters had prevented further loss of ships that would have delayed the invasion of Saipan. As it was, only a day was lost in the departure of the invasion fleet.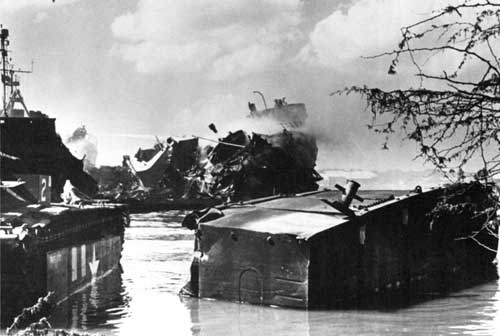 Figure 2.50. Aftermath of West Loch explosions.
(NPS: USAR Collection)
Today, only a few reminders of the West Loch disaster remain. For years, both during the war and after, the disaster at West Loch was veiled in secrecy and mystery. In particular, the bow of LST-480 is visible as it rusts in the tropical air of Oahu.
Conclusion
The attack on Pearl Harbor Dec. 7, the intense salvage activities that followed, the West Loch disaster, and almost 50 years of other natural and cultural processes since the war have contributed to the formation of the underwater archeological record in the study area. This has been a selective history written for a specific purpose: to make those archeological remains more understandable. There are many other facets to the history of Pearl Harbor that weren't discussed and which could be grist for other historian's pens. The preceding, however, should provide a backdrop for the reader who is focused on the fascinating images and facts that have been generated from field activities in this submerged cultural resources study of Pearl Harbor.
---
https://www.nps.gov/usar/scrs/scrs2z.htm
Last Updated: 27-Apr-2001