---
MENU
---

Contents
The Field Of Education In The National Parks
The Educational Program And Its Place In National Parks Administration
Administration Of Park Museums
Scientific Aspects Of The Park Protection Program
The Research Program In The National Parks
Use Of Recorded Scientific Data
Libraries In The National Parks
Photography And Visual Education
General Administrative Problems
---
Proceedings Of The First Park Naturalists' Training Conference Held At Educational Headquarters, Berkeley, California:

---

November 1-30, 1929
UNITED STATES DEPARTMENT OF THE INTERIOR
NATIONAL PARK SERVICE
PROCEEDINGS OF THE FIRST PARK NATURALISTS' TRAINING CONFERENCE
Held at
EDUCATIONAL HEADQUARTERS, BERKELEY, CALIFORNIA.

November 1 to 30, 1929.
INTRODUCTION
These Proceedings of the First Conference of Park Naturalists now make their appearance after some two years delay. The press of current administration in the rapidly developing Branch of Research and Education makes excuses for this delay unnecessary.

In distributing the Proceedings to park superintendents, park naturalists and other officers of the Service, we have aimed to present not merely an outline of discussions, but rather a condensed statement of the principles underlying the major fields of activity in the so-called "educational" work in the national parks. It is felt that this material has permanent value and will be of practical use in the field.


Ansel F. Hall
Senior Naturalist,
National Park Service.

Field Educational and Forestry Headquarters
333 Hilgard Hall, University of California.

Berkeley, California,
August 12, 1932.

PROGRAM
---
Note: Program for each session is included in body of text.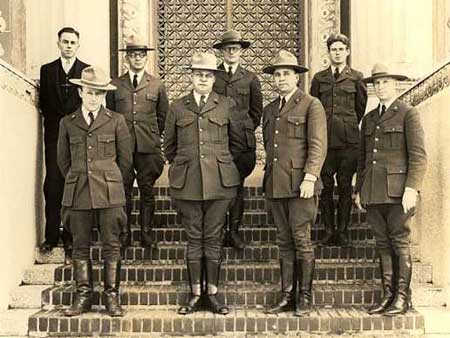 (Ranger Naturalists at the) First Park Naturalist Conference, November, 1929 in front of Hilgard Hall, University of California, Berkeley. Front Row, l-r: Dorr Yeager, YELL, Carl Russell, Field Naturalist, Ansel Hall, Chief Naturalist, Bert Harwell, YOSE. Back Row, l-r:C. Frank Brockman, MORA, John Coffman, Fire Control Expert, Frank Been, SEQU, Eddie McKee, GRCA. Photo by George A. Grant, National Park Service Historic Photograph Collection.

MEMBERSHIP OF THE CONFERENCE
Ansel F. Hall
Chief Naturalist,
Educational Division, National Park Service
Carl P. Russell
Field Naturalist,
Educational Division, National Park Service
Joseph S. Dixon
Field Naturalist,
Educational Division, National Park Service
George M. Wright
Field Naturalist,
Educational Division, National Park Service
John D. Coffman
Fire Control Expert,
Educational Division, National Park Service
George A. Grant
Photographer,
Educational Division, National Park Service
C. A. Harwell
Park Naturalist
Yosemite National Park
Dorr G. Yeager
Park Naturalist
Yellowstone National Park
George C. Ruhle
Park Naturalist
Glacier National Park
C. Frank Brockman
Park Naturalist
Mount Rainier National Park
Frank T. Been
Park Naturalist
Sequoia National Park
Edwin D. McKee
Park Naturalist
Grand Canyon National Park
George L. Collins
Asst. to the Supt.
Lassen Volcanic National Park




Dr. E. D. Merrill
Dean, College of Agriculture, University of California
Dr. Joseph Grinnell
Dept. of Vertebrate Zoology, University of California
Dr. H. C. Bryant
California State Fish & Game Commission
Dr. Frederic E. Clements and Mrs. Clements
Carnegie Institution
Prof. Walter Mulford
Head of the Division of Forestry, University of California
Prof. A.B. Recknagel
Division of Forestry, University of California
Prof. Woodbridge Metcalf
U.S. Extension Forester, under Clark-McNary Act of California
R. M. Holmes
Chief Clerk, National Park Service, Washington, D. C.
Prof. S. C. May
Director, Bureau of Public Administration, Univ. of California
Prof. W. T. Horne
Division of Plant Pathology, University of California
Prof. W. H. Davis
Manager, Stanford University Press
Fred J. Foster
Fish Culturist, Bureau of Fisheries, Salt Lake City
Stephen N. Wyckoff
Division of Blister Rust Control, Spokane, Washington
E. I. Kotok
Director, California Forest Experiment Station
L. A. Barrett
Assistant District Forester, U. S. Forest Service
Duncan Dunning
California Forest Experiment Station
A. E. Wieslander
California Forest Experiment Station
Chas. J. Kraebel
California Forest Experiment Station
Gerald Marsh
Instructor in Public Speaking, University of California. (Formerly of Yellowstone Educational Staff)
Joseph Slevin
Curator of Herpetology, California Academy of Sciences
Frank Tose
Chief Preparator, California Academy of Sciences
Mrs. Rose Taylor
Formerly Librarian, Yosemite Museum
Continued >>>