Steamtown

---

Special History Study
AMERICAN DIESEL-ELECTRIC LOCOMOTIVES

KANSAS CITY SOUTHERN RAILWAY NO. 4061
---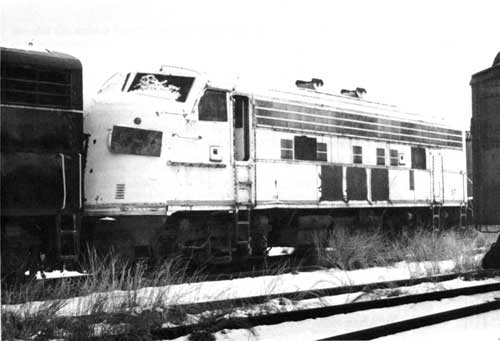 Owner(s):

Kansas City Southern Railway
Road Number(s): 74D
Renumbered: 91
Renumbered: 4061
Whyte System Type: 0-4-4-0
A.A.R. Type: B-B
Class: F7Am
Builder: Electro-Motive Division, General Motors Corporation, La Grange, Ill.
Date Built: February 1951
Builder's Number: 9164
Cylinders (diameter x stroke in inches): 8-1/2 x 10
Boiler Pressure (in lbs. per square inch): Not applicable
Diameter of Drive Wheels (in inches): 40
Tractive Effort (in lbs.): 52,400
Tender Capacity:

Coal (in tons): Not applicable
Oil (in gallons): 1,200
Water (in gallons): Not applicable

Weight on Drivers (in lbs.): 230,000
Remarks: This F7 freight locomotive featured a 16-cylinder, two-cycle "V"-form engine, Model 567B, that provided 1,500 horsepower. Rebuilt to an F7Am.
---
Kansas City Southern Railway F7a Locomotive No. 4061
History: The Kansas City Southern (KCS) Railway ran exactly where its corporate name said it would: from Kansas City, Missouri, 788.91 miles southward to the Gulf of Mexico at Port Arthur, Texas. En route, the railway crossed Missouri, Kansas, Oklahoma, Arkansas, Louisiana, and Texas, with stations at Pittsburg, Kansas; Joplin, Missouri; Fort Smith, Arkansas; and Shreveport, Louisiana, as well as many other points between. Other lines of the KCS provided service to Dallas, Texas, and Baton Rouge and New Orleans, Louisiana, with the result that by 1962 the entire KCS system operated 957.69 miles of main line track.
Incorporated on March 19, 1900, the Kansas City Southern Railway succeeded the Kansas City, Piusburg and Gulf Railway, whose property had come up for sale under foreclosure. Lines in Texas operated by the Texarkana and Fort Smith Railway continued under that name to satisfy Texas law until December 31, 1943, when the Kansas City Southern, through the intervention of the Interstate Commerce Commission and the United States Supreme Court, was able to dissolve and absorb the Texas company. Similarly, with only ICC permission, the Kansas City Southern was able to absorb in 1935 the Kansas City, Shreveport and Gulf Railway.
The Kansas City Southern provided a Gulf outlet for agricultural products of the middle Missouri River Valley. Large tracts of pine timberlands, which also included some hardwoods, lay adjacent to the line, and it served important oilfields and refineries as well as coalfields along the Kansas-Missouri and Missouri-Arkansas borders, in addition to other industries.
The Kansas City Southern completed conversion from steam to diesel-electric motive power in 1953, earlier than many other lines. By the end of 1961 the company operated 48 diesel-electric freight locomotives, 14 passenger, 11 multiple purpose, and 37 switchers, not to mention 4,828 freight cars, 66 passenger cars, and 133 maintenance-of-way cars.
Among the freight locomotives, in February 1951 the Kansas City Southern had taken delivery from the Electro-Motive Division of General Motors Corporation of two F7a covered wagon or streamlined freight locomotives, part of a larger order of 14 F7a and F7b locomotives bought between October 1949 and April 1951, including No. 74d. Later, the Kansas City Southern renumbered this unit 91, and still later gave it the number 4061. Its operational history is yet unknown, but it undoubtedly moved freight trains over a substantial part of the system for many years.
In April 1987, the Kansas City Southern reportedly sold No. 4061 to Canada's version of Amtrak, VIA Rail Canada, known more familiarly simply as "VIA." What happened then remains unclear, but within nine months the Steamtown Foundation had acquired the locomotive in Scranton, Pennsylvania.
Condition: Painted Kansas City Southern white but with the red KCS initials blocked out on each side, this 1,500-horsepower locomotive reportedly needs an entirely new diesel engine. It has not operated since received at Steamtown.
Recommendation: Representing the era of most attractive, streamlined "covered wagon" type dieselelectric locomotives, this Kansas City Southern engine may be used as an early example of a diesel locomotive.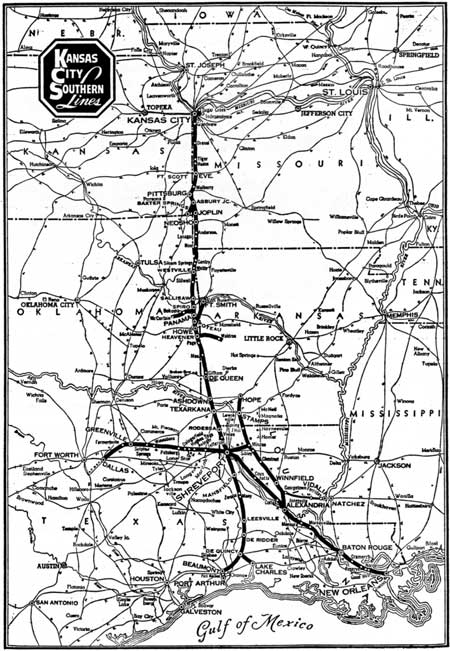 BIBLIOGRAPHY
---
Frailey, Fred W. "The Kansas City Southern Story 1--The Railroad That Unraveled." Trains, Vol. 39, No. 10 (Aug. 1979): 22-29.
________. "The Kansas City Southern Story 2--President Carter (Tom, that is) Puts a Railroad Back Together." Trains, Vol. 39, No. 11 (Sept. 1979): 22-32.
Lynch, Terry, and W.D. Caileff, Jr. Kansas City Southern: Route of the Southern Belle. Boulder Pruett Publishing Company, 1987: 209-210.
Moody's Transportation Manual, 1962. New York: Moody's Investors' Service, Inc., 1962: 1058-1071.
Mulhearn, Daniel J., and Taibi, John R. General Motors' F Units: The Locomotives That Revolutionized Railroading. New York: Quadrant Press, 1982.
---
---
stea/shs/shs5b.htm
Last Updated: 14-Feb-2002