Steamtown

---

Special History Study
AMERICAN DIESEL-ELECTRIC LOCOMOTIVES

CHICAGO, MILWAUKEE, ST.PAUL & PACIFIC MARYLAND MIDLAND RAILWAY NOS. 97A, 97C
---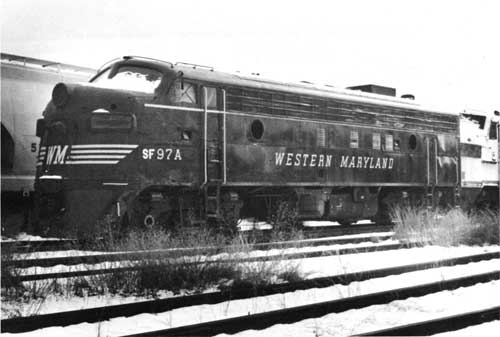 Owner(s):

Chicago, Milwaukee, St. Paul & Pacific
Maryland Midland Railway
Road Number(s): 97A, 97C
Whyte System Type: 0-4-4-0
Type: B-B
Class: FP7
A.A.R.Builder: Electro-Motive Division, General Motors Corporation, La Grange, Ill.
Date Built: 1950
Builder's Number:
Cylinders (diameter x stroke in inches): 8-1/2 x 10
Boiler Pressure (in lbs. per square inch): Not applicable
Diameter of Drive Wheels (in inches): 40
Tractive Effort (in lbs.): 40,000
Tender Capacity:

Coal (in tons): Not applicable
Oil (in gallons): 1,200
Water (in gallons): Not applicable
Weight on Drivers (in lbs.):
Remarks: This 1,500-horsepower freight and passenger locomotive has a 16-cylinder, two-cycle "V" form engine.
---
Chicago, Milwaukee, St. Paul and Pacific Railway FP7 Nos. 97A and 97C
History: The "Milwaukee Road," more properly the Chicago, Milwaukee, St. Paul and Pacific Railway Company, gained fame in the 20th century for its Hiawatha passenger trains, named for the Indian heroine of Longfellow's poem, and for electrified trackage over the Continental Divide at Pipestone Pass, Montana, as well as for the company's nearly unique "Little Joe" electric locomotives, a type supposedly nicknamed for Joseph Stalin because they were designed and built for export to the Soviet Union for use on the Trans-Siberian Railway; however, as a result of the development of the Cold War, they were embargoed by President Harry S. Truman, and diverted instead in 1948 to sale to two American railroads, the Milwaukee Road and the Chicago, South Shore & South Bend.
The old Milwaukee & St. Paul Railway, incorporated in Wisconsin on May 5, 1863, grew and extended its trackage, consolidated with other lines, and changed its name on February 11, 1874, to Chicago, Milwaukee & St. Paul Railway to reflect its growth and expanded ambitions. As customarily occurred in railroad history, the company purchased many smaller lines and absorbed them into its system, thereby reaching Kansas City, Missouri; Omaha, Nebraska; and points in Iowa, Minnesota, and North and South Dakota. Ambition continued to grow also, so that the original company sponsored a subsidiary, the Chicago, Milwaukee and Puget Sound Railway, which undertook construction of a 2,081-mile extension from Mobridge, South Dakota, across the plains and through five mountain ranges in Montana, Idaho, and Washington to reach Seattle, on Puget Sound. But the Milwaukee Road, to use its nickname, was the last of the three northern transcontinentals to be completed, on May 14, 1909, and it faced competition with the already well-established Northern Pacific Railway, which had completed a through line to the Pacific Coast on September 8, 1883, and the Great Northern Railway, which drove its final spike on January 6, 1893. On March 31, 1927, the two railroads, the Chicago, Milwaukee & St. Paul and the Chicago, Milwaukee & Puget Sound, consolidated and reincorporated as the Chicago, Milwaukee, St. Paul and Pacific Railway.
The trials and tribulations, rise and fall of its fortunes, and the long decline of the Milwaukee Road is a story documented elsewhere, as is the story of its partial electrification and ultimate replacement of its remaining steam locomotives with diesel-electrics. For this account it is sufficient to note that by the 1950s the Chicago, Milwaukee, St. Paul and Pacific was in the middle of a program of replacing its remaining steam motive power with diesels, and it was in this context that the company ordered from the Electro-Motive Division of General Motors Corporation at La Grange, Illinois, 16 sets of three diesel-electric FP7 combinations, each consisting of an "A" unit with cab, a "B" unit without cab, and another "A" unit with cab. The Milwaukee Road numbered them as 16 three-unit sets in the series 90 through 105, designating the individual units within each set with the letters "A," "B," and "C" (which is an entirely separate use of those letters from the aforementioned designating of cab units as "A" units and cabless units as "B" units). Thus, for each of the numbers 90 through 105 there was an "A," "B," and "C," such as No. 97A, 97B, and 97C. It was possible to work these together in different combinations, such as an A-B-B-A or an A-B-B-B-A or, on the other hand, an A-A, such as coupling 97A and 97C back to back without 97B. Apparently the railroad found it desirable almost immediately to employ these locomotives in two- rather then three-unit sets. The "FP" in their model designation meant "Freight/Passenger," and indeed these units appeared in trains of both types. Electro-Motive delivered these 48 units in 1950 and 1951, probably painted orange and maroon, the road's passenger colors, but in 1959 the company renumbered the 15 units in the 90 through 94 sequence to 60 through 64, painted them orange, and assigned them exclusively to freight service. The remainder continued in passenger service, and No. 97C is known to have operated in Chicago area suburban service, but eventually even the 95 through 105 series locomotives hauled their share of freight trains. These versatile and handsome covered wagon units, so named because their body enclosed not merely the cab but also the running boards alongside the diesel engines, hauled many a freight and passenger train over Milwaukee Road rails.
As mentioned earlier, the Milwaukee Road was the third and last of the three northern "transcontinentals" to be completed, and by the 1970s it was failing to compete successfully with the Burlington Northern. By 1980, the western portion of the line, across Montana, Idaho, and Washington, had collapsed financially, and all that would survive--for a while--were midwestern portions of the company. Thus, it was to have much surplus motive power for sale, including diesel-electric locomotives Nos. 97A and 97C; what happened to cabless No. 97B is unclear.
These two locomotives, and possibly others, came into the ownership of a group of investors who styled themselves FP7 Associates." Early in 1984, this firm leased diesel-electric locomotives Nos. 97A and 97C to the Maryland Midland Railway. The Maryland Midland immediately sent the two units to the Winchester & Western Railway at Gore, Virginia, for overhaul and restoration to service. Work proceeded slowly, and neither unit was ready for operation on excursion runs in the fall of 1984. Locomotive No. 97A, in fact, moved back to the Maryland Midland, arriving there on May 6, 1985, with no work having been done on it. Its body, according to one report, was in "deplorable" condition, and although the Maryland Midland shop force fired up its diesel engine, the locomotive was a long way from being serviceable for handling regular traffic.
Meanwhile, the Winchester & Western did restore Locomotive No. 97C to operating condition, and painted it black with the letters "WINCHESTER & WESTERN" in yellow on its sides. It moved sand trains and, on May 11 and 12, 1985, a couple of excursion trains. Subsequently the Winchester & Western sent the engine back to the Maryland Midland where it arrived on June 4, 1985. The latter company immediately pressed the locomotive into freight service, as several of its other diesels had broken down. Late in July, however, the No. 97C entered the Maryland Midland shop where the company had it relettered "WESTERN MARYLAND" in a slanted style known as "speed lettering," with "WM" on its nose. Of course, historically, the engine never had belonged to the historic Western Maryland Railway Company.
That same month the Maryland Midland obtained through Gibbs Railway Equipment of Neptune Beach, Florida, three former Norfolk & Western GP9 (General Purpose) diesel-electric locomotives. Within two years, in 1987, the Steamtown Foundation had acquired units 97A and 97C and moved them to Scranton, Pennsylvania. The Steamtown Foundation shopped Locomotive No. 97C to repaint it in a maroon and gray color scheme, letter it "LACKAWANNA," and assign it the new number 637. Then the locomotive went into service on passenger excursions to Pocono Summit during the summer of 1987.
Condition: Locomotive No. 97C is in essentially operable condition, and, of course, has been recently repainted. Locomotive No. 97A has been used as a source of replacement parts for No. 97C, so is inoperable, though of course, with enough work, it, too, could be restored to operable condition. Meanwhile, for foreseeable future, it is being cannibalized for parts to keep sister unit 97C operational. The body on No. 97A was regarded as being in very poor condition when the Maryland Midland received the unit, and that condition is not believed to have been corrected.
Recommendation: Locomotive No. 97C is recommended for emergency uses and possibly for helper service on excursion trains, though not for museum purposes. However, it must be recognized that this particular type of locomotive, though only 36 years old in 1988, is becoming increasingly scarce and historic, and that it is a type of locomotive acquired by many railroads for freight and passenger service to replace steam locomotives.

BIBLIOGRAPHY
---
Derleth, August. The Milwaukee Road: Its First 100 Years. New York: Creative Age Press, 1948.
Dorin, Patrick C. The Milwaukee Road East. Seattle: Superior Publishing Company, 1978.
Hyde, Frederick W. The Milwaukee Road. Denver: Hyrail Productions, 1990. [On p. 19 is a color photo of No. 97A at night in Savanna, Illinois, on May 27, 1979, and on p. 23 is a color photo of No. 97A on freight train No. 106 at Green Island, Iowa.]
Meeker, Ken. "The Milwaukee Road West at Closing Time." Pacific News, Vol. 19, No. 10 (Oct. 1979): 6-13.
Meise, John. "It's the Maryland Midland." Railfan & Railroad, Vol. 5, No. 13 (Nov. 1985): 50-56.
Mulhearn, Daniel J., and Taibi, John R. General Motors' F Units: The Locomotives that Revolutionized Railroading. New York: Quadrant Press, 1982.
Moody's Transportation Manual, 1962. New York: Moody's Investors' Service, Inc., 1962: 82-99.
Olmsted, Robert P. Milwaukee Rails. Woodbridge: McMillan Publications, 1980.
Scribbins, Jim. The Hiawatha Story. Milwaukee: Kalmbach Publishing Company, 1970. See especially roster and p. 255.
Steinheimer, Richard. The Electric Way Across the Mountains. Tiburon: Carbarn Press, 1980.
Wood, Charles R., and Dorothy M. Wood. Milwaukee Road West. Seattle: Superior Publishing Company, 1972.
---
---
stea/shs/shs5a.htm
Last Updated: 14-Feb-2002