CONTENTS

0. INTRODUCTION
1. AUTOBIOGRAPHY
2. THE MOTHER OF ABRAHAM LINCOLN
3. HIS PHYSICAL STRENGTH
4. ANN RUTLEDGE
5. ADVICE TO A YOUNG FRIEND
6. BEFRIENDING A SOLDIER'S WIDOW
7. "YOU SHALL GO TO WORK"
8. THAT NAME "ABE"
9. LINCOLN IN HIS LAW OFFICE
10. JUDGE DAVIS APPRAISES LINCOLN, THE LAWYER
11. LINCOLN INTERPRETS THE DECLARATION OF INDEPENDENCE
12. "A HOUSE DIVIDED"
13. POWER OF MEMORY
14. LINCOLN, THE SPEAKER
15. THE LINCOLN-DOUGLAS DEBATE: PROLOGUE TO DESTINY
16. A REPUBLICAN LEADER DEFINES THE SLAVERY ISSUE
17. SLAVERY AND THE SOUTH
18. "AND THIS, TOO, SHALL PASS AWAY"
19. AT COOPER INSTITUTE
20. A MAN'S HANDS
21. A LITTLE GIRL SUGGESTS WHISKERS
22. "HERE I HAVE LIVED"
23. "THE MYSTIC CHORDS OF MEMORY"
24. "I WOULD SAVE THE UNION"
25. THE EMANCIPATION PROCLAMATION TAKES FORM
26. ON SHAKESPEARE
27. "BLESSINGS OF FRUITFUL FIELDS
28. BIXBY LETTER OF CONDOLENCE
29. LINCOLN WRITES TO A GENERAL
30. GRANT MEETS LINCOLN
31. A MAN'S NEED OF HUMOR
32. THE PRESIDENT TAKES A HAND
33. DEDICATION OF A SOLDIERS' NATIONAL CEMETERY
34. A STATESMAN SPEAKS
35. A STEPMOTHER'S RECOLLECTION
36. MR. HERNDON'S LINCOLN
37. A PRIVATE SECRETARY RECALLS LINCOLN'S WHITE HOUSE HABITS
38. "WITH MALICE TOWARD NONE"
39. HE BELONGS TO THE AGES
40. WALT WHITMAN SUMS UP LINCOLN
41. BIBLIOGRAPHY

ILLUSTRATIONS

1. FULL STANDING PORTRAIT OF LINCOLN, 1864
2. TRADITIONAL LINCOLN BIRTHPLACE CABIN
3. DOOR AND WINDOW OF BIRTHPLACE CABIN
4. OLD PHOTOGRAPH OF BIRTHPLACE CABIN
5. FULL STANDING PORTRAIT OF LINCOLN, ABOUT 1860
6. LINCOLN HOME AT SPRINGFIELD
7. LINCOLN LAW OFFICE AT SPRINGFIELD
8. STEPHEN A. DOUGLAS
9. ABRAHAM LINCOLN AT TIME OF DEBATES WITH DOUGLAS
10. PALM OF LINCOLN'S LEFT HAND. Volk Cast
11. BACK OF LINCOLN'S LEFT HAND. Yolk Cast
12. RIGHT HAND OF LINCOLN. Volk Cast
13. GRACE BEDELL LETTER TO LINCOLN
14. CURRIER & IVES CARTOON: THE NATIONAL GAME. THREE "OUTS" AND ONE "RUN." ABRAHAM WINNING THE BALL
15. MRS. MARY TODD LINCOLN
16. LINCOLN AT TIME OF COOPER INSTITUTE SPEECH
17. HESLER CAMPAIGN PHOTOGRAPH OF LINCOLN, 1860
18. CARPENTER PAINTING, "THE FIRST READING OF THE EMANCIPATION PROCLAMATION
19. FIRST PAGE OF MANUSCRIPT OF GETTYSBURG ADDRESS
20. ABRAHAM LINCOLN AND TAD
21. ASSASSINATION OF PRESIDENT LINCOLN. Sketch by Berghaus
22. DERRINGER BOOTH USED IN SHOOTING LINCOLN
23. FORD THEATRE. Sketch by Berghaus
24. LAST PHOTOGRAPH OF LINCOLN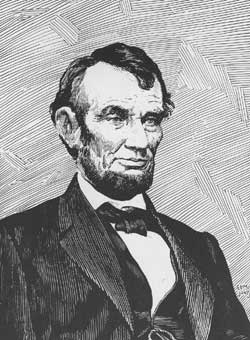 ---
Source Book Series Number Two
1942
The National Park System is dedicated to conserving the scenic, scientific, and historic heritage of the United States for the benefit and enjoyment of its people.
UNITED STATES DEPARTMENT OF THE INTERIOR
Stewart L. Udall, Secretary

NATIONAL PARK SERVICE
Conrad L. Wirth, Director




The National Park Service administers the following areas associated with Abraham Lincoln:
Abraham Lincoln Birthplace National Historic Site, Hodgenville, Ky.

Gettysburg National Military Park, Gettysburg, Pa.

The Lincoln Museum (Ford's Theater), Washington, D.C.

House Where Lincoln Died, Washington, D.C.

Lincoln Memorial, Washington, D.C.