---
THE REDWOODS
---
THREE THOUSAND YEARS and more of recorded history have come and gone. In far Cathay an empire grew and an ancient civilization developed that still persists. Saul, David, and Solomon established a kingdom and developed a nation out of which came Christianity. Babylon, Greece, and Rome ruled the world and lost their sway. Europe and America developed a modern civilization. Throughout the long periods of time in which these events have taken place, the Redwoods of California have continued to live and grow. Trees three to four thousand years old, trees taller than a city block is long, trees each large enough to build forty or fifty houses, trees large enough for roadways to pass through them, have continued to live through all these centuries.
The ancestry of these trees goes back through millions of years, and their unbroken line of descent connects the present with the age of reptiles. Their ancestors were the companions of the dinosaurs. They flourished in Asia for many centuries before they migrated to the Western Hemisphere. They constitute the connecting link between the dead past and the living present, between the ancient East and the modern West.
The Redwoods are the tallest, the largest, the oldest, and the most famous trees of the world. They are included invariably in any list of natural wonders. Their size, age, beauty, and magnificent surroundings, all contribute to give them world-wide interest.
In writing of the Coast Redwoods, Dr. W. L. Jepson, Professor of Botany in the University of California, states: "The scientific interest of the Redwood is undoubtedly greater than that of any other tree of the cone-bearing class. It has most wonderful vitality; it has almost complete immunity from disease; its regenerative power is very remarkable; and it has a most astonishing resistance to fire. Lastly, its migrations over the Northern Hemisphere since the period of our record of its first appearance on earth, give it an unusual and romantic interest." Of Redwoods in general he says, further: "Of the many species which once constituted the Redwood genus, some thirty or more have been described from fossil material, and of these only two have survived to the present time. What an adventurous journey, as they took their part in vast plant migrations with the changing continents!"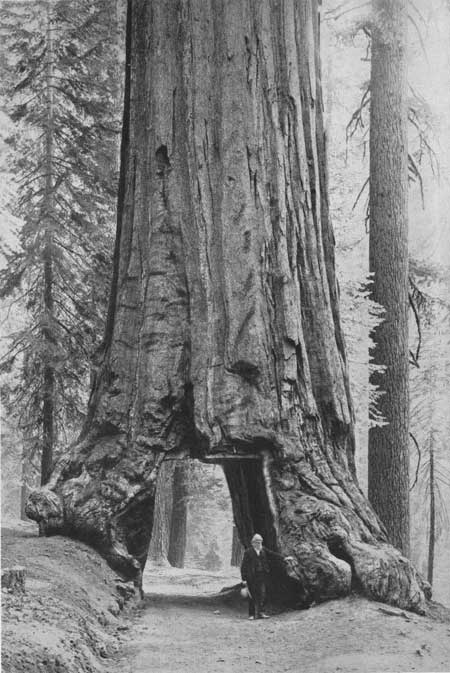 ---
THE WAWONA OR TUNNEL TREE, YOSEMITE NATIONAL PARK, WITH GALEN CLARK, DISCOVERER OF MARIPOSA GROVE Courtesy of Julius Boysen
---