---
III. Visitation and Development
---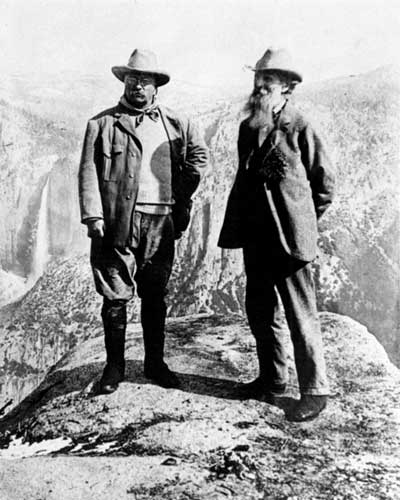 18. John Muir accompanied this most important visitor, President Theodore Roosevelt, through Yosemite in May 1903. The men pose on Glacier Point. Courtesy of the Yosemite National Park Research Library.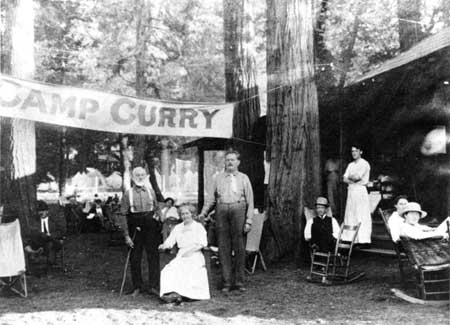 19. As the founders of Camp Curry in 1899, David Curry (standing, white tie) and Jennie Curry (seated, white dress) projected a wholesome family image. Nevertheless, both, as committed businesspeople, were often accused of putting personal interests ahead of the welfare of Yosemite. Courtesy of Shirley Sargent.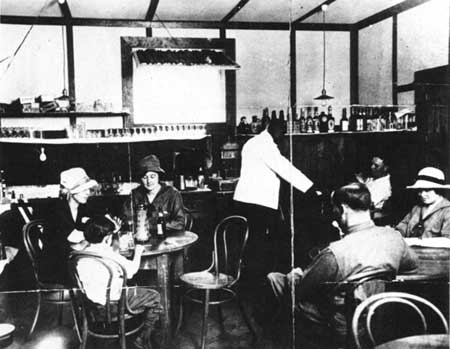 20. On September 15, 1915, an employee of the Curry Company folded this photograph and included it in a letter to President Woodrow Wilson. He accused David Curry's chief competitor, D. J. Desmond, of serving alcoholic beverages to minors at Desmond's Camp Yosemite. "We see in this picture a baby," the employee wrote, "barely out of its cradle, with an empty glass setting in front of it; we also see in the background a typical representative of Satan pouring out his vile decoction." Actually, Curry had planned the letter and picture himself, hoping to discredit the Desmond enterprise. Courtesy of the National Archives and Records Service.