Watering the Land:
The Turbulent History of the Carlsbad Irrigation District

CHAPTER ONE
Pat Garrett and C.B. Eddy Promote Pecos River Irrigation
---
In much of the American West, the histories of agricultural activity and farm settlement patterns are directly tied to the availability and sources of useable water supplies. While hopeful immigrant farmers in the developing West routinely assumed that rain and snowfall would provide the necessary moisture for their crops, this was not true for much of the obviously arid Southwest. Here, from the beginning, irrigation was seen as a necessary component of any large-scale agricultural activity. This concept did not originate with the Southwest's Anglo-American settlers; the region was largely unique in America's western frontier in that irrigation was not a new concept, but rather an economic tradition dating back centuries. Members of both the Southwest's Native American and Hispanic societies regularly watered small fields by constructing modest canal networks, often fed by short-lived, brush, diversion dams across nearby streams and rivers. This technology was highly vulnerable to flooding and drought, both seemingly common in many southwestern river valleys. Consequently, these reclamation practices were necessarily restricted in their scope and effectiveness, and apparently saw only limited use by early Anglo-American settlers. [1]
The turbid and unpredictable Pecos River which flows through the sandy, porous soils around Carlsbad displays a distinctly different character near its headwaters in the Sangre de Cristo Mountains of northeastern New Mexico. Here, near Truchas Peak, a small, clear trout stream tumbles through timber-lined canyons and gorges and soon flows through the 15th century Pueblo of Pecos, now Pecos National Monument. Even at this high (7,000 feet) elevation, Indians and later Spanish settlers tapped the Pecos River for domestic and agricultural purposes. The river's character changes dramatically, however, when it enters the dry, rolling topography to the south. In this region, with its broad valleys and treeless plains, the Pecos moves through desolate terrain underlain with limestone, gypsum, and sinkholes. It is here, near the towns of Roswell and Carlsbad that the Pecos Valley's comparatively "fine agricultural land" exists — land that early observers saw as an excellent candidate for reclamation. [2] Before construction of the Carlsbad Project, the waters of the Pecos River continued their slow, 900-mile journey to their confluence with the Rio Grande River in Texas.
The lower Pecos Valley saw relatively little early agricultural or irrigation activity. Sources suggest that the advent of permanent white settlement was inhibited by Native American hostilities and a general sentiment that the region was simply too "wild." [3] When significant Anglo-American occupation of the Pecos began during the 1870s, most of the newcomers considered southeastern New Mexico's arid plains more suitable for cattle and sheep ranching than for agriculture. These early ranches were primitive but often massive enterprises that frequently occupied thousands of acres of the high, treeless plains. Often, the ranchers appropriated water rights for stock watering; these allocations were among the first Pecos River waters utilized by local landowners. [4]
Although the lower Pecos Valley was initially ranching country, the 1880s saw the region's first significant attempts at farming and the construction of a number of small irrigation ditches. When Ralph S. Tarr, an observer for the United States Geological Survey, toured the Pecos Valley in 1889, he counted a total of fourteen irrigation ditches leading from small tributary rivers near the young farm and ranch community of Roswell. The largest of these canals could potentially serve perhaps 2,000 acres of farmland. Little irrigation water was diverted directly from the Pecos River, and almost no irrigation was occurring downstream (south) from Roswell. Tarr did note the site of one small brush dam and associated canal on the Pecos itself, the dam had washed out annually until the farmers gave up battling the "changeable and violent" river. Nevertheless, Tarr admired the valley's potential for larger-scale agriculture. He estimated that the region between Roswell and the Texas line contained some 300,000 acres of fertile, irrigable land. [5]
Tarr's report suggested that the Pecos Valley was a prime candidate for large-scale reclamation activity. As settlement in the region slowly increased, others began to recognize the potential. This awakening to the commercial possibilities of irrigation occurred throughout much of the arid west during the last three decades of the nineteenth century, and entrepreneurs in several western states began orchestrating the construction of large, privately-funded reclamation networks. William F. "Buffalo Bill" Cody lent his name to an ambitious water project in northwestern Wyoming, the Union Colony began reclaiming land near Greeley, Colorado, and work on several other projects began in California, Colorado, and elsewhere. These irrigation developments, spurred both by increasing western settlement and improvements in the nascent technology of reclamation engineering, marked the beginning of large-scale irrigation efforts in the West. When the entrepreneurs and boosters of the Pecos Valley began planning their own large irrigation network, they reflected a pioneering trend destined to rapidly reshape western agricultural practice. [6]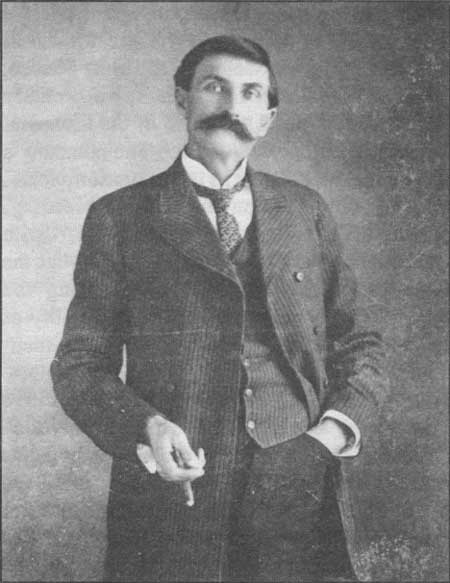 Pat Garrett, the Lincoln County Sheriff who shot Billy the Kid in 1881, was one of the promoters of the Carlsbad reclamation project. From his 1800-acre ranch near Roswell, New Mexico, the retired sheriff envisioned the transformation of the lower Pecos River valley from desert to small family farms. — University of Texas at El Paso Library, Special Collections.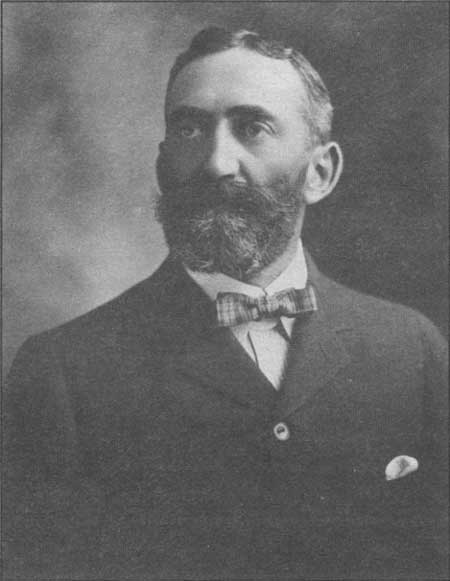 Charles B. Eddy, a prosperous rancher from New Mexico, formed the Pecos Irrigation and Investment Company, the precursor of the Carlsbad Irrigation District. In many ways a visionary, Eddy "could dream up something, begin talking about it, would soon begin to believe in it himself, was then irresistible and could convince any skeptic." — Southeastern New Mexico Historical Society, Carlsbad, New Mexico.
Among those who envisioned a larger agricultural presence in the Pecos Valley was a group of adventurous gentlemen who were relatively early arrivals in the Roswell area. The best-remembered of these settlers was probably Pat Garrett, the Lincoln County sheriff who shot Billy the Kid in 1881. Deciding not to seek re-election as sheriff, Garrett abandoned southwestern New Mexico in favor of Roswell and the Pecos, where he pursued business interests and established an 1800-acre farm and ranch operation. Reportedly, Garrett sensed that the agricultural success of his farm, as well as the other vast reaches of undeveloped land surrounding Roswell, would be far greater if the Pecos River were dammed and a large, multi-user, irrigation canal constructed. Garrett's enthusiasm was apparently based on the small-scale irrigation activity he was conducting on his own acreage. An intriguing but probably apocryphal local anecdote claims that Garrett's early forays into irrigation had been suggested by Billy the Kid, who reputedly once told Garrett, "Why waste your time riding these damn ranges when you could run some of this water. . . and grow crops and sell lots?" [7]
By the mid-1880s, Garrett had met Charles B. Eddy, a young New Mexico rancher. Born in New York, Eddy moved to Colorado while in his early twenties to become a cattle rancher with his brother John. After acquiring two Colorado ranches, the Eddys expanded their cattle interests into southeastern New Mexico, and by 1881 the brothers had established a cattle ranch on the Pecos. The Eddys divided their time between the two states, presumably spending summers in Colorado and winters in New Mexico. "C.B.," as Charles Eddy was known, was a classic entrepreneur and promoter. A business associate recalled that "Eddy could dream up something, begin talking about it, would soon begin to believe in it himself, was then irresistible and could convince any skeptic." [8] Another friend characterized him as "nervous, high-strung, and impetuous, with a full resonant voice and impressive manner, and great personal magnetism, a typical promoter. He was always keyed up and on the go and drank quantities of strong black coffee at every meal." [9] This energy and ambition would soon be directed towards the Pecos Valley, eventually bringing to it unprecedented change and growth.
Eddy's empire-building activities in New Mexico began with the acquisition of vast tracts of ranching land, destined to be pivotal in the future development of local irrigation. This land acquisition took place in the name of the Eddy and Bissel Live Stock Company, incorporated in Colorado in 1884 as a vehicle for ranch development in both Colorado and New Mexico. (The Eddys' partner, G.N. Bissel, was an Eddy family associate and president of the Chemical National Bank of New York.) The company's purpose, as specified in its incorporation papers, was limited to "the buying, selling, breeding, grazing and feeding of live stock [sic]," with incidental activities related to carrying out the purposes of the corporation, including the acquisition of water rights. The possibility of developing irrigation systems was not mentioned. [10]
Apparently, both the Eddy and Bissel Live Stock company and the Holt Live Stock Company, the lower Pecos Valley's other major ranch, manipulated provisions of the Desert Land Act of 1877 to acquire much of their land. The Act allowed individuals to file on 640 acres of arid government land for a charge of twenty-five cents per acre. If, after three years, the entryman could prove that water had been "conducted" onto a portion of the land, he received a patent to his homestead for an additional one dollar per acre. The Act included no residency requirements. Although the Act was ostensibly designed to encourage the settlement and cultivation of irrigable lands, Pecos Valley ranchers used it to establish or expand their grazing empires. This was accomplished by paying individuals (who may have been company employees, family, or friends) to file homestead entries and then immediately sell their entryman's interest to the company. In doing this, the Pecos ranchers were merely following a procedure that was common throughout the West. By the time the Act was changed to limit such abuses, the Pecos Valley ranchers had already achieved their land acquisition goals. [11]
Many of the Pecos Valley's Desert Land Act entries saw several intermediate sales before the final patent was issued and the deed filed. Typical of these transactions was a tract deeded by the United States to Besilado Gallegos on January 8, 1885. Gallegos deeded the property to Fred Fuller of Arapahoe County, Colorado on February 8. Fuller, in turn, sold the land to Harrison Libby, a director of the Holt Live Stock Company, the following month. That August, a land trade transferred the tract to the Eddy and Bissel Live Stock Company. Gallegos did not receive a patent on "his" property until 1891. [12]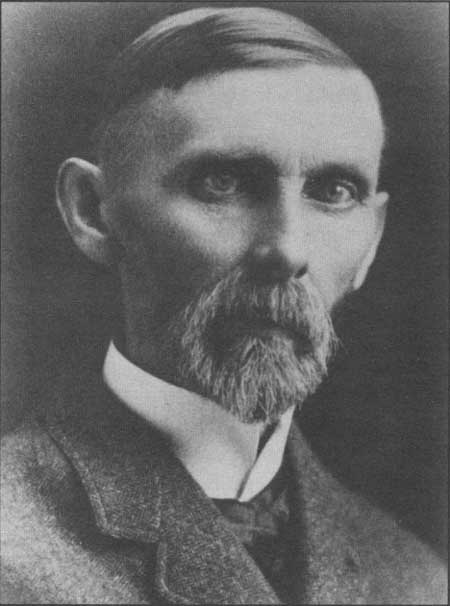 Robert Weems Tansill, who had relocated to the Carlsbad area for health reasons after making his fortune in the Chicago cigar business, provided additional financial and administrative support for the Carlsbad irrigation project. — Southeastern New Mexico Historical Society, Carlsbad, New Mexico.
The Eddy and Bissel Live Stock Company further expanded its manipulation of the Desert Land Act in 1886. Some of this activity was instigated by Joseph Stevens, a young man who apparently became associated with the Eddys in Colorado. (Stevens' father was also one of Bissel's New York business associates.) On returning to New York from a visit to the Pecos region, Stevens convinced his cousin, Francis Tracy, along with four other family members and friends, to assist him in what Tracy was later to describe as "The quickest, safest, and in every way the most satisfactory way for corporation development." Each of these individuals filed on a desert land tract chosen by Stevens. In return for agreeing to deed the tracts back to Stevens, the entryman received an expense-paid "vacation" to New Mexico when proof had to be made. All of these tracts eventually came under ownership of the Pecos Irrigation and Improvement Company. [13]

Corporate Irrigation Arrives on the Pecos
Eddy soon began to experiment with irrigated agriculture on portions of the Eddy and Bissel Company's newly-acquired holdings, although his reasons for doing so are open to speculation. In a later reminiscence, Francis Tracy stated that Eddy developed his first wells and canals in response to the "big die" of 1886, when overgrazing and a prolonged drought caused the starvation of over thirty-five percent of the valley's cattle. Enthusiasm for the project may have also been generated by Stevens, who supposedly had "the then fabulous tales of California irrigation in mind." Regardless of his motivation, in 1887 Eddy constructed a small irrigation canal to serve a tract of company land near present-day La Huerta, north of Carlsbad. Stevens, who had recently "come of age and considerable inheritance," apparently funded the project. [14]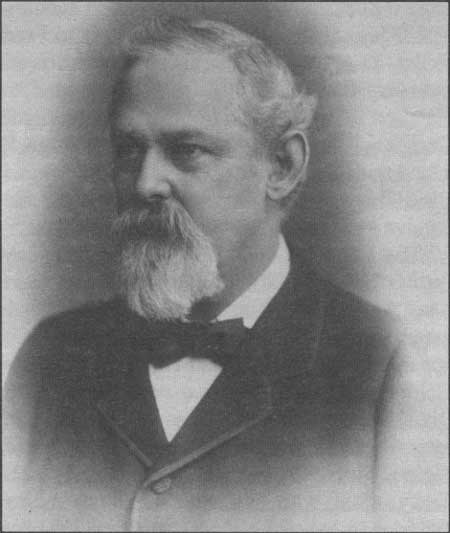 Southwestern newspaperman Charles W. Greene helped to promote the early reclamation efforts along the lower Pecos River. — Southeastern New Mexico Historical Society, Carlsbad, New Mexico.
Encouraged by the canal's initial success, Stevens and the Eddy brothers incorporated their small reclamation system in October 1887 as "The Pecos Valley Land and Ditch Company." The new company's stated goals included "constructing and maintaining reservoirs and canals or ditches and pipe lines in the valley of the Pecos River. . . and for the purpose of colonization and improvement of land in connection." [15] The incorporation document specified the construction of three major canal systems: canals east and west of the Pecos River in the lower Valley, and an irrigation system in the Roswell area near Garrett's first reclamation effort. Together, the three canals would theoretically allow irrigated cultivation of much of the Pecos Valley's arable land. In spite of these ambitious goals, however, the company was capitalized at only $40,000. [16] The land and ditch company apparently began work on only one of its three proposed canals. This was the "Halagueno Ditch," an expansion of Eddy's earlier private canal. The amount of work the company actually completed, however, was probably not substantial.
By 1888, Eddy and Garrett had merged their ideas into concrete plans for a larger-scale, Pecos River, reclamation project. Eddy, the more business-minded of the pair, worked to enlist other potential backers for the project. The most significant of his recruits proved to be Robert Weems Tansill, a local farmer and businessman. Tansill had made his business mark in Chicago as "an eminently successful five cent cigar man." Tansill allegedly first developed the idea of the cigar band, and his "Tansill's Punch" cigars were well known in the 1870s. He moved to New Mexico in 1888 for his health, and was actively seeking entrepreneurial opportunities when approached by Eddy. [17]
Charles W. Greene joined the group after meeting with Garrett and Eddy. Greene was an itinerant, somewhat controversial, Southwest newspaperman and booster with experience as an active entrepreneur in several communities. He had also served as the publisher of Garrett's narrative, Billy the Kid. [18] Tracy characterized Greene as "a lifelong promoter, carried away by his vision of the unlimited possibilities of developing a new empire from the 'shapeless mass' of the slumbering desert stretching untouched farther in all directions than the eye could see." [19]
Eddy complemented his recruitment and fund-raising activities by reorganizing the corporate vehicle for his reclamation dream. In July 1888, the "Pecos Irrigation and Investment Company" was incorporated to assume the development of Pecos Valley irrigation projects. The new company was chartered with stated reclamation purposes similar to that of the Pecos Valley Land and Ditch Company, and acquired the older company's incomplete irrigation works. The Pecos Irrigation and Investment Company differed from its predecessor, however, in that its incorporation documents did not specifically mention land development. The new corporation was capitalized at $600,000, suggesting a greater seriousness of purpose than its predecessor. Eddy and Greene were among the six initial directors, though Stevens and Garrett were no longer mentioned. [20] Although the early stages of the company's work are conjectural, it probably consisted largely of financing and promotional efforts, while project engineering received limited attention, and "scientific" feasibility studies were largely ignored. Such priorities typified most of the privately-funded reclamation projects then underway across the West. [21]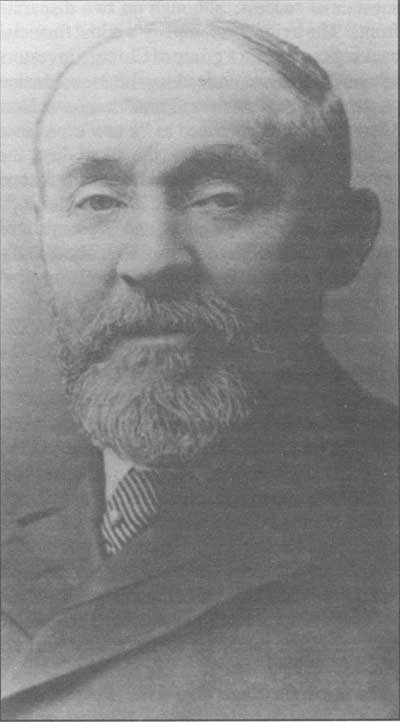 Undoubtedly the most important backer of the Carlsbad Irrigation District was James John Hagerman. Owner of the famous Mollie Gibson Mine near Cripple Creek, Hagerman initially provided a seemingly bottomless financial reservoir for the construction and operation of the extensive Carlsbad irrigation project. The reclamation project, however, would eventually drain even his extensive capital reserves. — Southeastern New Mexico Historical Society, Carlsbad, New Mexico.
As the Pecos Irrigation and Investment Company began its full-scale activities, each of the four primary backers filled a different role in the enterprise. Garrett quickly faded from the picture, for uncertain reasons. Although it is likely he was simply outclassed by the business skills of the others, his biographer insists that Garrett was deliberately shut out of the company he helped found. [22] The company's day-to-day operation was largely managed by Eddy, who quickly assumed a dominant role in the organization's administrative affairs. Greene and Tansill became the group's primary fund raisers. Greene's solicitation activities took him first to Chicago, and then overseas, and his tenure in the Pecos Valley was brief; his departure largely ended his direct involvement in the Pecos irrigation effort. Tansill's activities were more local in nature; they included both fund raising and organizational support. His role as an advocate for Pecos Valley reclamation was the most enduring of the four, and proved to be among the strongest.
Fulfillment of the irrigation company's lofty goals hinged directly on its success in attracting substantial financial backing. Consequently, Greene and Tansill's search for corporate patrons was pivotal in the company's early history. Fortunately, each man met with fairly rapid and substantial success, although on two disparate fronts. The irrigation company's initial financial backing came from a group of Chicago investors whom Greene had enticed to visit New Mexico on a chartered railroad car. The Chicagoans' New Mexico visit was described as "a new experience to all, — the hot sunshine, the alkali dust, the rough roads, no shade, no water, and only one house for a distance of more than ninety miles." Nevertheless, Eddy, Garrett, and Greene proved to be persuasive hosts. [23] In 1889, the Illinois Trust and Savings Bank of Chicago sponsored the issuance of $400,000 in Pecos Irrigation and Investment Company first mortgage bonds, payable in 20 years at eight percent interest. The bonds were secured by a deed of trust on all property "already constructed or to be hereafter constructed" by the irrigation company. [24] The Chicago bond issue provided the funds needed to start construction, and in response, the irrigation company established a Chicago branch office. Meanwhile, Tansill cultivated a far more significant backer in the person of James J. Hagerman, a wealthy Colorado Springs capitalist and railroad builder. Almost instantly, Hagerman became the dominant financial force behind the project, and he remained so for most of the next decade.
James John Hagerman's life was, in many ways, a quintessential Horatio Alger story. The Ontario-born son of a middle-class family, Hagerman put himself through college working on Great Lakes steamboats, and soon began an entrepreneurial career in the Milwaukee iron foundries and Great Lakes iron ore mines. His relentless business energies made him a very wealthy man, and when he relocated to Colorado Springs for his health in 1884 he could have easily assumed the quiet, aristocratic life of a retired tycoon. His incessant ambition quickly drove him back to work, however, and he was soon deeply involved in building the Colorado Midland Railroad and investing in the state's booming silver mines. Hagerman's varied portfolio included the famous Mollie Gibson mine near Cripple Creek, Colorado. [25]
Hagerman was first introduced to Tansill through Henry C. Lowe, a mutual acquaintance. Soon after Tansill and Hagerman first met in Colorado Springs, Hagerman was invited to meet Eddy, whom Hagerman later termed "as persuasive a scamp as ever lived." By this time, Hagerman was largely retired from his Colorado projects, and he was receiving a substantial income from the Mollie Gibson. Typically, though, he continued searching for a new empire-building scheme to occupy his time. Eddy's glowing descriptions of the Pecos region convinced Hagerman that the Pecos Valley offered just such an opportunity, and Hagerman soon owned $40,000 in irrigation company bonds. [26] It was the first of a great many financial contributions to the project that Hagerman would make. In finding Hagerman, Tansill had nearly achieved his reported goal of securing "unlimited capital" for the irrigation company's projects. [27]
Meanwhile, Eddy's entrepreneurial spirit drove his continued organizational work on the reclamation project as well as other schemes for development of the valley. In 1888, Eddy established a townsite near the old Halagueno Ditch in anticipation of the planned reclamation project. The newly-platted community, which Tansill reportedly insisted be named after Eddy, was certainly intended to become an integral component of the valley's incipient agricultural economy. The establishment of such an economy depended on the irrigation system's completion, however, and until this was assured the community's development was necessarily slow. By February 1889, though, the region boasted enough new inhabitants to merit the creation of a new county for the lower Pecos Valley. The county, too, was named for Eddy. [28]

Endnotes
1. A discussion of Native American and Hispanic practices relating to water is found in Chapters 1 and 2 of Ira G. Clark, Water in New Mexico (Albuquerque: University of New Mexico Press, 1987).
2. A number of Reclamation Service, Bureau of Reclamation, and United States Geological Survey reports contain detailed descriptions of the geography of the Pecos River Valley; these quotes are from the Geological Survey's "Report Upon a Reconnaissance of the Pecos Valley, by Ralph S. Tarr: March 11, 1889," RG 115, Entry 3, Box 443, File 651, National Archives, Washington, D.C.
3. Ibid. Tarr's narrative provides the best contemporary description of early agricultural development in the Pecos Valley.
4. For a general discussion of this period see Clark, Water in New Mexico, Chapter 4. A good local example of this process is provided by the Eddy brothers' Pecos ranching activities; for background material on the Eddys see "The Eddy Brothers," typescript in History File (County) #14, New Mexico State Records Center and Archives, Santa Fe.
5. Tarr, "Report Upon a Reconnaissance of the Pecos Valley."
6. Brief contemporary descriptions and analyses of the West's pioneering reclamation efforts may be found in William E. Smythe, The Conquest of Arid America (New York: Harper & Brothers, 1900).
7. "Robert Weems Tansill," in Eddy County New Mexico to 1981 (Lubbock, Texas: Craftsman Printers, Inc., for Southeastern New Mexico Historical Society, 1982), 172.
8. This quote is attributed to William A. Hawkins, who served as Eddy's general counsel; see Chapter 11 of William A. Keleher, The Fabulous Frontier (Santa Fe, Rydal Press, 1945; rev. ed., Albuquerque: University of New Mexico Press, 1962). Also see "The Eddy Brothers" typescript.
9. Francis G. Tracy, "Pecos Valley Pioneers," New Mexico Historical Review 33 (July 1958): 187-204.
10. "Articles of incorporation of the Eddy and Bissel Live Stock Company," New Mexico State Records Center and Archives, Santa Fe.
11. Clark, Water in New Mexico, 46-48, 62, 135-136.
12. The valley's early land transactions are recorded in "Deed Record Book 1," located at the Eddy County Courthouse, Carlsbad, New Mexico. Transactions mentioned in the essay are found on pages 14-28.
13. Tracy, "Pecos Valley Pioneers," 190 and 195; "Deed Record Book 1," Eddy County Courthouse, Carlsbad, New Mexico.
14. Francis G. Tracy, "Eddy County, New Mexico," typescript, WPA file #199, New Mexico State Records Center and Archives, Santa Fe.
15. The Company's complete list of incorporators included Charles B. Eddy, John Arthur Eddy, Joseph S. Stevens, Elmer E. Williams, and Arthur A. Mermod. See "Articles of Incorporation of The Pecos Valley Land and Ditch Company," New Mexico State Records Center and Archives, Santa Fe.
17. Tracy, "Pecos Valley Pioneers," 187-204; "Robert Weems Tansill," 172.
18. Leon C. Metz, Pat Garrett: the Story of a Western Lawman. (Norman: University of Oklahoma Press, 1973), 152. Pages 149-154 of Metz's narrative provide a brief; lightly-researched account of Garrett's involvement in Pecos River irrigation.
19. Tracy, "Eddy County, New Mexico." For an example of Greene's "controversial" nature, see Keleher, The Fabulous Frontier.
20. The remaining directors included David L. Hough, James R. McKay, Luther P. Bradley, and Charles A. Gregory. See "Articles of Incorporation of the Pecos Irrigation and Investment Company," New Mexico State Records Center and Archives, Santa Fe.
21. Smythe, The Conquest of Arid America, passim.
22. Metz, Pat Garrett: the Story of a Western Lawman, 151-152.
23. Tracy, "Eddy County, New Mexico."
24. "Abstract of Title to T21S, R26E, NMPM, Section 12," 57, located in the Pecos Valley Projects Office, Bureau of Reclamation, Carlsbad, New Mexico.
25. "James John Hagerman: Memoirs of His Life, Written by Himself at Roswell, New Mexico in 1908," typescript in the Rio Grande Historical Collections, New Mexico State University Library, Las Cruces.
27. Tracy, "Eddy County, New Mexico."
28. "On R.W. Tansill: the Entrepreneur," Carlsbad Current-Argus, March 20, 1988.
---
---
rmr/0/chap1.htm
Last Updated: 01-Feb-2008