ODDITIES
---
Engineers "lifted the face" of a rock cliff in Zion National Park, Utah, and then tunneled a mile-long highway through the cliff, when there seemed no practicable way of getting around the canyon wall. There are turnouts in the tunnel from where views of the canyon can be had through six windows. The cliff is so steep that the windows first had to be drilled, and the tunnel then completed between these points.
---
There are sixty-five named mountains in Rocky Mountain National Park, Colorado, that reach altitudes above 10,000 feet; twenty-seven of them are between 12,000 and 13,000 feet high. Long's Peak, the highest, reaches 14,255 feet. Summer visitors who live at the base of these great mountains are 8,000 feet, or more than a mile and a half, above sea level.
---
The Grand Canyon, a mile deep, is the world's greatest example of erosion. The surface around the rim is rising, perhaps a few inches a century, and the down cutting of the canyon by the Colorado River is just about keeping pace with the elevation. The canyon is probably getting deeper, but the level of the river bed is not becoming lower. Some believe that the river was never any higher than it is today.
---
Relics of an aboriginal people who vanished long before the coming of Columbus, make Mesa Verde National Park, Colorado, e veritable land of magic. Cliff dwellings, some in cave locations occupied centuries earlier by the Basket Makers, first agricultural Indians of the Southwest, are the major attraction. The earliest of the cliff-dweller homes dates back nearly 900 years, to 1066 A. D.
---
One of the first plants operated for the smelting of gold and silver in what is now part of the United States, is believed to have been located in the Tumacacori National Monument, 18 miles north of the Mexican border, and 50 miles south of Tucson, Arizona. Tumacacori Mission was founded in about 1700. The date of the smelter's operation is not known. The remains of the plant are in the mission grounds.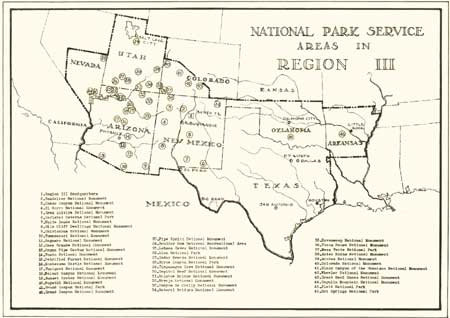 National Park Service Areas in Region III.
(click on image for an enlargement in a new window)