SAN JOSE MISSION NATIONAL HISTORIC SITE
---
The recently established San Jose Mission National Historic Site, in San Antonio, Texas, is the first area west of the Mississippi River to be designated a national historic site, and it is the first National Park Service unit in Texas. It is regarded as one of the finest Spanish missions in North America.
Originally named Mission San Jose y San Miguel de Aguayo, it was established on February 23, 1720, by Captain Juan Valdez, at the instigation of Father Antonio Margil. This was in accordance with the custom of having frontier missions founded by military authorities, acting with the cooperation of religious officials. The early buildings were constructed between 1720 and 1731, and included a chapel, granary, kitchen, administrative offices, cells for the friars, and quarters for the Indian neophytes. The mission was flourishing, by 1762, when it owned 200 head of cattle, and had an annual harvest of 1,000 bushels of maize.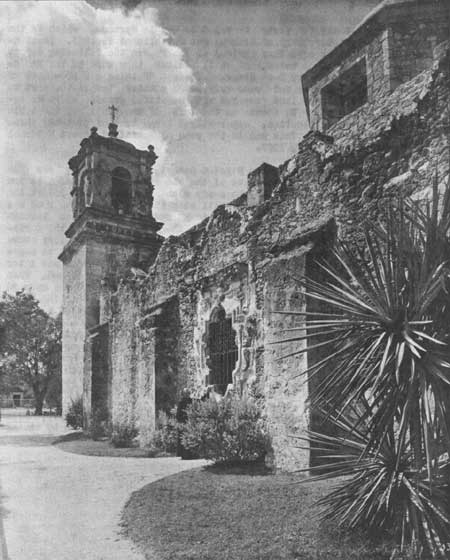 THE ROSE WINDOW - SAN JOSE MISSION.
The chapel which now stands in a state of partial preservation was not one of the earlier buildings but was erected between 1768 and 1781. The facade and baptistry window (Rose Window) are believed to be the work of the Spanish artist, Pedro Huizar.
The mission was ordered secularized in 1813, and was taken over by the Diocesan priests about 1827. After the American annexation of Texas, in 1845, the Benedictine Fathers of the Archabbey of Saint Vincent, in Latrobe, Pennsylvania, took charge of the mission and established a friary and seminary there in 1859. These were abandoned 8 years later, and the Diocesan Clergy again took charge. In 1925 the Redemptorist Fathers of San Antonio were appointed for the work. Finally, in September, 1931, after an absence of more than 100 years, the Franciscan Fathers returned to San Jose and built their present friary. The church was rededicated for religious services in 1937.
This group of old structures was established as the San Jose Mission National Historic Site, on May 8, 1941, under an agreement between the United States Department of the Interior, the Texas State Parks Board, and the Archbishop of San Antonio. The mission will continue its usual function as a religious institution.