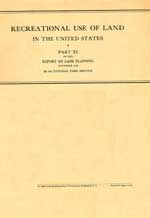 Cover Page
---
MENU
---
---
SECTION I

SECTION II
History
Needs
Geography
Historic Sites
Competitors


Economic Aspects

SECTION III
Federal Lands
State and Interstate
Local

SECTION IV
Division of Responsibility
Local
State
Federal
Circulation

SECTION V
---

Recreational Use of Land in the United States
---
SECTION II
RECREATIONAL RESOURCES AND HUMAN REQUIREMENTS
6. ECONOMIC ASPECTS OF RECREATION
---

National Expenditure for Recreation
No complete and accurate figures are available on the total annual bill which Americans pay in order to find occupation for their leisure time. It is estimated, however, that it amounted to more than 10 billion dollars just previous to the depression.1 This figure includes the following principal groups of expenditures:
---

1 President's Research Committee On Social Trends, Recent Social Trends in the United States, New York, McGraw-Hill Book Co., 1933, vol. 2, tables, charts. (See p. 949.)

---
1. Governmental costs:

(a) National.
(b) State.


2. Travel.

3. Commercial amusements.

4. Leisure time organizations.

5. Games and sports, and equipment for same.

6. Resort business.

7. Miscellaneous.

Governmental Expenditure for Recreation
The Federal Government.—In 1932, the Federal Government expended $10,856,903.592 for development and operation of areas and facilities established for recreational use—this being the total appropriation to the National Park Service for all purposes, plus the funds specifically appropriated for the Forest Service for development of recreational facilities.
---

2 U. S. Department of the Interior, Annual Report of the Secretary of the Interior, 1913, Washington, D. C., Government Printing Office. Also U, S. Forest Service, Report of the Forester, 1933. Washington, D. C., Government Printing Office.

---
Since a large part of the purpose of the Bureau of Biological Survey is perpetuation of the game supply, a considerable proportion of its appropriation, which amounted in that year to $2,229,170,3 is also a direct financial provision for recreation. Of the Bureau of Fisheries' appropriation of $1,976,020 in 1932, approximately 65 percent was used in the production of game fish.4
---

3 Figures given by office of Bureau of Biological Survey over telephone to the Recreation Section of the National Resources Board.

4 U. S. Department of Commerce, Anneal Report of the Secretary of Commerce, 1933, Washington, D. C,, Government Printing Office. See section of Bureau of Fisheries, p. 95.

---
In addition, considerable sums appropriated and spent for other purposes served the cause of recreation in incidental fashion. Included in this group were appropriations for highway construction on both the Federal-aid system and the forest road system; appropriations for forest protection purposes such as trail construction, fire fighting and fire prevention, reforestation, etc.
There are, in fact, incidental recreational values contributed by nearly every bureau of the Government in the performance of its regular duties.
The State Government.—State expenditures for recreation in 1930 totaled $34,174,000;5 in 1931, $41,830,000.6 Of these totals approximately $13,364,0005 was for operation in 1930, and $14,258,0006 in 1931.
---

5 U. S. Bureau of the Census, Financial Statistics of States, 1910, Washington, D. C., Government Printing Office, 123 pp., tables, diagrams. (See p. 78, 84, 90, 100, 302.)

6 U. S. Bureau of the Census, Financial Statistics of States, 1931, Washington, D. C., Government Printing Office, 117 pp., tables, diagrams. (See p. 72, 78, 84, 94, 96.)

---
The County, Metropolitan, and Municipal Governments.—Expenditures for recreation by these political subdivisions amounted to $147,225,0007 in 1929; in 1930, $162,853,000.8
---

7 U. S. Bureau of the Census, Financial Statistics of Cities, 1929, Washington, D. C., Government Printing Office, 515 pp., tables, diagrams, p. 338, 378. Playground and Recreation Association of America, County Parks, New York, 1920, 110 pp., maps, plans, tables. (See p. 52.)
8 U. S. Bureau of the Census, Financial Statistics of Cities, 1930, op. cit. (see p. 400, 450.) U. S. Bureau of Labor Statistics, Park Recreation Areas in the United States, 1930, Bulletin No. 565, May 1932, 116 pp., tables. (See p. 42.)

---
Continued >>>