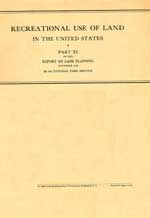 Cover Page
---
MENU
---
---
SECTION I

SECTION II
History


Needs
Geography
Historic Sites
Competitors
Economic Aspects

SECTION III
Federal Lands
State and Interstate
Local

SECTION IV
Division of Responsibility
Local
State
Federal
Circulation

SECTION V
---

Recreational Use of Land in the United States
---
SECTION II
RECREATIONAL RESOURCES AND HUMAN REQUIREMENTS
2. RECREATIONAL NEEDS OF THE PEOPLE
---
Physiological and Moral Aspects
Man is essentially an outdoor animal as far as his biological and physiological needs are concerned. Some of the fundamental requisites for his well-being are an abundance of fresh, pure air and sunlight, pleasurable physical activity—especially out of doors—and periods of rest, relaxation, and repose in environments of natural beauty, free from too close human contacts, and from the harsh noises and the high-speed tempo of this machine age. These needs are common to all ages and to both sexes. The supplying of means for the satisfaction of these needs where people are highly urbanized is one of the fundamental reasons for the reservation of lands and waters for recreational use.
It is one of the laws of the growth of human beings (whether growth refers to physical development, mental expansion, cultural enrichment, or social adjustment) that a considerable measure of activity is required in forms expressive of age-old urges, impulses, and instincts. Fullness and richness in living come only when there can be satisfying expression of the natural qualities and powers of the individual which are of physical, mental, spiritual, and social character, during all the age stages of his life. Society justifies itself only to the extent to which it utilizes the natural resources in its keeping. The troublesome question of juvenile and youth delinquency and other antisocial expressions are, without question, partly the result of society's failing to recognize this principle.
It is said that little can be done by society to change the fundamental traits or qualities of any human being, but that much can be done through environment to form attitudes and to determine the direction in which interests and instincts may be expressed. The difference between a delinquent child or youth and a law-abiding child or youth is generally the difference in expression of the same human impulses to action, which—originally neither good nor bad—were subjected to different environmental influences. The lighting impulse which leads a youth to commit law less acts with his "gang" is the same impulse which may make him a highly prized member of an organized sports team. Hence it follows that, given an environment comprising material facilities for the expression of natural, normal impulses, interests, and urges, and given intelligent, sympathetic leadership, it is possible for most children and young people to live fully and happily in harmony with the established usages, customs, and laws of the community.
Continued >>>