---
Survey of
Historic Sites and Buildings
Arthur Home
New York

Arthur Home

New York County, 123 Lexington Avenue, New York City.

Arthur Home. (National Park Service, Zane, 1976.)
Chester A. Arthur lived in this house for most of his adult life. In 1848, after graduating from Union College in Schenectady, N.Y., he taught school for awhile and about 1853 moved to New York City to practice law. At some unknown date, he acquired this residence.
In 1880 Arthur was elected Vice President on the Republican ticket with James Garfield. Less than a year later, on September 19, 1881, the latter died as a result of an assassin's attack the previous July. During the wee hours of the next morning, Arthur privately took the oath of office in his New York home and became the 21st President of the United States; 2 days later, he repeated the oath in the Vice President's Office at the U.S. Capitol. In 1885 Arthur retired from the Presidency and returned to New York City to resume his law practice. Illness soon enfeebled him, however, and he never recovered. He died in his New York home in November 1886 and his body was laid to rest at the Rural Cemetery in Albany.
The residence, a five-story, brownstone rowhouse, has been considerably altered throughout the years. The original entrance once at the second-floor level and accessible by a flight of stone stairs, has disappeared. A grocery store occupies the front part of the first, or ground, floor; a beauty shop is on the second floor; and the remaining three floors have been divided into apartments. The exterior has been painted white; the interior is in poor condition. No Arthur furnishings remain in the structure.
On January 16, 1964, the 81st anniversary of the signing of the U.S. Civil Service Act by President Arthur, the Native New Yorkers Historical Association and the New York Life Insurance Company placed a bronze plaque on the building. Privately owned, it is not open to the public.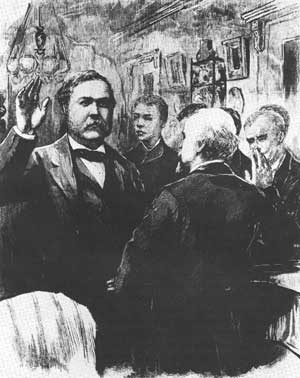 Early on morning of September 20, 1881, a few hours after Garfield's death, Judge John R. Brady administered the oath of office to Chester A. Arhtur in his New York City residence. Arthur later repeated the oath at the U.S. Capitol. (Engraving, after a sketch by J. W. Alexander, in Harper's Weekly, Oct. 1, 1881, Library of Congress.)
---
http://www.cr.nps.gov/history/online_books/presidents/site37.htm
Last Updated: 04-Feb-2004