---
Survey of
Historic Sites and Buildings
Westland
New Jersey

Westland

Mercer County, 15 Hodge Road, Princeton.
Westland was the home of Grover Cleveland from the time of his retirement from the Presidency in 1897 until his death in 1908. During the last year of his second term in the White House, in 1896, he had decided to retire at Princeton, N.J. Mrs. Cleveland apparently selected the house, which had been built in the mid-19th century by Commodore Robert F. Stockton. Cleveland named it Westland in honor of a close friend and professor at Princeton University, Andrew F. West.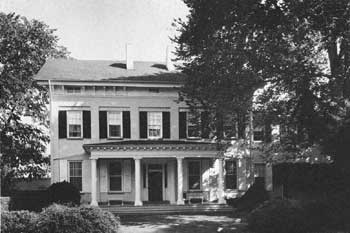 Westland. (National Park Service, Steven Zane, 1976.)
Cleveland enjoyed his retirement. Although he had never attended college, he took an active part in Princeton activities, maintained a brisk correspondence with friends, and kept socially and politically active. His favorite recreations were billiards and meetings of the Poverty Club, composed of a group of his comrades who played cards regularly at Westland. The students at Princeton University, who were fond of Cleveland, serenaded him on his birthdays. And, after football games, they led victory parades to his home. He died at Westland in 1908 and was buried in Princeton Cemetery. His widow continued to reside in the house for many years.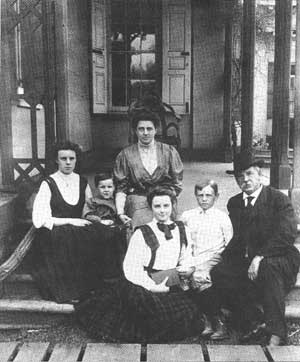 Grover Cleveland, his wife, Frances, and family at Westland in 1907, the year before he died. The children (left to right) are Esther, Francis, Marion, and Richard. (Library of Congress.)
Westland was patterned after Morven, an elegant Georgian mansion built in Princeton in the 18th century by the prominent Stockton family and today a National Historic Landmark. A 2-1/2-story, stone structure covered with stucco painted yellow, Westland had twin parlors on the first floor, spacious rooms, high ceilings, and handsome marble mantelpieces. Shortly after moving into the house, Cleveland added a two-story, flat-roofed wing containing a billiard room on the first floor and some bedrooms on the second. Through the years, other additions became so numerous that the rear of the structure was later detached and moved back on the lot to form a separate residence. Westland, privately owned and in excellent condition, may not be visited by the public.
---
http://www.cr.nps.gov/history/online_books/presidents/site36.htm
Last Updated: 22-Jan-2004