---
Survey of
Historic Sites and Buildings
Nixon Birthplace
California

Nixon Birthplace

Orange County, 18061 Yorba Linda Boulevard, Yorba Linda.
On January 9, 1913, this modest framehouse was the birthplace of Richard M. Nixon, 37th President of the United States. His father Frank Nixon, had come to California from Ohio in 1907 and worked at a variety of jobs before moving 5 years later to Yorba Linda. There, he constructed a residence and began raising citrus fruit for a living. The Nixons were active in the civic and religious life of the community. Mrs. Nixon was a charter member of the Women's Club, and both parents helped found the local Friends Church, where their children attended Sunday school. Richard began his education in the town and completed third grade in public school before the farming operation became unprofitable and the family moved in 1922 to closeby Whittier.
After the Nixons departed, the birthplace home passed through the hands of a series of owners. About 1948 the Yorba Linda School District, which held the adjacent property, acquired the structure as part of an expansion program. Subsequently, the house faced destruction several times. In 1959, however, the school board and citizens of Yorba Linda officially designated it as a historic site.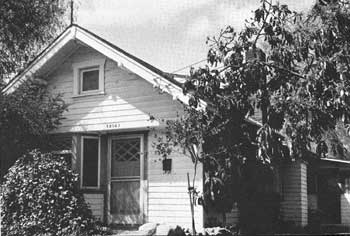 Nixon Birthplace. (National Park Service, John D. McDermott, 1969.)
The residence stands in a small grove of trees at the top of a hill above Yorba Linda Boulevard. The main section of the structure is 1-1/2 stories in height; a shed dormer is located on the north side of the gable roof, which is low pitched and covered with asphalt shingles. The front elevation features overhanging eaves and a shallow gabled vestibule. The rear of the house, probably created by enclosing a porch, is one story high with a flat roof. The clapboard siding is white and the window trim is green.
The structure, which has changed little during the past few decades. At the time of this publication (1977) it was utilized by the Yorba Linda School District and was not open to the general public. About 30 yards to the west is an elementary school that was recently renamed after President Nixon. Currently (2004), the birthplace is now managed by The Richard Nixon Library & Birthplace Foundation, as part of the 9-acre Library/Museum complex.
---
http://www.cr.nps.gov/history/online_books/presidents/site1.htm
Last Updated: 22-Jan-2004