---
Biographical Sketches


WILLIAM HENRY HARRISON
Ninth President • 1841

William Henry Harrison

"Tippecanoe" Harrison, the oldest President at inaugural and the last to be born a British subject, was the first Whig to hold the office and the first incumbent to die. His term, a mere month, was the shortest on record. Like Jackson, he was an erstwhile frontier general and war hero, but he was born in a Tidewater Virginia mansion instead of in a backwoods log cabin. His grandson, Benjamin, became the 23d President.
Harrison, the youngest of seven children, was the son of planter Benjamin Harrison, who signed the Declaration of Independence and served as Governor of Virginia. The youth was born in 1773 at Berkeley plantation. He received his elementary education at home and attended Hampden-Sydney College, probably some time during the years 1787-90, but apparently did not graduate. In the latter year, he matriculated at an academy in Southampton, Va., and later in the year began studying medicine in Richmond and then in Philadelphia, but he never qualified as a doctor.
In 1791, after his father's death, Harrison turned to a military career. Accepting a commission as an ensign in the Army, he was assigned to the Northwest Territory and based at Fort Washington, in the Cincinnati area. As an aide to Gen. "Mad Anthony" Wayne, in 1794 he fought against the Indians in the Battle of Fallen Timbers, Ohio. The next year, he married Anna Symmes, daughter of a prominent land speculator-colonizer, from whom the couple apparently purchased a log cabin and a large tract of land in North Bend, Ohio, near Cincinnati.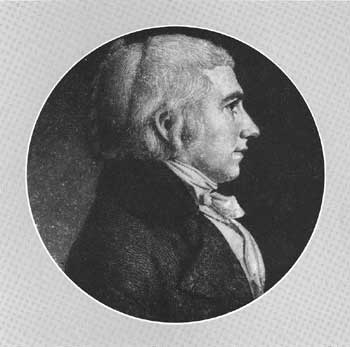 This portrait of William Henry Harrison, painted in Philadelphia, shows him at the age of 27 while he was serving as the Northwest Territory's Delegate to Congress. (Engraving, 1800, by Charles B. J. Fevret de Saint Mémin, Library of Congress.)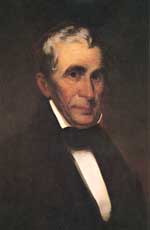 William Henry Harrison. (Oil, 1879, by Eliphalet F. Andrews after James H. Beard, 1840.)
After 3 more years of military service, Harrison resigned from the Army and served briefly as Secretary of the Northwest Territory. As its first Delegate to Congress (1799-1800), he was instrumental in obtaining legislation splitting off Indiana Territory from the Northwest Territory. In the latter year, President John Adams appointed him as Governor of Indiana Territory (1801-12). During this time, he lived in Vincennes and resided mainly in Grouseland, which he built in 1803-4. Although theoretically he was charged with protecting the rights of the Indians, his actual primary assignment was to effect cession of their lands to expedite white settlement. His success generated strong Indian resistance.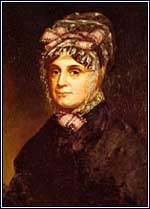 Anna Harrison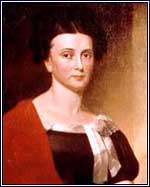 Jane Harrison
(hostess)
In 1811, to suppress a confederation led by the Shawnee chief Tecumseh and his half-brother The Prophet, Harrison took advantage of the former's journey to the South in search of allies and attacked Prophet's Town, an Indian stronghold near Tippecanoe Creek. After a brief but bloody battle, Harrison's forces burned the town and scattered the inhabitants. Although the battle was celebrated as a great victory and was to make Harrison a national hero, it was actually indecisive and military losses were far heavier than those of the natives. The Indians were driven into the hands of the British, and resistance remained intense.
After the outbreak of the War of 1812, Harrison obtained another opportunity to quash the Indians. Quickly winning the rank of brigadier general in the Regular Army, he was chosen to command U.S. forces in the old Northwest. After training his inexperienced troops and participating in various engagements, he recaptured Detroit from the British and in October 1813, by which time he had become a major general, defeated them and their Indian allies in the Battle of the Thames, in Canada, during which Tecumseh was killed. Indian resistance in the Northwest disintegrated, and the British were afterward unable to mount offensive action there.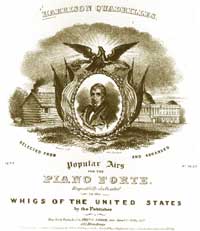 Sheet music published during Harrison's vigorous Presidential campaign in 1840. The Whigs claimed their aristocratic candidate was a log-cabin-dwelling frontiersman. (Lithograph, 1840, by Gimber, published by Ferdinand C. Unger, Library of Congress.)
In 1814, after a disagreement with the Secretary of War, Harrison resigned his commission and moved back to North Bend. He mingled farming and some unsuccessful commercial ventures with political activity. His offices included U.S. Representative (1816-19), State senator (1819-21), U.S. Senator (1825-28), and Minister to Colombia (1828-29). For the next 7 years, to support his family, he held minor local governmental posts in North Bend and ran his farm, which grew into a thriving estate.
In 1836 Harrison was one of the regional Whig candidates who unsuccessfully challenged Van Buren for the Presidency. In the wake of the subsequent economic depression, the Whigs, sensing victory over Van Buren, decided to nominate a military hero for the 1840 race and rallied behind Harrison, hero of Tippecanoe, under the slogan "Tippecanoe and Tyler, too." In a circus-like and acrimonious campaign, the Whigs painted the aristocratic Harrison as a log-cabin-dwelling, hard-cider-drinking frontiersman who was a major military hero; Van Buren was labeled as a champagne-sipping dandy and plutocrat. Coonskin caps, miniature log cabins, and plenty of hard cider appeared at Whig rallies.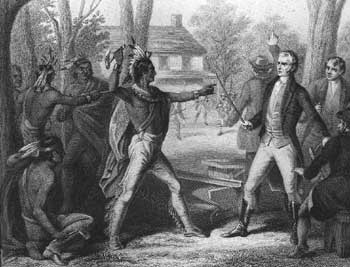 As Governor of Indiana Territory, Harrison shoved the Indians aside to expedite white settlement. This sketch depicts one of his acrimonious meetings with Tecumseh, who led the opposition. (Engraving, undated, by W. Ridgway, after a drawing, ca. 1860, by [John C.?] Chapin, Library of Congress)
Harrison's solid victory brought joy to his party, especially to leaders Henry Clay and Daniel Webster, who anticipated they would dominate the administration. Webster accepted the office of Secretary of State, and Clay planned to supervise enactment of his long-advocated "American System" from the Senate. Harrison immediately summoned a special session of Congress to deal with the Nation's economic problems.
But, within a month after taking office, Harrison was dead, at the age of 68, the victim of exhaustion and pneumonia, likely contracted during exertions associated with the inaugural. Mrs. Harrison, who had not yet arrived in Washington because of illness, survived him by more than 22 years. She had given birth to six sons and four daughters. Their father was buried in North Bend.
---
http://www.cr.nps.gov/history/online_books/presidents/bio9.htm
Last Updated: 04-Feb-2004