---
Biographical Sketches


MARTIN VAN BUREN
Eighth President • 1837-41

Martin Van Buren

A sagacious lawyer and master politician who earned the epithet "Red Fox of Kinderhook," Van Buren was the prime architect of the Democratic Party coalition that helped elect Jackson, served as his Secretary of State and Vice President, and was his handpicked successor as President. Unfortunately, Van Buren's term of office coincided with a severe economic depression not of his own making, and his steps to alleviate it were ineffective. His opposition to the annexation of Texas further hurt his popularity, in the West and South. His two attempts to regain the office failed.
The first President born after the Declaration of Independence and the first under the U.S. flag, Van Buren began life at Kinderhook, Columbia County, N.Y., in 1782. His father, who had fought in the War for Independence, won his livelihood as a tavernkeeper and farmer. Young Van Buren attended village schools for several years. At the age of 14, he read law with a local attorney but soon moved to New York City to pursue his legal studies. He then returned to Kinderhook and was admitted to the bar in 1803. Four years later, he wed Hannah Hoes, who was to give birth to four sons before she died 12 years later; he never remarried.
Shortly after Van Buren's marriage, he moved to nearby Hudson, N.Y. Between then and 1820, in a rapid political ascendancy, he held the offices of surrogate of Columbia County, State senator, and State attorney general; and organized the Albany Regency, a powerful political organization whose chief tool was patronage. In 1821, by which time he had become identified with the Democratic-Republican Party, he was elected to the U.S. Senate (1821-28), though he remained active in State politics. In the national arena, he backed William H. Crawford for President in 1824, and opposed the John Quincy Adams administration.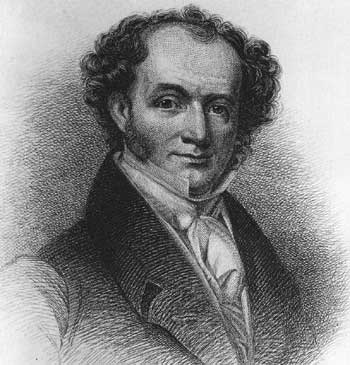 Van Buren as a young man. (Engraving, Library of Congress.)
By 1827 Van Buren had become the most influential northern supporter of Andrew Jackson, and the following year engineered the successful merger of Jackson, Calhoun, and Crawford forces that carried Jackson into the Presidency. To aid Jackson further and retain his power in the State, that same year Van Buren, who became known as the "Little Magician" for his small stature and political prowess, resigned from the Senate and won the governorship of New York. Within 3 months, however, he resigned to take the position of Secretary of State (1829-31), where he served with distinction and became Jackson's most trusted adviser. His loyalty during a Cabinet imbroglio brought him appointment as Minister to Great Britain, but the President's enemies in Congress blocked the confirmation.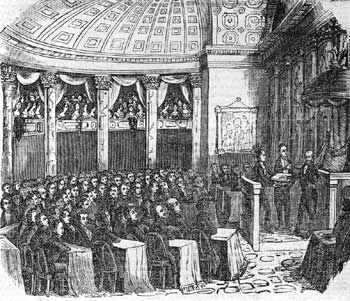 Van Buren's inauguration, in the old House Chamber of the Capitol. (Engraving, 1841, in the Weekly Herald, New York City, Mar. 6, 1841, Library of Congress.)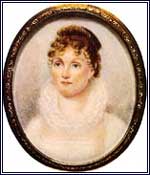 Hannah Van Buren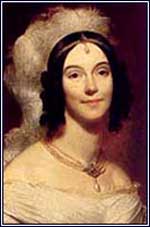 Angelica Van Buren
(hostess)
In 1832 Van Buren replaced Calhoun as Vice President on the Jacksonian ticket. Four years later, in an invective-filled campaign, he won the Presidency over several sectionally nominated Whig candidates. Only 3 months later, the Panic of 1837, precipitated in part by Jackson's policies, particularly his stand on hard money, initiated a 5-year-long nationwide depression that lasted long enough to insure Van Buren's defeat in 1840.
Based on his belief that business recklessness and overextension of credit were the cause, Van Buren reduced Government spending, particularly aid for internal improvements, and employed other deflationary tactics. None succeeded. As part of his economic policy, like Jackson he opposed creation of a new bank of the United States on the pattern of the old one, but he disliked Jackson's practice of assigning Government funds to State banks. The remedy he proposed was an independent Government treasury system, which Congress refused to authorize until 1840.
Van Buren had been elected on a platform that opposed the extension of slavery but allowed it to continue where it already existed. He tried to still southern secessionist rumblings and blocked the annexation of Texas because it would add to slave territory and carried a threat of war with Mexico. This cost him his popularity in the West and South, as well as Jackson's support.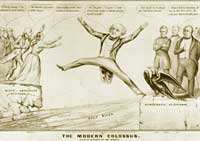 Van Buren sought the Presidency twice after he left office and was nominated once, by the antislavery Free Soil Party in 1848. Winning no electoral votes, he failed to bridge the chasm between the Democratic and Whig platforms, as this cartoon indicates. Salt River symbolizes political oblivion. (Lithograph, 1848, by Nathaniel Currier, published by Peter Smith, Library of Congress.)
Although disaster befell his domestic policies, Van Buren was successful in foreign affairs. When passions rose on both sides of the Canadian border over the aid of the American citizens to Canadian revolutionaries and over the exact location of the Maine-Canadian border, he acted with restraint to avoid bloodshed and initiated a diplomatic interchange that was later resolved in the Webster-Ashburton Treaty (1842).
Whig William Henry Harrison battered Van Buren in 1840. Many conservative Democrats defected, and Van Buren failed to win even his home State. Leaving office, he took up residence at Lindenwald, an estate in Kinderhook. He continued to figure prominently in National and State politics, though he rejected President John Tyler's offer of a seat on the Supreme Court.
In 1844 Van Buren failed in a bid for the Democratic Presidential nomination, mainly because of his continued opposition to the annexation of Texas. The next year, he spurned Polk's offer of the post of Minister to Great Britain. During the period 1846-48, he led the antislavery wing of the Democratic Party, which was alined against the expansionist policies of James K. Polk.
In 1848 Van Buren again ran for President as the Free Soil, or antislavery, candidate, but did not receive any electoral votes. Although he supported the Compromise of 1850, he became increasingly disenchanted with the pro-southern positions of Presidents Franklin Pierce and James Buchanan. Near the end of his life, Van Buren endorsed Lincoln's efforts to limit slavery and preserve the Union.
A highlight of Van Buren's twilight years was an extensive tour of western Europe in the years 1853-55. During this time, while staying at the Villa Falangola in Sorrento, Italy, he began work on his autobiography and a political history. But his stay was ended prematurely by the need to accompany home the body of one of his sons who had died in Paris. Van Buren died in 1862 at the age of 79.
---
http://www.cr.nps.gov/history/online_books/presidents/bio8.htm
Last Updated: 22-Jan-2004