| | |
| --- | --- |
| National Parks Portfolio | |

Rocky Mountain
---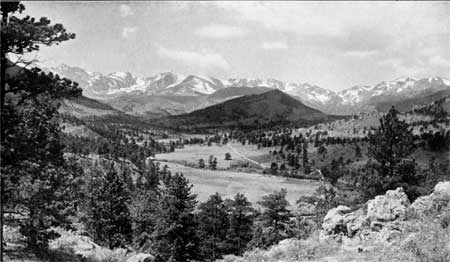 SEEN FROM THE EAST, THIS RANGE RISES IN DARING RELIEF, CRAGGY IN OUTLINE, SNOW-CLAD, AWE-INPSIRING
This photograph is from the village of Estes Park and exhibits summits lying to the north of Longs Peak
Copyright by Wiswall Brothers, Denver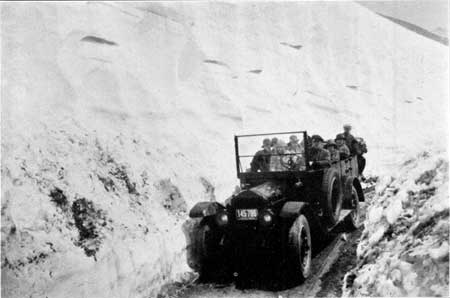 CROSSING FALL RIVER PASS ON JUNE 15
Photograph by F.J. Francis
"TOP OF THE WORLD"
FOR many years the Mecca of eastern mountain lovers has been the Rockies. For many years the name has summed European ideas of American mountain grandeur. Yet it was not until 1915 that a particular section of the enormous area of magnificent and diversified scenic range thus designated was chosen as the representative of the noblest qualities of the whole. This is the Rocky Mountain National Park.
And it is splendidly representative. In nobility, in calm dignity, in the sheer glory of stalwart beauty, there is no mountain group to excel the company of snow-capped veterans of all the ages which stands at everlasting parade behind its grim, helmeted captain, Longs Peak.
There is probably no other scenic neighborhood of the first order which combines mountain outlines so bold with a quality of beauty so intimate and refined. Just to live in the valleys in the eloquent and ever-changing presence of these carved and tinted peaks is itself satisfaction. But to climb into their embrace, to know them in the intimacy of their bare summits and their flowered, glaciated gorges, is to turn a new and unforgettable page in experience.
The park straddles the Continental Divide at a point of supreme magnificence. Its eastern gateway is beautiful Estes Park, a valley village of many hotels from which access up to the most noble heights and into the most picturesque recesses of the Rockies is easy and comfortable. Its western entrance is Grand Lake.
Continued >>>