| | |
| --- | --- |
| National Parks Portfolio | |

National Monuments
---
GEORGE WASHINGTON BIRTHPLACE NATIONAL MONUMENT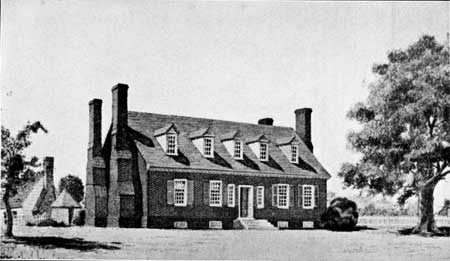 PLAN FROM WHICH OLD HOMESTEAD AT WAKEFIELD IS BEING RESTORED
UNUSUALLY rich in historic associations is the George Washington Birthplace National Monument, at Wakefield, Virginia. Although reserved primarily as the place where our first President was born, its history goes back much farther than that.
Within the bounds of the national monument are the foundations of the house bought in 1664 by that John Washington who had come from England eight years before, to establish a family that proved worthy of its English forebears, who have been traced definitely back to the eleventh century. This first of the American Washingtons played an important part in founding the colony which his great grandson George was one day to lead to national independence.
Near the foundations of John Washington's old house are the family burial grounds, containing his grave and also those of George Washington's father and grandfather, and numerous other kin.
The homestead in which George was born, built by his father Augustine Washington and later left by him to an older son, was burned on Christmas Day, 1780, and never rebuilt. Portions of the foundations were found still in place, and from them, and from old records, plans for the rebuilding of the old manor house were drawn.
Work on the rebuilding of the house itself and the ancient detached kitchen is now in progress, from bricks made by hand from local clay, as in the case of the original house. Colonial gardens also are being planted in an effort to attain the appearance of a typical colonial Virginia estate. It is planned to complete the rehabilitation of the old homestead before the opening of the Bicentennial Celebration of the Birth of George Washington in 1932.
To the Wakefield National Memorial Association, of which Mrs. Harry Lee Rust, sr., is president, goes the credit for the preservation of Wakefield. Congress has recognized this fact by delegating to the Association the rehabilitation work, in cooperation with the National Park Service and the National Commission of Fine Arts.
Continued >>>