| | |
| --- | --- |
| National Parks Portfolio | |

National Monuments
---
FOSSIL CYCAD NATIONAL MONUMENT
IT WAS to protect its large deposits of fossil cycads, fernlike plants of the Mesozoic period, that this area in the Black Hills of South Dakota was made a national monument. These fossil plant beds are among the most interesting yet discovered, with the most perfectly preserved specimens. Scientific investigations show that the cycads, which are of tree-fern type, actually bore flowers in the age when egg-laying monsters were still extant. Many of the fossil tree trunks contain large numbers of unexpanded buds, while in other cases are found fruits that had begun to mature before fossilization set in.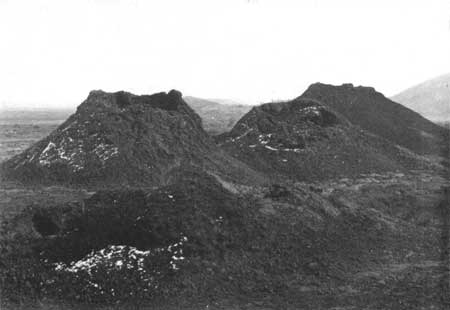 CRATERS AND CINDER CONES RISING FROM THE LAVA FIELDS
CRATERS OF THE MOON NATIONAL MONUMENT
THE Craters of the Moon National Monument, in Idaho, is a volcanic egion, the most recent example of fissure eruption in the United States. As its name signifies, it closely resembles the surface of the moon when seen through a telescope. Nowhere else in the United States can so many volcanic features be found in so small an area. There is a profusion of cinder cones, craters, and hornitos, and huge black fields of lava spread out for miles. The lava tunnels and caves are especially interesting, with their beautiful blue and red lava stalactites and stalagmites and other unusual formations.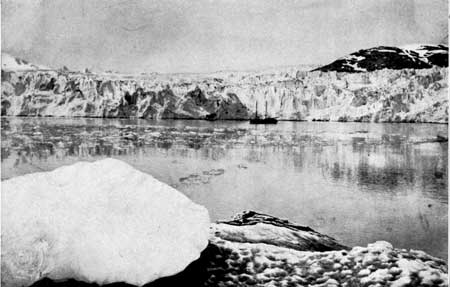 A VIEW OF GLACIER BAY
Copyright of the National Geographic Society
GLACIER BAY NATIONAL MONUMENT
THE Glacier rank in a setting of lofty peaks. Because of the unique opportunity afforded here for the scientific study of glacial action, of the resulting movements and development of flora and fauna, and of certain valuable relics of ancient interglacier forests, a portion of this area was set aside as the Glacier Bay National Monument.
The region also contains a great variety of forest covering consisting of mature area, bodies of youthful trees which have become established since the retreat of the ice, and great stretches, now bare, that will become forested in the course of the next century. These should be preserved in their natural condition. The monument is also of historic interest, having been visited by explorers and scientists since the early voyage of Vancouver in 1794.
WUPATKI NATIONAL MONUMENT
THE Wupatki Monument consists of two tracts of land lying west of the Little Colorado River in Arizona, on which are located interesting red-sandstone pueblos built by the ancestors of the Hopi, one of the most picturesque tribes of Indians in the United States to-day. The buildings were constructed by the Snake family of the Hopi in their migration from the Grand Canyon.
Continued >>>