| | |
| --- | --- |
| National Parks Portfolio | |

National Monuments
---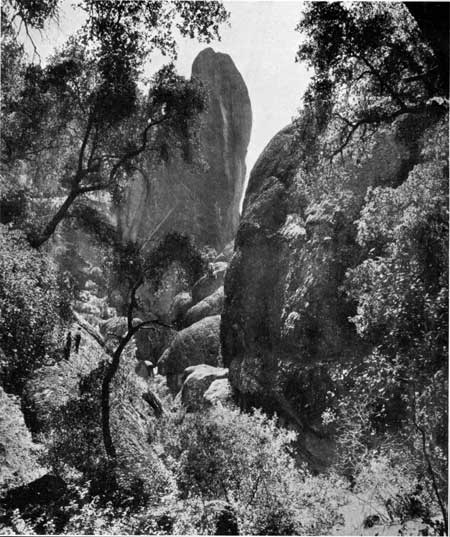 THE NEEDLES, PINNACLES NATIONAL MONUMENT
PINNACLES NATIONAL MONUMENT
THE spires, domes, caves, and subterranean passages of the Pinnacles National Monument in San Benito County, California, are well worth a visit. The name is derived from the spirelike formations arising from six hundred to a thousand feet from the floor of the canyon forming a landmark visible many miles in every direction.
A series of caves, opening one into the other, lie under each of the groups of rock. These vary greatly in size, one in particular, known as the Banquet Hall, being about a hundred feet square, with a ceiling thirty feet high.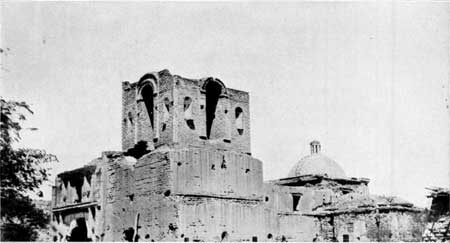 THE TUMACACORI NATIONAL MONUMENT
THE Tumacacori National Monument in Santa Cruz County, Arizona, was created to preserve a very ancient Spanish mission ruin dating, it is thought, from the latter part of the sixteenth century. It was built by Jesuit priests from Spain and operated by them for over a century.
After the year 1769 priests belonging to the order of Franciscan Fathers took charge of the mission and repaired its crumbling walls, maintaining peacable possession for about sixty years, until driven out by Apache Indians.
GRAN QUIVIRA NATIONAL MONUMENT
THE Gran Quivira has long been recognized as one of the most important of the earliest Spanish church or mission ruins in the Southwest. It is in central New Mexico. Near by are numerous Indian pueblo ruins, occupying an area many acres in extent, which also, with sufficient land to protect them, was reserved. The outside dimensions of the church ruin, which is in the form of a short-arm cross, are about forty-eight by one hundred and forty feet, and its walls are from four to six feet thick and from twelve to twenty feet high.
NAVAJO NATIONAL MONUMENT
THIS tract encloses three interesting and extensive prehistoric pueblos or cliff-dweller ruins in an excellent state of preservation. These are known as the Betatakin, the Keet Seel, and Inscription House.
Inscription House Ruin, on Navajo Creek, is regarded as extraordinary, not only because of its good state of preservation, but because of the fact that upon the walls of its rooms are found inscriptions written in Spanish by early explorers and plainly dated 1661. This monument is in Arizona.
Continued >>>