| | |
| --- | --- |
| National Parks Portfolio | |

National Monuments
---
KATMAI'S STEAMING VENTS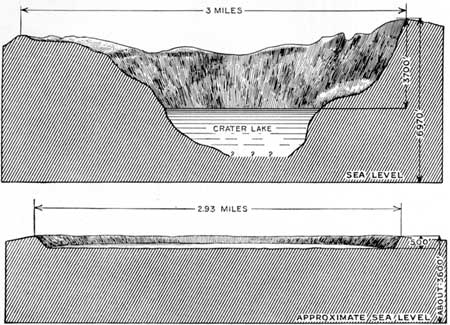 THE KATMAI CRATER (UPPER) COMPARED WITH KILAUEA CRATER (LOWER)
Copyright by the National Geographic Society
ONE of the greatest explosive volcanic eruptions of recent times blew several cubic miles of material out of Mount Katmai, on the southern shore of Alaska, in June, 1912. It left a great gulf where once the summit reared, and in its bottom a crater lake of unknown depth. A few miles away, across the divide, lies a group of valleys from which burst many thousands of vents of superheated vapors. The greatest of these has been named the "Valley of Ten Thousand Smokes."
This remarkable volcanic region, to explore which the National Geographic Society has sent five expeditions, has no parallel elsewhere to-day. It is a veritable land of wonders. In the valley the ground in many places is too hot for walking. In others one may camp comfortably on the coldest nights in a warm tent and cook one's breakfast on a steaming crack outside. The volume is beyond belief. A few feet below the surface, the temperature of the vents is often excessively high. Once the Yellowstone geyser basins probably resembled the "Valley of Ten Thousand Smokes," and a few hundred thousand years from now this valley may become a geyser basin greater than Yellowstone's.
The explosion which wrecked Mount Katmai was heard at Juneau, seven hundred and fifty miles away. Its dust fell at Ketchikan, nine hundred miles away. Its fumes were smelled at Vancouver Island, fifteen hundred miles away.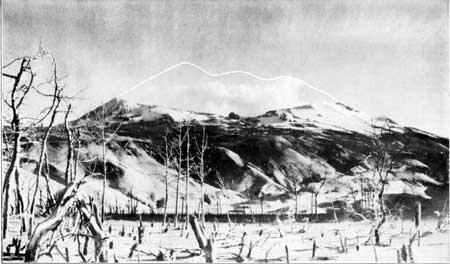 MOUNT KATMAI A IT APPEARS TO-DAY. THE WHITE LINE SHOWS ITS ORIGINAL CONTOUR BEFORE THE STUPENDOUS ERUPTION OF JUNE, 1912
Copyright by the National Geographi Society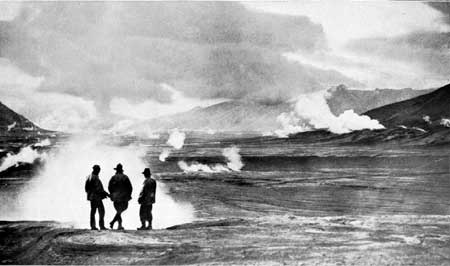 SUPPER TIME IN THE "VALLEY OF TEN THOUSAND SMOKES"
Copyright by the National Geographic Society
Continued >>>