| | |
| --- | --- |
| National Parks Portfolio | |

Hot Springs
---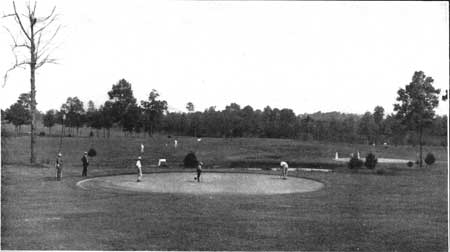 ONE OF THE BEST GOLF COURSES IN THE SOUTH
REST, RECUPERATION, AND RECREATION
HOT SPRINGS has much besides its waters to attract and hold the visitor. It has one of the best and most interesting golf courses in the South. The surrounding country is romantically beautiful. Many miles of woodland trail lead the walker and the horseback rider through pine-scented glades and glens and over mountain tops of unusual charm. There are boating and fishing for the fisherman, tennis for the young folks, ostrich and alligator farms for the curious, and the gayeties of life in big hotels for all.
Hot Springs is not merely a winter resort. Climate and conditions are delightful the year around, as increasing throngs are rapidly discovering. It is above all a place for rest and recuperation. More and more winter visitors are remaining through April and May. But those who remain after March should bring summer clothing, as the temperature then ranges from sixty-five to eighty-five degrees.
The park contains nine hundred and twenty-seven acres, and included in this tract are all the forty-four hot springs. These springs are grouped about the base of Hot Springs Mountain. In front of the springs is Magnolia Row, containing nine complete and luxurious bathhouses. Scattered about the city are ten other bathhouses, all under Government control. A Government free bathhouse and clinic is maintained for the poor and unfortunate.
There are many hotels, the largest having accommodations for a thousand guests, and several hundred boarding houses, many at very moderate prices, throughout the city. Cottages and apartments may be rented for light housekeeping. The Government maintains a picturesque automobile camp for persons who delight in camping.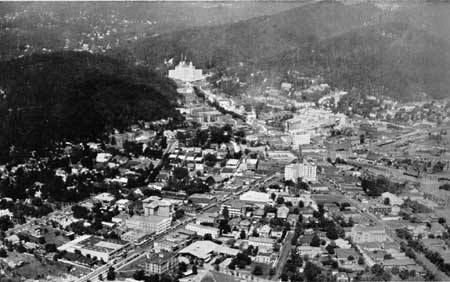 GENERAL VIEW OF HOT SPRINGS
Continued >>>