Pony Express

---

Historic Resource Study

PREFACE
---
The intent of this Historic Resource Study (HRS) of the Pony Express National Historic Trail is threefold: 1) to provide basic information to assist in the preparation of the trail comprehensive management plan (CMP) and to manage and interpret the trail, 2) to furnish National Park Service (NPS) managers and planners, state and local authorities, private landowners, and cooperating groups with an extensive trail database for action plans and implementation activities for the Pony Express National Historic Trail, and 3) to give to the public a general history of the Central Overland California & Pike's Peak Express Company (C.O.C. & P.P. Express Co.) otherwise known as the Pony Express.
This HRS is divided into nine chapters. Chapter One provides an account of the development of the Pony Express, giving the antecedents and historical context for the enterprise. Chapter Two discusses the founders of the Pony Express (William R. Russell, Alexander Majors, and William B. Waddell), and how they originated the idea for a Pony Express and put their conception of it into operation. Chapter Three looks at the actual organization, general operation, and ultimately the demise of the Pony Express during its existence from April 1860 to October 1861. The next five chapters give details about the history, location, and operation of each Pony Express station site along the route from St. Joseph, Missouri, to Sacramento, and then on to San Francisco, California.
The ninth and final chapter examines the significance of the Pony Express in American history, and provides recommendations for further research to preserve and interpret the Pony Express National Historic Trail. Following this last chapter, the reader will find an annotated bibliography, illustrations, and a select bibliography.
In the preparation of this HRS, I profited from the help and advise of a great many individuals whom I wish to thank. My gratitude certainly goes to the various unnamed librarians and archivists nationwide, who helped me find critical sources as a part of their daily job. In particular, the staff members at St. Joseph Museum, St. Joseph, Missouri; University of Missouri, Kansas City, Missouri; Nebraska State Historical Society, Lincoln, Nebraska; Denver Public Library and Colorado State Historical Society, Denver, Colorado; University of Wyoming, Laramie, Wyoming; Wyoming State Historical Society, Cheyenne, Wyoming; Utah State Historical Society, Salt Lake City, Utah; Nevada State Historical Society, Reno, Nevada; Nevada State Museum, Carson City, Nevada; and the California State Historic Preservation Division, Sacramento, California; were especially helpful.
Next, I wish to acknowledge the time, patience, and supervision for this project provided by Michael Duwe of the National Park Service, Rocky Mountain Regional Office, and to thank him, as well as Jere Krakow of the National Park Service, Denver Service Center for reviewing and commenting on an earlier draft of this manuscript, and Linda Carlson of the National Park Service for final copy editing.
Finally, I want to extend my special thanks to various staff members of U.S. West Research, Inc., who played a substantial role in helping me prepare this HRS. They include: historians Mary Kay Schmidt, who assisted in organizing the research and developing early drafts of the station site chapters, Elizabeth Butterfield, who assisted in researching, preparing, and revising the final manuscript, especially the chapters on the relay/home stations, and Doug Connell for critical newspaper research. Needless to say, any sins of omission or commission are mine alone.
Anthony Godfrey, Ph.D.
U.S. West Research, Inc.
La Crosse, Wisconsin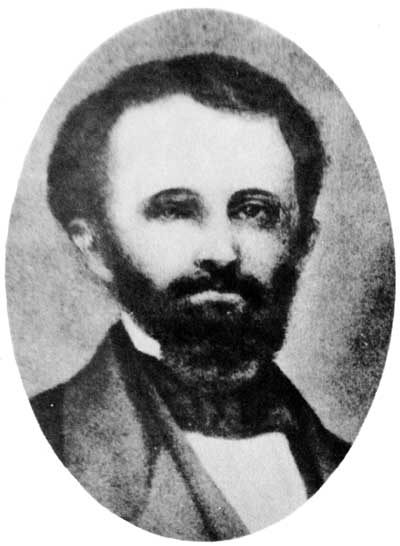 William H. Russell. Courtesy of Pony Express National Memorial, St. Joseph, MO
---
---
https://www.nps.gov/poex/hrs/hrsp.htm
Last Updated: 17-Jan-2008